10 riders to watch at La Flèche Wallonne
Alejandro Valverde will be the favourite to win his third consecutive Flèche Wallonne title on Wednesday, but who will be his main challengers?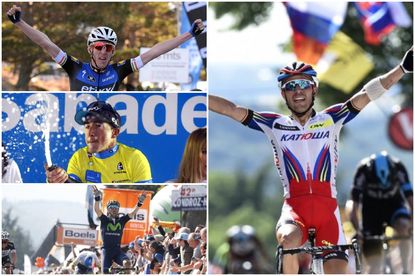 The Favourites
Alejandro Valvede
The Flèche Wallone IS Alejandro Valverde's race. He's won it each of the last two years and three times in total in his stellar career.
He's just really mastered that sprint up the Mur de Huy, which is, let's face it, the only crucial part of the race. Should he time his 100m sprint to perfection again he will eclipse the likes of Eddy Merckx and Moreno Argentin by taking the record for the most wins at the race.
He skipped the Amstel Gold Race and remains very focussed on the Giro d'Italia, but we know that Valverde is an incredible competitor, so won't just be using this as a training ride.
Joaquim Rodriguez
Fellow Spaniard Joaquim Rodriguez, is almost as familiar with the Mur de Huy as Valverde is, having won Flèche back in 2012. Purito also claimed victory on stage three of the 2015 Tour de France that finished in Huy.
He may be advancing in years, but the wins he claimed last year at the Tour and Vuelta à España shows there's a fair bit left in his legs, especially for a race such as La Flèche Wallonne.
Dan Martin
Dan Martin finished fourth in the Tour stage to Huy last year and finished second in Flèche in 2014 so is certainly a threat on Wednesday.
He is, however, now part of a very strong Etixx-Quick Step squad which could see him fighting with two or three teammates for the leadership.
Etixx's system of multiple leaders hasn't worked too well so far in the Classics and unlike at Cannondale, Martin won't have a full quota of support riders to get him to the final climb safely.
Michael Albasini
With six top-10 finishes to his name, Michael Albasini (Orica-GreenEdge) seems to like this race but he's never managed to stand on the top step.
His form hasn't been great at the start of the season, but if recent years are anything to go by that's not a sign that he won't perform at Flèche.
For the last few seasons it's this race that catapults the Swiss rider into a run of races in his home land, most importantly the Tour de Romandie and Tour de Suisse.
Albasini's got a powerful final punch, so a challenge up the Mur de Huy is very much expected of him.
Sergio Henao
In 2013, Sergio Henao provided Team Sky with their best ever Ardennes result, coming second to Dani Moreno on the Mur de Huy.
This season, with a few more years of experience under his belt, he could well go one better and claim the win.
He's had a great season so far, finishing third at the Tour Down Under, helping Geraint Thomas to victory at Paris-Nice while finishing sixth himself and ending runner up to Alberto Contador in the Basque Country.
Julian Alaphilippe
We didn't know what kind of form Julian Alaphilippe would be in heading into the Ardennes week, but sixth place at Amstel Gold shows us he's in a pretty good place.
Last year the young Frenchman surprised many fans by providing the best challenge to Valverde on the final climb and marked himself down as an Ardennes winner of the future.
His illness over the winter could have robbed him of the preparation and fitness he needs at this point to win on Wednesday, but talent and guts alone could see him claim another podium place.
The Wildcards
Enrico Gasparotto
He's won the Amstel Gold twice in his career but Enrico Gasparotto has never really done anything of note at the Flèche Wallonne.
But his win and attack up the Cauberg on Sunday could give the Italian the impetus he needs to finally crack the top 10 in this race.
He'll still be on top of the world and it's amazing what confidence can do to a rider in these one-day races.
Samuel Sanchez
It's a pretty wild wildcard, but Sami Sanchez could be BMC's best chance of the win on Wednesday, with Philippe Gilbert not at his best.
Gilbert struggled to 81st with a broken finger at Amstel Gold, so the boys in black and red could be looking for someone else to pin their hopes on.
Like Valverde and Rodriguez, Sanchez is getting on a bit. And like Valverde and Rodriguez, Sanchez is Spanish, which has been one of the pre-requisites for success in this race for the last four seasons.
He picked up his first win in three years in the Basque Country when the stage had a little punch up to the finish, so why not put a couple of quid on him here?
Simon Yates
Albasini is the man for Orica-GreenEdge this year, but Simon Yates is certainly one of the men for the future in the Australian team.
He'll be joined by his brother Adam on the start line - who could equally put up a good fight on Wednesday - and will be looking to build on his eighth place finish on the Mur de Huy at the Tour de France.
While there were obviously different priorities during the Tour, Yates finished before the likes of Valverde and Bauke Mollema on stage three so is no mug when it comes to short, sharp finishes.
Dani Moreno
I may have been one race too early on my Dani Moreno prediction, but as a former winner of the Flèche Wallonne, the Spaniard can justifiably be thought of as one of the favourites.
His main job of the day will be to get Valverde to the bottom of the Mur de Huy safely for the third and final ascent, but if Moreno is still feeling it when he gets there he could well accompany his fellow Spaniard all the way to the line.
There would probably be a few angry words if Moreno beat Valverde to the line, but it would be great to see.
Thank you for reading 20 articles this month* Join now for unlimited access
Enjoy your first month for just £1 / $1 / €1
*Read 5 free articles per month without a subscription
Join now for unlimited access
Try first month for just £1 / $1 / €1