Simon Yates: 'I've come a long way' at the Tour de France
22-year-old British rider Simon Yates has suffered from bronchitis during the 2015 Tour de France, but says that he's still made a massive improvement over his debut in 2014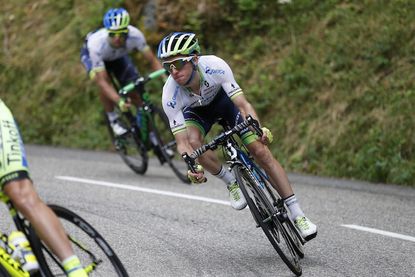 (Image credit: Yuzuru SUNADA)
Simon Yates may not have won a stage or finished in the top three, but he has made a "massive" improvement in his second Tour de France.
The 22-year-old Briton in team Orica-GreenEdge has survived bronchitis and a round of antibiotics, and is starting to feel like himself again with two more big mountain days to come. And the signs are encouraging.
"Massive," he told Cycling Weekly when asked if he could see an improvement from when he made his debut in 2014.
"I've come a long way considering what has happened in this Tour."
In 2014, Orica sent him home against his wish after two weeks.
"I feel physically better. Even if I'm really tired now, I can go with the breaks," he added.
"At this point last year, although I was already home by now, I reckon I wouldn't have been able to make the breaks on these sorts of days."
The sun's rays warmed the Alpine town of Saint Jean de Maurienne yesterday. Yates made the early escape. It's been ping-pong in the escapes: one day Adam Yates, one day twin brother Simon.
Simon Yates escaped in a 29-man group. He fell behind on the Col du Glandon, but clawed back on. Once the road kicked up again, he slipped behind again.
The affects of bronchitis and antibiotics slowed him. He felt the onset over a week ago, last Monday, on the first rest day. He and the team hoped it would pass, but he was forced to take antibiotics starting four days ago.
>>> Simon Yates calls Tour de France time trial 'a rest' for his stricken team
"For those first three or four days, I could only go 75 per cent," Simon said outside the bus while other team-mates, like Svein Tuft arrived and patted him on the back before climbing on board.
"We had easy days, but it was physically hard for me. My body wouldn't let me go any harder. It's a shame."
Though he lost opportunities to win stages, he gained experience.
Journalists, particularly British, have put much hope in the Yates twins. After success in the Under 23 ranks and in their first year as professionals with Orica in 2014, some are writing that the twins could follow in Chris Froome's footsteps.
"I'm no where near ready for the GC," Yates said.
"I still have a long way to go, three years maybe, until we target that. Maybe we won't even start with the Tour, the hardest one, maybe you can test yourself in the Vuelta a España, for two weeks.
"If you can't do it, you can go for stages. You can't do that in the Tour, we come here to do our best. It's either all or in."
Yates turned back towards the bus. It was ready to depart toward the hotel. He needed a night's rest ahead of two big stages – La Toussuire today and the Alpe d'Huez on Saturday.
On Sunday, if all goes well, he will finish is first Tour de France.
Video: Show us your scars - Simon Yates
Thank you for reading 20 articles this month* Join now for unlimited access
Enjoy your first month for just £1 / $1 / €1
*Read 5 free articles per month without a subscription
Join now for unlimited access
Try first month for just £1 / $1 / €1