How Team Sky will treat their young riders differently in 2017
Team Sky coach Rod Ellingworth concedes that the squad's winning attitude has sometimes meant development of younger riders has suffered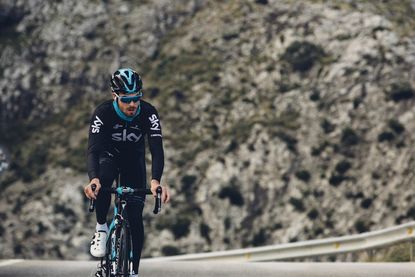 (Image credit: Daniel Gould)
Team Sky admit that they've altered their approach to developing young riders for the 2017 season, as fledgling British stars Tao Geoghegan Hart, Owain Doull and Jon Dibben all prepare to make their debuts with the WorldTour outlet.
Rod Ellingworth, Sky's head of performance operations, conceded that the squad's focus on winning the biggest races on the calendar has in the past been a downfall for the younger members of the team.
"Over the last few years we've been OK with some young lads, we've not been so good with others," Ellingworth told Cycling Weekly at the team's pre-season training camp in Mallorca.
"I think that's a little bit of the nature of the game we're in, because we're a winning team we can't stop winning. It puts extra pressure on the younger lads at times."
However with six riders aged 23 and under on the squad this season – the most the team has ever had in one year – the coaches have tweaked their plan of how best to handle their development.
Alongside the three British riders joining Sky this year, Danny Van Poppel (23), Gianni Moscon (22) and Sebastian Henao (23) are all embarking on their second seasons with Sky.
Of the young British riders Sky has signed in the past, Josh Edmondson, who joined in 2013 as a 21-year-old, was released from his contract after two years, while earlier this month 22-year-old Alex Peters announced he was leaving Sky to rejoin development squad SEG Racing citing "personal issues".
Ensuring the younger riders on the team have set race targets each year is important, Ellingworth stressed, and something that has been allowed to slip in the past to the detriment of riders' learning.
"Key things [are important] like giving the riders some objectives, and giving them some winning objectives," Ellingworth continued. "We've got a target of wins and we would like the younger group to contribute to that, so it gives them a focus.
"Try to manage their race programme a little bit better as well. You've only got so many riders on the team, if one or two of the riders who are domestiques or workers are sick or ill, it doesn't have a massive impact on the race programme.
"If you have one of your key riders sick or ill it changes everything, and that's where the young riders sometimes get thrown around into different races.
"Sometimes there's a correlation between where we've had a bad season with our big players being sick or injured where the younger riders haven't had a great development."
Sky's team principle Sir Dave Brailsford has referred to Geoghegan Hart, Dibben and Doull being the "second generation" of British stars on the team and Ellingworth reiterated he was looking forward to seeing them progress.
"That's what we're all about is getting the goals out of the lads and saying how are you going to do and how are we going to support them," he said. "It's pretty exciting really."
Thank you for reading 10 articles this month* Join now for unlimited access
Enjoy your first month for just £1 / $1 / €1
*Read 5 free articles per month without a subscription
Join now for unlimited access
Try first month for just £1 / $1 / €1