Nine things you have in common with a professional cyclist
It may not feel like it sometimes, but you have a lot more in common with professional cyclists than you think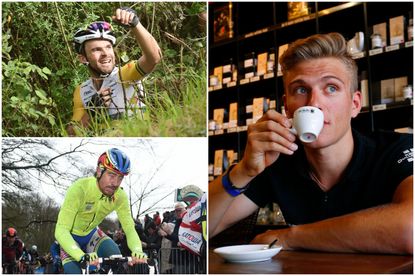 You LOVE cafe stops
What's the point in riding if there's no incentive? Both professionals and amateurs alike love to park up their bikes outside cafes and peruse the cake selection, before ordering whichever one has enough calories in it to replenish what they've lost to that point.
>>> What your mid-ride café order says about you
You drink excessive amounts of caffeine
Not only do you pick up a slice of cake or a flapjack at the cafe, you also gulp down a couple of espressos to keep you perked up for the rest of the ride. That's on top of the two you had before you left and the three you'll have throughout the rest of the day. Then there's the caffeine gels...
>>> Train low, feel good (with caffeine)
You fall off
I'm not sure you can call yourself a real cyclist unless you've licked the tarmac in a crash. Whether it's toppling over at the traffic lights or sliding along the road at high speed after a tumble, falling off is all part of the game. We just hope no-one crashes too hard.
>>> How to treat road rash (video)
You set goals for the season
Okay, completing the Cycling Weekly Box Hill Original sportive isn't exactly the same as targeting the win at Paris-Roubaix, but everyone needs a little bit of motivation throughout the season.
>>> Sign up to a sportive here
People in cars shout at you
The vast majority of cyclists will have had an altercation with a motorist where some unpleasant words have been shouted. Professionals also get shouted at by drivers, but they often come in the form of their directeurs sportif who are encouraging them during races.
>>> Motorist brandishes knife at cyclist in shocking road rage incident (video)
You have no idea how to fix your bike
Yes, plenty of amateur cyclists study the art of bicycle mechanics, but there's still a lot of people who rely on the LBS of all their technical ailments. Watching some professionals trying to fix a slipped chain during a race suggests they also have no idea what they're doing.
>>> 11 bike maintenance mistakes and how to avoid them
You bonk
Urgh, the dreaded bonk. It always comes when you're still miles away from home and there's little to do but get some sugar in you and grind it out. Unless you're a pro, of course, who can just drop back to the team car when they're feeling woozy and pick up a snack - or they can get one of their domestiques to do it.
You get punctures
Punctures are part and parcel of cycling, and even pros have to get their hands dirty to fix them if they're out on a training ride. Of course, if they're in a race all they have to do is pull over to the side of the road and one of their team will slip in the new wheel in seconds. Not many amateurs can boast that kind of support.
>>> How to puncture proof your tyres (video)
You post pictures of your rides on social media
Instagram is awash these days with cycling pictures. Whether its a snap of your new ride or a lovely panoramic of the view from the top of a climb, social media is the place to update your followers of your rides. Many pros are also keeping their fans in the loop with pictures of their training rides, race hotels and team meals. You can't escape it!
Thank you for reading 5 articles this month* Join now for unlimited access
Enjoy your first month for just £1 / $1 / €1
*Read 5 free articles per month without a subscription
Join now for unlimited access
Try first month for just £1 / $1 / €1