Tom Boonen should have made a deal with Mathew Hayman to win Paris-Roubaix, says former winner
Former Paris-Roubaix champion Eddy Planckaert says Tom Boonen made a mistake by not offering Mathew Hayman a deal to win Paris-Roubaix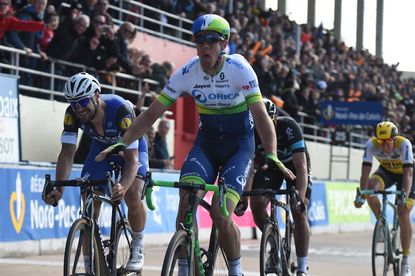 (Image credit: Watson)
Tom Boonen should have come to a deal with Mathew Hayman to allow him to win his fifth Paris-Roubaix in April, according to 1990 winner Eddy Planckaert.
Het Laatste Nieuws reports that Planckaert, who works as an analyst for Sporza, said that Boonen had made a "big mistake" by not offering Hayman something to effectively throw the race, as was allegedly common in the past.
But former rider and now race director of Ghent-Wevelgem Frank Hoste replied that this sort of practice is in the past, with the millions of pounds of sponsor money now in the sport.
Planckaert is reported to have said in Dag Allemaal magazine: "Look, if it were me in Tom's situation, I would have made a deal with Hayman. That guy was satisfied with the situation in which he's able to compete with the best riders in this race.
"Just promise him 'something' in exchange for his cooperation/assistance. Hayman must have been interested in such a deal, he would never believe that he had a shot at winning."
Watch Mathew Hayman win the 2016 Paris-Roubaix
Hoste admitted that this used to be common practice, but denied that it would have been an option at the 2016 Paris-Roubaix.
"If you went with two at the line and you finished second, you had to make that you had earned something. This is how it used to be," he told Belgian Radio 1.
"With the budgets now in this sport - between 10 and 25 million [euros] - working for another team out of the question...if anything ever leaked out, it may give a sponsor a reason to quit immediately."
Thank you for reading 20 articles this month* Join now for unlimited access
Enjoy your first month for just £1 / $1 / €1
*Read 5 free articles per month without a subscription
Join now for unlimited access
Try first month for just £1 / $1 / €1