Alberto Contador speaks about his Giro-Tour ambitions
Alberto Contador talks Grand Tour doubles and going out when he's at the top of his game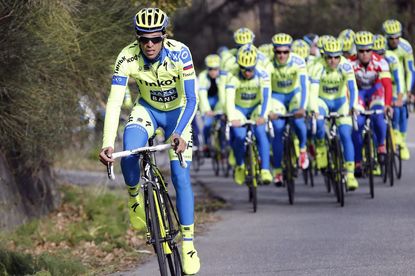 (Image credit: Watson)
Cycling's most successful active Grand Tour rider, Alberto Contador (Tinkoff-Saxo) aims to retire in 2017 and in style. For 2015, he wants to become the first cyclist to win the Giro d'Italia and Tour de France double since Marco Pantani in 1998.
"At the end of my career, I want to be remembered as someone who did something truly special. Who made history," Contador told La Gazzetta dello Sport at Tinkoff's training camp in Sicily.
"At this point, the possibility for me is to win the Giro d'Italia and the Tour de France in the same year is not only difficult, it's risky."
Contador has six Grand Tour wins – one from the Giro, two from the Tour de France and three from the Vuelta a España. He would have eight, but tests from the 2010 Tour showed banned drug Clenbuterol in his system. A subsequent ban stripped that year's win and the 2011 Giro title.
Eddy Merckx won 11 Grand Tours during his career. Contador is the sixth most successful Grand Tour cyclist with his six wins and the best of the current crop. Only 2014 Tour de France winner, Vincenzo Nibali comes close with three – one from each Grand Tour.
Contador won the Giro and Vuelta in the same year, 2008. Nearly three months separate the two stage races, the Giro/Tour or the Tour/Vuelta fall much closer on the calendar and leave less room for recovery.
After the Giro ends on May 31 the 32-year-old from Madrid will only have 34 days to prepare for the Tour's start on July 4 in Utrecht. It is "risky" because Nibali, Chris Froome and Nairo Quintana are preparing solely for the Tour.
Contador tried the same challenge in 2011, but said that it was a last-minute decision after his Giro victory, and that he and his team were not ready. He lost 1min 17sec on the first stage and finished the Tour fifth overall behind winner Cadel Evans. Regardless, the Giro and Tour results were later stripped due to his doping ban.
Italy's Marco Pantani won the Giro-Tour double in 1998, the last of seven cyclists to ever do so.
No cyclist has ever won all three Grand Tours in one year. The challenge could be in the back of Contador's mind and be the target if he manages the double first. Ahead of 2015, team owner Oleg Tinkov tried to convince cycling's top classification cyclists – Contador, Nibali, Froome and Quintana – to race all three. He offered up a €1m (£782,000) in prize money, but he shelved the idea when only his rider would accept the challenge.
Contador will not race for much longer. He told Spain's Marca newspaper in December that he would retire by the end of 2017 when he is 34 years old. He wants to do so with another Tour victory.
"I am not burned out physically or mentally, but it's just that I want to retire at the top by winning my last race," Contador told Marca.
"I don't mean a small race, but something bigger, like the Tour."
Thank you for reading 20 articles this month* Join now for unlimited access
Enjoy your first month for just £1 / $1 / €1
*Read 5 free articles per month without a subscription
Join now for unlimited access
Try first month for just £1 / $1 / €1