Andriy Grivko struggling with Ukraine's troubles as he rides in the Tour de France
Tour de France's only Ukrainian rider, Andriy Grivko, says that he fears for the freedom and safety of his compatriots back home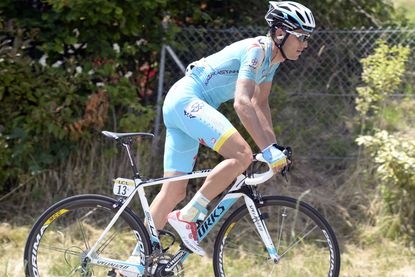 (Image credit: Graham Watson)
Andriy Grivko is helping Vincenzo Nibali win the Tour de France but finds himself in a "difficult" situation with problems brewing at home in the Ukraine. The downing of Malaysia Airlines flight MH17 on Thursday further highlighted the issues that currently face Ukrainians.
"It's difficult to concentrate on the bike when you know that your family is there," Grivko told France's L'Equipe newspaper on Sunday.
"My parents and my sister live in Simferopol, in Crimea. For some months, all my thoughts have been there. Our freedom and our security are in danger."
Grivko's dad cycled for the USSR and encouraged his son to take up cycling and move to Italy. His Italian team-mate Nibali leads the world's biggest race but outside the Tour, troubles persist.
In late February, Russia-backed rebels gained control of Ukraine's Crimean peninsula and pushed for independence. Crimeans voted to join Russia in a snap referendum held on March 11, but Grivko said that his people were prevented from voting otherwise.
On Thursday, a missile reportedly fired from rebel-held territory hit flight MH17 en route from Amsterdam to Kuala Lumpur and downed the airplane in eastern Ukraine. It killed 298 people, mostly Dutch, and put the Tour de France's spotlight on its only Ukrainian.
"It's a huge tragedy that is not limited to the Ukraine and Russia," Grivko said. "It concerns the world and in particular, Europe.
"Everyone should understand what is the cause of this is an act of terrorism – Russia is guilty and has dirtied the reputation of my country."
Since the start of the race, Grivko has been in touch with his family. He explained that his sister and others have been asked to accept Russian passports but refused.
"I live with this situation with a lot of anger because I have the impression that they want to expel us from our home," he added.
"The Russian dictatorship is installing themselves while I am cycling on the roads of the Tour de France."
Grivko rides for a team backed by Kazakhstan and named after its capital, Astana. Because of its historical and cultural attachment to Russia, he explained that it's better not to speak about the issues going on at home.
"But as soon as I get off my bike," he added, "I have the right to express my political views."
Thank you for reading 20 articles this month* Join now for unlimited access
Enjoy your first month for just £1 / $1 / €1
*Read 5 free articles per month without a subscription
Join now for unlimited access
Try first month for just £1 / $1 / €1