Chris Froome: "We've not seen Contador at his best yet"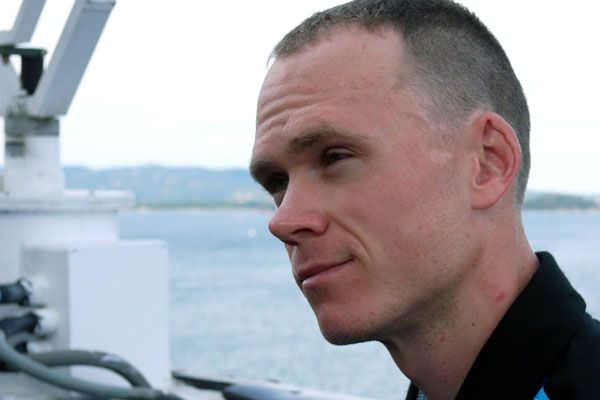 Sky's Chris Froome, on the eve of the Tour de France, warned that we've not yet seen the best of Alberto Contador (Saxo-Tinkoff) this season. The race begins in two days in Corsica, where Froome eyes Spain's two-time Tour winner and deals with increased attention.
"I don't think we've seen Contador at his best yet," Froome said.
"His goal was never to perform well at any of the races building up to the Tour de France, but then to come to the here at his absolute best. I believe he'll be here at his best and that's what we'll expect."
Froome spoke at the Tour's headquarters, the Mega Smeralda cruise-ferry sitting in Porto Vecchio. Across the waters, at the Hotel Shegara, Contador echoed his rival's words.
Despite losing four and a half minutes to Froome in the Critérium du Dauphiné stage race this month, Contador said that he is building well towards the Tour de France. He already won it three times, having the 2010 title stripped for doping, so he knows what he is talking about.
"We've seen Froome going very well in these pre-Tour races," Contador explained, "but if I didn't think I could beat him, I wouldn't have the motivation to even be at the Tour today."
Froome, in fact, lost in their last Grand Tour head-to-head in the Vuelta a España. Contador gave the slip to leader Joaquím Rodríguez (Katusha) on the stage to Fuente Dé. Froome failed to factor for the win and maintained fourth.
'Bit of surprise'
Froome, however, has taken the upper hand this year. He won four of the five stage races he started - and the press conference attendance battle. Where Contador filled a small conference/breakfast room, Froome filled the Panorama Bar on the ninth floor of the Mega Smeralda.
"There's not much you can do to be ready for this hype, with the number of journalists here," Froome said, looking out into the cameras and waiting journalists. "It's different than any other race. It's a bit of surprise."
Froome underscored that his season has been built to deal with rivals like Contador and the pressure off the bike. His wins strengthened his palmarès, but also his confidence.
"The way my season has been structured and the way I have been able to go to these early season races - going through the emotions of press conference, being in the limelight - that's giving me a really good build up to this point," Froome said. "But this is on a different level completely."
He explained that he wants to get through the first three technical stages in Corsica and on to the team time trial in Nice. Afterwards, the race will settle into its rhythm, when he will try to conquer Contador and his other rivals to win the Tour de France.
Tour de France 2013: Related links
Tour de France 2013: Who will win?
Tour de France 2013: The Big Preview
Tour de France 2013: Cycling Weekly's coverage index
Tour de France 2013 team tracker
Read Cycling Weekly magazine on the day of release wherever you are in the world with our iPad and iPhone edition - International digital edition, UK digital edition. And if you like us, rate us!