Tour de France: Cobble conversations
What do you talk about when you're waiting at the roadside for the Tour de France to arrive on the cobbles? The weather and your nation's sporting misfortunes it would seem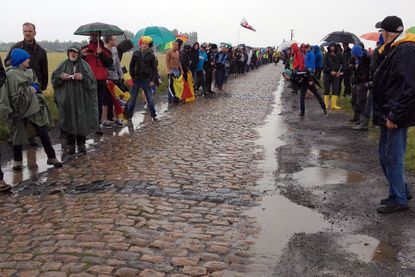 (Image credit: Simon Smythe)
Words: Simon Smythe at the Carrefour de l'Arbre
"You are English?" The man approached us the moment we had put down our bikes in the waterlogged field and taken up our places ankle deep in a muddy puddle by the pavé – a puddle that would later drench us from head to foot when the team cars sped through.
His eyes were wide, rain was dripping off the end of his French nose, his expression was simultaneously serious and gleeful.
"Froome est tombé!" he announced. Ironically the French sentence construction lent the defending champion more dignity than the English would have. Literally 'Froome is fallen'. You could take it as either meaning he has fallen off, or he's a casualty in today's war of attrition, as cycling journalists are fond of calling cycle races over cobbles, and in fact it was a combination of both.
Froome had fallen off and abandoned just before the Carrefour de l'Arbre sector where we standing. And the man was clearly pleased to be the first to let us know. So that was that.
Next up, the weather. "Zees is your English weather, uh?" He looked up into the dark sky into the rain that had been coming down all afternoon. "And Yorkshire was French weather!" We smiled patiently.
Today's 'English' weather, however, was not managing to dampen anyone's enthusiasm. Despite the driving rain, men began to take their shirts off in the international language of watching a big sports event.
As we waited for the race to arrive the atmosphere was more Rio than Roubaix as a red, white and blue clown with matching wig and painted face waved a huge French tricolour and danced up and down the cobbles chanting something about 'Les Bleus'.
Didn't he know his team had gone out in the quarter finals? Maybe we should have told him that 'Les Bleus sont tombés' but we're too polite do that because no matter how international it is these days, the Tour still belongs to the French and it still feels like a privilege to be accepted by them as a proper cycling nation, even if that means they can't wait to tell us that Chris Froome has fallen off again and want to repeat the tired cliché about rainy England even though we treated them to a marvellously sunny Grand Départ.
On the other side of the pavé a shivering couple held a banner between them with the legend 'Hup Jens Hup' bordered by two German flags and no one was talking to them.
Thank you for reading 20 articles this month* Join now for unlimited access
Enjoy your first month for just £1 / $1 / €1
*Read 5 free articles per month without a subscription
Join now for unlimited access
Try first month for just £1 / $1 / €1