Contador brushes aside talk of possible Armstrong conflict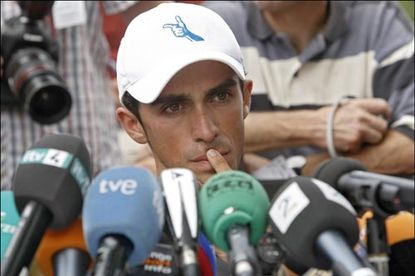 Alberto Contador has brushed aside suggestions that he could be affected by Lance Armstrong's interest in winning the Tour de France for an eighth time.
Speaking at a packed press conference on Monday's rest-day, Contador insisted that the relationships between the two was normal - something that contradicts with Armstrong's claim that there could "a little tension" in the team.
The Spaniard explained that on the stage to Arcalis Astana had expected attacks by their rivals, but that these hadn't happened. For that reason he had gone off the front himself, "because I had seen that it would be beneficial to the team."
Contador was equally conciliatory when it was suggested that Armstrong's comments after the stage could be interpreted as criticisms, saying simply "I'm not worried, because the team has benefited from what I did."
Armstrong could not or would not chase down Contador's attack, and the Spaniard seemed keen to return him the favour, saying that if Armstrong was off the front, then he wouldn't try to bring him back either.
Questioned for a good 45 minutes, Contador barely gave any apparent indications that he was under pressure at all.
In fact, the only hint that Contador was aware of a possible power struggle involving himself and Armstrong was when he said "if I was the clear leader of the team, there wouldn't have been any controversy about Arcalis. But this subject is getting a little tedious."
"My relationship with Armstrong is normal, just like I would have with any other rider. We eat at the same table in the evenings, and it's an equally normal situation on the team bus.
"Maybe the tension seems greater from outside than it really is."
However, Contador then contradicted himself and when he was asked if the whole issue of his relationship with Armstrong was influencing him personally. He recognised he was in an unusual position in the team.
"The situation would be better if there were no questions like that, because that would mean I'm in a normal situation. That's not the case."
"In my team, there are riders with a lot of options, and riders who are clear contenders, but I don't think about that."
So rather than pour fuel on what is becoming an increasingly fraught scenario, Contador preferred to play down the pressure.
To a certain extent, he succeeded, but at a small price - his comments were so bland they hardly matched Lance Armstrong's verbal fireworks. When it comes to entertainment value at press conferences, at least, the American is streets ahead. On the bike, though, it may be
another matter.
Thank you for reading 20 articles this month* Join now for unlimited access
Enjoy your first month for just £1 / $1 / €1
*Read 5 free articles per month without a subscription
Join now for unlimited access
Try first month for just £1 / $1 / €1