Contador says the hardest days are still to come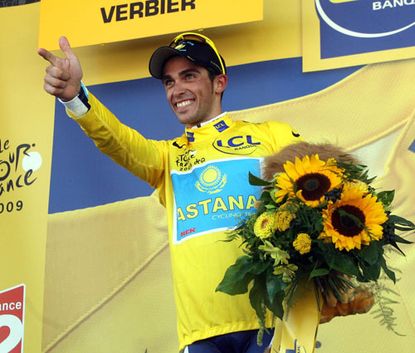 Two years ago Alberto Contador inherited the yellow jersey at 11pm at night when his team manager Johan Bruyneel at Discovery Channel woke him to tell him that Michael Rasmussen had been kicked out of the race.
But as the Spaniard confirmed in his stage winner's press conference after his victory at Verbiers, he preferred moving in to the yellow jersey by attacking.
"It's always good to take the jersey like this and not like in 2007," Contador confirmed.
"I'm very happy to have beaten the rest of the field. I even could attack a little bit earlier than expected because it had been such a fast ascent of the cimb and so many favourites had already been dropped."
"However, the Tour's a long way from finishing yet and I can't say I've won it yet. This is a big step, though, in the right direction."
Asked if this was the happiest day of his life, Contador disagreed. "That was when I could start racing again in 2005 in the Tour Down Under and went on to win the race's hardest stage."
The year before in the Tour of Asturias, Contador had collapsed on the side of the road suffering from convulsions and probably only a doctor placing a tube under his tongue saved his life.
Doctors detected a cavernoma - a vascular malformation that can lead to everything from epileptic fits to massive haemorrhage - and he spent six months off the bike.
Four years on Contador is now leading the Tour after his explosive late attack at Verbiers. "I've been waiting for this stage for a long time," Contador conceded, "and if I was doubtful about my condition before, now I'm not doubtful any more."
Thank you for reading 20 articles this month* Join now for unlimited access
Enjoy your first month for just £1 / $1 / €1
*Read 5 free articles per month without a subscription
Join now for unlimited access
Try first month for just £1 / $1 / €1