Michael Rogers hits the top of the Tour de France
Michael Rogers attributes Grand Tour success to a 'mental change', and says he's no longer afraid of failure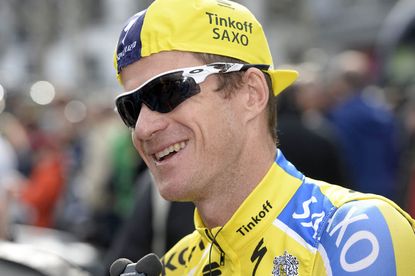 (Image credit: Watson)
Michael Rogers, after fighting an anti-doping case and winning two stages in the Giro d'Italia, hit the top in the Tour de France. In the longest stage of the race, he escaped, attacked and won solo in Bagnères-de-Luchon
"This year, I think I've changed mentally, and when it rains, it pours," Rogers said. "I've changed upstairs, I'm hungrier, and opportunities seem clearer to me. I'm not scared of the outcome. I used to be afraid of failure, but once you believe, and you're not scared of the outcome, things become clearer, and opportunities arise."
Tinkoff-Saxo began the Tour de France in Leeds with the idea to deliver Alberto Contador to the overall victory. Like Chris Froome, Contador crashed and abandoned the race and left Tinkoff to look for stage wins. Rafal Majka delivered on Saturday in Risoul and Rogers today.
"I can be grateful for this chance," Rogers said, "but very heartbroken that Alberto is not here."
Rogers' chance came after a six-month trial of patience. The Union Cycliste Internationale (UCI) announced that he tested positive for Clenbuterol, a weight-loss drug, after he won the Japan Cup on October 20. Rogers, however, had raced the Tour of Beijing five days prior and argued that he must have eaten contaminated beef.
The World Anti-Doping Agency (WADA) warned athletes and sporting federations about the dangers of competing in China and Mexico before. Farmers in those countries sometimes use Clenbuterol in their cattle to help with production. The responsibility, however, is on the athlete's shoulders to show how the positive occurred.
"Every case is different. I learned to just focus on my case and not try to understand it all, the WADA and the UCI has experts for that," Rogers said in May at the Giro.
"I hope my case is useful for the other cyclists, but what I learned right away is that it's difficult to understand what's going on."
The UCI cleared Rogers on April 23, in time for him to race Liège-Bastogne-Liège and the Giro d'Italia. Fans were used to seeing him work for Sky's Bradley Wiggins and Contador, but at the Giro he showed another side. He won in Savona thanks to a late attack and worked his way free up the steep pitches of Monte Zoncolan for another. Those wins marked his return, but Tuesday's win at the Tour put the icing on the cake.
"You dream of winning a stage in the Tour de France, every kid does this," Rogers said. "This is my 10th Tour, almost 205 days of being without a win. It was amazing in the last kilometres that feeling that I knew I'd won. I hope I don't have to wait another 10 years to get that again."
Rogers rode in a 21-man escape that whittled itself down on the final Port de Balès. On the descent into Bagnères-de-Luchon, he shot free with around six kilometres remaining after an attack by Cyril Gautier (Europcar). In town, he yelled and took a bow when he crossed the line for Tour de France win number one.
Credit: watson
Tinkoff-Saxo rider takes victory in Savona a month after being cleared of doping charges following positive clenbuterol test.
Michael Rogers takes first victory after being cleared of clenbuterol positive
Nairo Quintana set to win the 2014 Giro d'Italia overall
Michael Rogers chose the longest stage of this year's Tour to claim his first Tour win. Behind, there was a
Australian Michael Rogers issues statement in response to suspension for clenbuterol positive test
Thank you for reading 5 articles this month* Join now for unlimited access
Enjoy your first month for just £1 / $1 / €1
*Read 5 free articles per month without a subscription
Join now for unlimited access
Try first month for just £1 / $1 / €1