Peter Sagan's Tour de France Cannondale SuperSix Evo
Custom paintjob on a Cannondale SuperSix Evo for points classification leader Peter Sagan at the Tour de France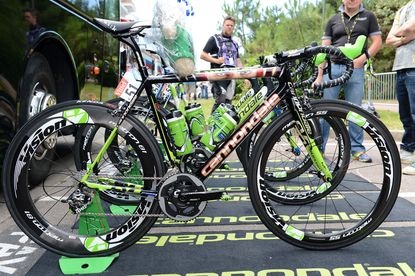 Cycling Weekly took the opportunity to look at Peter Sagan's Tour de France machine before the stage four start in Le Touquet.
Cannondale has supplied the current Slovakian champion with a custom-painted SuperSix Evo.
Sagan has swapped from the Hulk of previous years to fellow Marvel superhero Wolverine for this year's Tour. This X-Men theme is carried over with the top tube airbrushed with glaring eyes and razor-sharp claws.
The flamboyant Slovak is going for his third straight green points jersey title in the Tour.
Thank you for reading 20 articles this month* Join now for unlimited access
Enjoy your first month for just £1 / $1 / €1
*Read 5 free articles per month without a subscription
Join now for unlimited access
Try first month for just £1 / $1 / €1