Richie Porte battling on in Tour de France despite chest infection
Richie Porte aims to finish Tour de France despite illness and time loss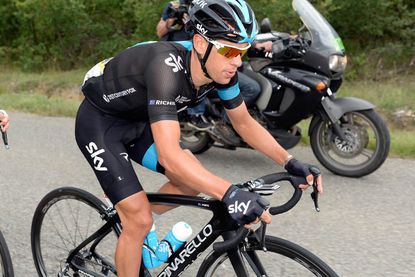 (Image credit: Graham Watson)
Sky's Richie Porte will continue in the Tour de France despite losing time in the mountain stages on Friday and Saturday, and a chest infection.
"It's the Tour de France, the goal is to get to Paris. Even yesterday, when I wasn't great, I still made it in before the gruppetto, so it's realistic to try and finish the race," Porte said.
"The goals have changed now and it as good to see 'G' [Geraint Thomas] and 'Frosty' [Nieve] out there flying the Sky flag. In the last three mountain stages, those guys can do the same job."
Porte, 29 from Australia, fell from second to 16th overall at 11-11 minutes in the Chamrousse stage on Friday. On Saturday, he lost an additional 4-52 minutes to race leader Vincenzo Nibali (Astana).
Overnight, he explained that he had to take antibiotics for a chest infection. The sickness may have cost him, but he added that he was not trying to find excuses.
"The last week hasn't been great but in the last few days. I've started a second course of antibiotics. It's not really ideal but the race goes on. I'm trying to get through the best I can and into the rest day," Porte said.
"It's not ideal but I'm not trying to make to make excuses but my health hasn't been great. At the end of the day, not all is lost. The Pyrenees stages are an opportunity and I hope to get through there and have another go."
Porte took over Sky's leadership in the race after Chris Froome crashed and abandoned in the fifth stage to Arenberg.
'Bad day' costs Richie Porte his place in the top 10 overall as Sky refocuses on stage wins
Thank you for reading 20 articles this month* Join now for unlimited access
Enjoy your first month for just £1 / $1 / €1
*Read 5 free articles per month without a subscription
Join now for unlimited access
Try first month for just £1 / $1 / €1