Roche ready to achieve career-long Tour top ten ambition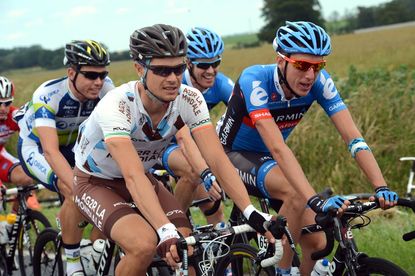 Most eyes are on Tour de France maillot jaune Bradley Wiggins and teammate Chris Froome, but don't forget that there's another man from Britain and Ireland sitting in the top ten: Ag2r-La Mondiale leader Nicholas Roche.


First, the Irishman dodged the crashes in the first week. "I used all my bad luck last year, when I had seven crashes," he reflected wryly.
Then he rode "one of the best" time-trials of his career into Besancon to limit his losses and sprinted home at the front of the favourites' group today, behind Bradley Wiggins and Cadel Evans, to move up to ninth overall, 5-29 down, after today's first high mountain stage to Bellegarde-sur-Valserine.
"Le Grand Colombier was tough, Sky did a great tempo... My hard bit of the day was the beginning of the Col du Richemond when I found it hard to pick up the pace after the descent," Roche told Cycling Weekly after the finish, his eyes bloodshot from the day's effort.


Vandenbroeck "riding the way contenders should"
Roche paid compliment to rival Jurgen Van den Broeck (Lotto-Belisol) for his attacking riding at the business end of the stage.
"Fairplay to him for making those moves, he's riding the way we should ride. He lost time in the time-trial, he knows he's a strong climber and he's trying to make the most of it uphill and in the descents.
"He tried the other day [stage eight to Porrentruy] on the Col de la Croix and put me in the hurt box; today, he tried and succeeded, so he's riding a very good bike race."


Stage win or top ten?
Poised just inside the top ten, will we see attacks from Roche? When asked whether he prioritised a stage or GC top ten, he said: "Hopefully both. Is one uncompatible with the other? I've never won a stage of a Grand Tour yet and that's something that I'm really looking forward to. But then, I always ride on the defensive side to secure my GC position."
His best Grand Tour performance is seventh overall at the 2010 Vuelta and a similar Tour de France placing would be valuable to employers Ag2r-La Mondiale, who are in need of points to retain their UCI WorldTour license.
Unique in the professional peloton, Nice-born Roche held French and Irish dual nationality for most of his life. Therefore, the 28 year old finds himself in a strange position as the current best placed Tour rider on a French team.
When asked about whether he'd felt an increase in attention from media and fans, he replied: "It's funny you say that, I think this morning was the first time French TV finally came up to me. They're all around [teammate Jean-Christophe] Peraud and whatever champions they have... this morning they woke up and went 'oh, Roche is in a French team, let's go and give him an interview as well'."
"Not that I care, but the other years I found there was always a lot of French media around the team and myself; this year, it's been pretty quiet."


Roche following familial footsteps
Who was the last Irishman to finish in the top ten of the Tour de France? His father Stephen Roche, ninth overall in 1992.
Roche dislikes the easily-made comparisons to his father - he is forging his own path.
"I don't want to be the next one after my dad, I want to do it because I came into the sport wanting to do it. It was something that was one of the key things in my career, finishing top ten in the Tour," he said.
"I've got the legs to be really competitive to do it, I think this year could be a good year for me."
Related links
Voeckler wins and saves his TourNicholas Roche wins Tour of Beijing stage
Thank you for reading 20 articles this month* Join now for unlimited access
Enjoy your first month for just £1 / $1 / €1
*Read 5 free articles per month without a subscription
Join now for unlimited access
Try first month for just £1 / $1 / €1