Rumours circulate of a Kazakh coup at Astana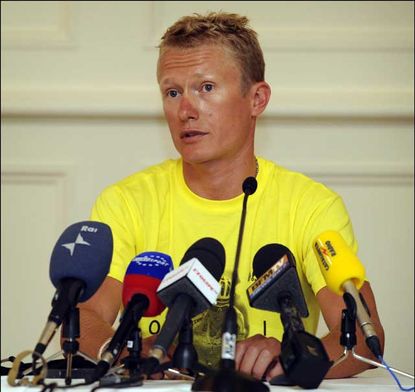 Rumours of a Kazakh coup at Astana began circulating today and they may just have some substance.
Disgraced Kazakh, Alexandre Vinokourov who was disqualified from the 2007 Tour de France after testing positive for an illicit blood transfusion, gave a press conference earlier in the week in which he stated his intention to return to the Astana team, which he helped to create in 2006.
Vinokourov's ban ends on July 24 and is expecting to negotiate with the team about a possible comeback. A gentlemen's agreement between the ProTour teams meant that riders returning from the sport following a doping conviction would not be able to ride for a ProTour for a further two years after their ban; this agreement was destroyed when Liquigas signed Ivan Basso last year.
"I have no guarantee yet because I expect to negotiate with Bruyneel in the coming days. But it's not possible that he disagrees. If [he] doesn't want me, it will be up to him to leave the team," said the Kazakh.
These comments could be largely dismissed as posturing but a statement from the Kazakh President no less seem to add weight to the rumours of a Kazakh take-over at Astana.
According to L'Equipe, President Nursultan Nazarbaiev proposed re-structuring the team around Alberto Contador without Lance Armstrong and Bruyneel.
"We are going to approach Alberto Contador and propose lengthening his contract," said Nazarbaiev.
"He will be our sole leader for the years to come, he will have every liberty to choose the riders that he wants to have at his side.
"In our mind, the team will be made up of Spanish and Kazakh riders, amongst those Alexandre Vinokourov".
Bruyneel has been adamant in the past that Vinokourov would be unwelcome at the re-modelled Astana, but according to the Kazakh President, the new team structure should be in place from September.
If rumours of a Kazakh coup prove to be correct, Bruyneel and Armstrong would have to create their own team, something they were on the verge of doing after the Giro d'Italia as Astana's backers had failed to pay outstanding sponsorship money.
Thank you for reading 20 articles this month* Join now for unlimited access
Enjoy your first month for just £1 / $1 / €1
*Read 5 free articles per month without a subscription
Join now for unlimited access
Try first month for just £1 / $1 / €1