Team Sky at the Tour de France: who have been the team's nine best riders?
We take a look at who's thrived at the Tour de France for Team Sky over the years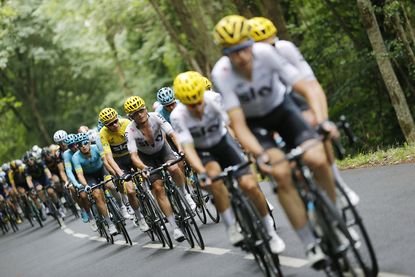 (Image credit: Yuzuru SUNADA)
Chris Froome
Stage wins: 7
Total appearances: 6
Yellow jersey winning appearances: 5
Every year since 2013 Team Sky has assembled a formidable line-up to support Chris Froome at the Tour, and each time (with the sole exception of 2014) Froome has capitalised from their hard work to deliver the team overall victory.
He might have cut a frustrated figure on his first Tour for the team back in 2012, but resisted the urge to attack a potentially weaker Bradley Wiggins, and has since become the team's undisputed outright leader and easily their most successful rider, with four yellow jerseys to his name.
It is testament to his leadership qualities that he inspires such loyalty and devotion from his team-mates each year, and to his mental fortitude that he is able to return each year at the same level.
Bradley Wiggins
Stage wins: 2
Total appearances: 3
Yellow jersey winning appearances: 1
However many more editions Chris Froome goes on to win, Wiggins will always be the first British and first Sky rider to win the Tour de France.
He was the man Dave Brailsford had in mind when he declared the team's goal (that seemed bold at the time, but turned out to be an understatement) of winning the Tour de France with a British rider within five years.
Despite misfiring as leader in the team's first two Tour appearances, everything clicked into place for 2012, when Sky first perfected the data-focussed strangulation tactics they have since made their trademark, and through which Wiggins and his team-mates trounced the opposition.
Richie Porte
Stage wins: 0
Total appearances: 4
Yellow jersey winning appearances: 3
During his four years at Sky, Richie Porte was the best wingman Chris Froome could hope for.
It's conceivable that Froome would not have won both the 2013 and 2015 editions were it not for his Australian lieutenant - in both races Porte dropped the entire field on the first mountain top finish to put his leader firmly in control of the race, and also on both occasions came to Froome's rescue on Alpe d'Huez when he suffered a hunger knock (in 2013) and was dropped by Nairo Quintana (in 2015).
Porte's only major disappointment was his failure to step up as an alternative leader following Froome's abandonment in the 2014 edition, but his role in Wiggins' 2012 team means he left Sky having helped win the yellow jersey three times.
Geraint Thomas
Stage wins: 1
Total appearances: 7
Yellow jersey winning appearances: 4
Having featured in all but one of Sky's eight Tour appearances, and in every one of Froome's winning rides, Thomas is the team's most dependable and constant domestique.
Or should that be super-domestique? After starting out as a man to mostly provide protection on the flat stages, the Welshman blossomed into a superb climber at the 2015 Tour, making him an invaluable asset capable of offering assistance on every type of terrain.
He has since continued to evolve, to the point where he goes into this year's Tour with the enhanced status as co-leader alongside Froome.
Wout Poels
Stage wins: 0
Total appearances: 2
Yellow jersey winning appearances: 2
A quality climber who has emerged as Froome's leading domestique in the mountains since joining the team in 2015, Poels epitomises the selflessness that has brought Team Sky so much success.
The gangly Dutchman was part of the yellow jersey-winning squads of that year and 2016, and, although fitness denied him the chance of a hat-trick last year, he's guaranteed a start his year having spent the last 12 months guiding Froome to overall victories at the Vuelta a España and the Giro d'Italia.
Standing at 6'1", Poels is one of the few riders who covers all of Froome's tall frame when riding at the front of the peloton - which he has done regularly, especially during the crunch time of the Tour's final week.
Mikel Landa
Stage wins: 0
Total appearances: 2
Yellow jersey winning appearances: 2
Sky have always backed their leaders with plenty of supporting climbing talent, but at last year's race Mikel Landa provided something different by maintaining a high place on the GC for himself.
That enabled him to function as a dangerous decoy for rival teams to worry about and chase - as during the intense 101km stage to Foix, where he helped wear out Sky's rivals by forming part of a threatening breakaway at the start of the stage.
Speculative fears of a mutiny proved totally unfounded as the Spaniard continued to work selflessly in the service of Froome, while also ultimately finishing fourth overall, the first time Sky placed two riders in the top-10 - let alone the top five - since Wiggins and Froome's one-two in 2012.
Mikel Nieve
Stage wins: 0
Total appearances: 3
Yellow jersey winning appearances: 2
Is there a more consistent climber in world cycling than Mikel Nieve? The Spaniard has completed all 15 Grand Tours he has attempted throughout the duration of his career, never finishing lower than 25th, and never higher than 8th.
Between 2014-2017, Nieve brought that metronomic dependability to Team Sky, playing a key role in Froome's 2016 and 2017 victories. Seldom was he the last man standing in the Sky train, but he always fulfilled his duties to perfection in the less acknowledged role of setting the pace early on climbs before the big attacks were made.
Edvald Boasson Hagen
Stage wins: 2
Total appearances: 4
Yellow jersey winning appearances: 2
A star of the team's early years, Edvald Boasson Hagen was the team's most successful rider at the Tour before it evolved to become the yellow jersey-winning machine we recognise today.
He featured in the bunch sprints during his debut ride in 2010, and went on to claim the team's first ever Tour stage victory the following year in an uphill sprint finish on a rainy day in Normandy, before using some exemplary descending skills in the Alps to add another two weeks later.
Proving his worth as a team player, Boasson Hagen adapted to become an early pace-setter on the next two editions, helping Wiggins to win in 2012 and Froome in 2013.
Vasil Kiryienka
Stage wins: 0
Total appearances: 4
Yellow jersey winning appearances: 3
The unsung heroes of the Tour are the riders who do the unglamorous work not always caught on camera, like ride at the front of the peloton before TV coverage begins, or carry bidons up to the rest of the team.
In this regard, special mentions must go to Luke Rowe and Ian Stannard, who have both worked tirelessly throughout their three appearances each at the Tour, but it's Belarusian hardman Vasil Kiryienka who has most excelled in the role over the years.
In his four Tour appearances for the team (only Froome and Thomas can boast more), Kiryienka has regularly astonished with his robotic ability to ride kilometre after kilometre at the front without ever compromising his perfectly still upper-body position, and can do an equally good job on steady climbs as he can on the flat.
Thank you for reading 10 articles this month* Join now for unlimited access
Enjoy your first month for just £1 / $1 / €1
*Read 5 free articles per month without a subscription
Join now for unlimited access
Try first month for just £1 / $1 / €1
Stephen Puddicombe is a freelance journalist for Cycling Weekly, who regularly contributes to our World Tour racing coverage with race reports, news stories, interviews and features. Outside of cycling, he also enjoys writing about film and TV - but you won't find much of that content embedded into his CW articles.