Team Sky's dilemma: should Geraint Thomas now be considered their Tour de France leader?
Thomas has shown to be the strongest at Team Sky so far at the Tour, but both he and Froome will have to wary of Tom Dumoulin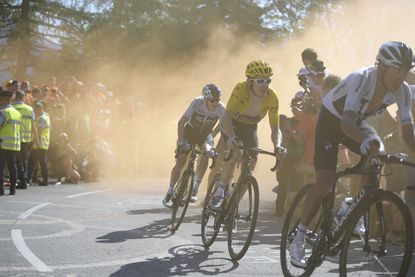 (Image credit: Yuzuru SUNADA)
So, what do Team Sky do now?
However much Geraint Thomas may insist that he remains subservient to Chris Froome, and however much the management may wish to proceed in the manner of business as usual, it cannot be denied that Geraint Thomas currently looks like the strongest rider at the Tour de France.
Winning back-to-back summit finishes as Thomas has - on La Rosière and the legendary Alpe d'Huez, no less - is about as dominant a statement a rider can make, and something that has, depending on your definition of a 'summit finish', only been achieved twice previously in Tour history (Joop Zoetemelk in 1976 and Fausto Coppi in 1952 being the others).
Team Sky road both Alpine summit finishes in a manner that suggested Froome remained the team's outright leader. When Thomas first attacked on La Rosière, it was very much a decoy move designed to force their rivals to chase - tellingly, rather than sit on the wheel of Tom Dumoulin (Sunweb) as the finish line approached, Froome continued to ride hard in an attempt to gain the best time for himself.
Then on Alpe d'Huez, after Egan Bernal finally peeled off after a stunning turn at the front, Thomas took over as a pace-setter, setting up a Froome attack shortly after.
It was only after Dumoulin clawed his way back up to Froome, with Thomas sat on the Dutchman's wheel, that Thomas made his move for the sprint win, gaining a few more seconds in the process over his teammate and all of his rivals.
The result is that Thomas now has a significant lead of 1-39 ahead of Froome in second place, with the Alps out the way and just over a week left to race - surely now Thomas must be considered at least co-leader of the team?
Perhaps, but Sky would be reckless to totally change their strategy and promote Thomas as outright leader, however impressive he has been so far and however strong his current position.
It must be remembered that whereas Froome has won six Grand Tours during his career and has vast experience of how to peak in the crucial third week, something always seems to wrong for the Welshman at Grand Tours, in which he has never finished higher than 15th overall.
It would take just one moment for him to suffer a crash or a jour sans for Thomas' lead to be wiped out in an instant. Yet on the other hand, there are now just three mountainous stages left in the Pyrenees for Thomas left to negotiate, and each day that passes without incident reduces the chances of something going drastically wrong, and brings him closer to glory in Paris.
Thomas has the form, but Froome has the dependability - at this point, it's difficult to know who is Sky's best bet.
Tom Dumoulin's threat
The two Sky riders cannot, however, afford to assume this is already a two-horse battle between them - not while the rider lying in third place, Dumoulin, continues to be such a threat.
The Dutchman is 1-50 behind Thomas, and just 11 seconds behind Froome, and will have been very pleased with how the Alpine stages panned out.
When Froome attacked on Alpe d'Huez it looked as though the Tour was reverting to type, with the four-time winner about to pulverise the rest of the opposition. But Froome was unable to dominate in his usual way as Dumoulin gradually bridged the gap, even claiming a few bonus seconds ahead of him at the line for the second day running.
His form should be the biggest concern for Sky, more so than the potential for internal rivalries. Unlike most adversaries the team has overcome in previous Tours, Dumoulin represents a different kind of challenger - a rider who is a time trial specialist (the world champion, no less), who would expect to gain, rather than lose, time against the clock.
Sky simply cannot afford to be in a position where the Dutchman can take yellow from them on the penultimate stage, a 31km time trial in the Basque Country, and therefore must put more time into him over the next week. But how? Their usual tactic of riding tempo in the mountains plays to the strengths of a rider to likes to climb at a steady pace, so the team need think imaginatively.
Instead, Froome and Thomas will need to work together to nullify the threat of Dumoulin. Rather than worry about each other, the two Brits would benefit from isolating and attacking their rival in tandem during the Pyrenean stages, forcing him to chase each of them alternately until he is too worn out follow.
In this scenario, winning the yellow jersey could almost become something resembling a lottery - will Froome be the rider to crack Dumoulin, or will Thomas?
Either way, each must risk losing the race in order to prevent Dumoulin from winning it by stealth.
Thank you for reading 20 articles this month* Join now for unlimited access
Enjoy your first month for just £1 / $1 / €1
*Read 5 free articles per month without a subscription
Join now for unlimited access
Try first month for just £1 / $1 / €1