Thomas Vergouwen, the man who predicts the Tour de France route
In 2012, CW talked to enthusiast Thomas Vergouwen about beating the bigwigs to the draw, making an annual job of accurately mapping out the complete Tour de France route from painstaking research.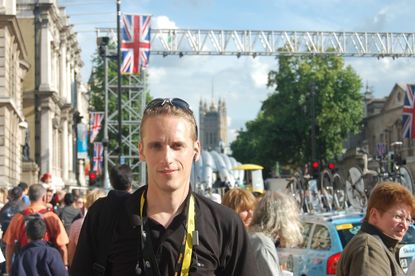 A Dutch ex-pat living in Paris, Vergouwen plays part-detective, part-insider and part-journalist to tie together all the loose threads.
He brings together a rumoured Tour route on his website velowire.com, to the point that media are now clutching his map in the official presentation.
That year, the accuracy of his prediction was seemingly verified when ASO accidentally published the following year's route on their website earlier than intended. It was nigh identical to Vergouwen's one.

CW: How did you start predicting the Tour?
TV: I started working on it at the end of August [2011], the first version went up on 7th September. Most of it comes from local newspapers - they talk about where the the Tour will go in their area.
What I say to ASO is that I put together what's already publicly available. I must admit a lot of the info comes from hotels, contacts I have and a lot of personal sources.
CW: What's your background?
TV: I'm 32, Dutch, I live in France, on the outskirts of Paris. I work for Orange France, I'm responsible for problems with services or products raised on social media - Facebook, Twitter, forums.
Until 2009, we weren't doing anything like this in a structural way, so I set up a team of web customer representatives to answer customers' problems.
I speak French, English, Dutch and German, which can be quite helpful.
I also worked on the Tour of Limousin and Poitou-Charentes, doing interviews for the official websites. Bjorn Leukemans's face lit up when I talked to him in his native tongue!
I have worked on the Tour since 2007. A French expression comes to mind, it's like Asterix and Obelix, when he fell into the magic potion. I always says 'I fell into cycling when I was a child and I never got out of it'. I've always followed it.
CW: Why, and when did you start predicting the Tour?
TV: I came back from my first Tour: once you've done it, it's magic, a great experience. The first two years, I worked for Orange. I did a behind-the-scenes blog, going everywhere in the Orange car every day.
Mavic, French Television, every actor in the Tour, I spent the day with them, showing people what the Tour really is. I'd always seen two or three stages; my personal record was six in 2006. It was a dream come true.
It was free publicity for them, for me it was interesting to see what they do. I was still in that dream come true mood.
So when I returned, I was like 'where will it go next year?' At that time, I already had my website [formerly thover.com, now velowire.com], but it wasn't well known.
I started in a small way - day by day, doing it little by little. I was able to get the whole skeleton of what the Tour would look like.
I only started work at the end of August - people ask me to do it every year. What's funny is that I know that people are using the information. I know a lot of journalists, Belgian and Dutch media too, TV crews, use it to book hotels in advance.
When I went to last year's official presentation - of what I already announced - it was funny to see quite a lot of journalists who had a print out of my map, the stages I announced. They read it, and know it's accurate.
CW: How do you go about compiling the information? What are the difficulties?
TV: There are days it's quite a lot of work, to make something logical of it. Often there are no dates announced by the local newspapers.
You often have to filter the information - what's right and not right, how much you can trust the source.
CW: What do you say to the hoteliers?
TV: The idea is simple. You ask whether the Tour comes here, and they won't say whether it does or not, ASO asks them not to.
So, I say 'I'd like to organise a seminar for so-and-so company, I'd like this number of rooms on these days'. From their answer, you pretty much know if it's booked for the Tour or not.
CW: And what do ASO think of you and your website? Are they angry?
TV: There's a French saying - "je ti'aime moi non plus": I love you, but I don't like you. They like what I do the rest of the year, but they don't like this.
I know that [organiser] Christian Prudhomme asked someone "do you know this guy?" and how I did it. Apparently he replied "I do know, he does the real work of a journalist, that journalists don't."
Much of the sources are actually mentioned [on the page], and you realise how much work there is.
CW: So how confident are you about this year's route [2012]?
TV: Currently, I'm 100% confident about the first two weeks. That Besancon time trial, I still have a hesitation between a TT and a road stage. The last week is not quite so sure.
I had almost all the info, but ASO decided to completely change it. I've never seen it before like that, they had hotels booked in Pau for July 16, 17, 18. But when one stage changes, it means the whole week after changes too.
CW: Do you make any money from this?
TV: Only very little, from the advertising on the website - it doesn't bring in a lot. I'm not out to make money out of this.
CW: What kind of person are you? The kind who likes to do this detective work and has a fascination with numbers?
TV: Good question. Look at my day job - I take a problem, from there, I have no idea who to talk to, how to solve it, but my detective work starts.
From there, I follow the problem all the way until it gets solved. I like to construct things from scratch - the Tour map is a blank piece of paper to fill with 21 stages.
CW: You work on the Tour too. In what roles?
TV: I worked for Orange till 2009, then for Vittel, and this year I worked for Customgetaways. I don't know what I'll do, maybe Customgetaways.com again this year.
CW: In your view, has the advent of the internet in the last five years made this route prediction possible?
TV: Without internet, I wouldn't be able to do it: I'd have no access to local newspapers, I wouldn't be able to get in touch with people living locally to where the Tour is going.
CW: What are the range of reactions you get from people when you ask about the Tour?
TV: Talking to people who officially represent a city or French departement, you get a lot of feigned ignorance - 'I cannot confirm or deny this'. Or they say 'I can tell you on October 18'.
Some are willing to help and offer info. But there's always that filter I need to apply about trust and truth. Some people spontaneously give me a call providing information.
CW: Do you have any surprising big name sources? Like star riders or figures high-up in ASO?
TV: Yes and no, it'd be easier. At some points, I get interesting info from riders. I'd prefer for local journalists to do their job correctly.
But I have no direct information from ASO. I don't want someone from ASO contacting me or giving me info; ethically, it's not right, and they're told not to. It's not fun anymore if they tell me it in August.
I think ASO like the fact that there's a lot of talking about it now, a lot of buzz. Before, no-one would normally speculate.
CW: What will you do after this year's Tour presentation? Sleep for a few weeks?
TV: [laughs] That would help. I've been having some short nights currently: I also write racing articles on my website, like the Tour of Beijing.
But I will carry on going at 150% energy, and try to stay awake at work with Coca Cola.
CW: Do you feel a lot of pressure now?
TV: Since I've proven it to be correct, people come on it for the info. It's a lot of pressure. But I can take it - even if I have something wrong, I always say 'read the page title'. It says 'rumours', it's not the official information. You can never be sure of a rumour.
Thank you for reading 20 articles this month* Join now for unlimited access
Enjoy your first month for just £1 / $1 / €1
*Read 5 free articles per month without a subscription
Join now for unlimited access
Try first month for just £1 / $1 / €1