Tom Steels on Mark Cavendish: 'He's the man to beat'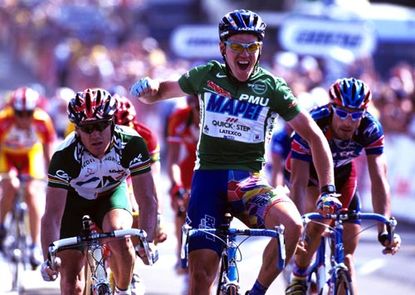 Tom Steels knows all too well how the blood and thunder of a sprint finish can cause a rider to act impulsively.
In 1997, the 25-year-old was riding his first Tour de France. He was the hottest property in bunch sprinting and he came wearing the famous black, red and yellow jersey as Belgian champion.
But a rush of blood to the head meant his Tour was over before the first week was out. The end of the sixth stage from Le Blanc to Marennes degenerated into the sort of untamed free-for-all we rarely see today. The era of the lead-out train was not yet fully established, it was a case of every man for himself.
It was a rocky sprint, with riders diving all over the place. Erik Zabel crossed the line first but was relegated to last place in the group for an irregular move. He cut across several other riders leaving a wave of disruption in his wake.
That was nothing compared to what Tom Steels did. A couple of hundred metres from the line, frustrated at being blocked, boxed in and cut up yet again, he sat up, pulled the water bottle out of its cage and flung it at the Frenchman, Frédéric Moncassin.
For that fiery moment, he was expelled from the race by the jury. It also earned him the nickname 'Tom Bidon' for a while. But, he says, it shaped the rest of his career. He came back to the Tour in 1998 and won four stages, then took three in 1999 and another two in 2000.
When he saw HTC-Columbia's Mark Cavendish flick the Vs at his critics as he won a stage at the Tour of Romandy earlier this year, Steels empathised with the release of frustration.
"People don't realise how much adrenaline takes over in the sprint," says Steels, now 38. "All day, everything is building towards the last five or ten minutes of the stage. The whole day is about this moment.
"I can't compare what Mark did to what I did. It was not the same - he didn't do anything like throwing a bottle - but it was still a gesture that attracted some publicity. His team showed a strong reaction and decided to take him out of the race and that will make him stronger and help him channel that emotion in a different way."
Steels smiles a sheepish smile as he thinks back to the rash petulance of his hot-headed moment.
"I was very frustrated, let's say that," he says. "A lot of things went on in that sprint that shouldn't have happened. It was like it every day. I was 25, it was my first Tour and I wanted to win a stage but that is not an excuse. I don't even remember why I did it. I threw the bottle and it hit Moncassin but I wasn't aiming it at him. I wasn't thinking. I did it out of frustration and immediately after the line, the anger was gone and the adrenaline was gone and I thought 'What have I done?'
"I was taken out of the race and it was a big lesson for me. I never did anything like it again, that's for sure. I learned that you have to concentrate on the race and take it when things do not go your way."
Now working for the Belgian media, Steels is looking forward to the sprints and believes Cavendish will be the man to beat.
"Cavendish is the best," says Steels. "When he is in form, he's almost unbeatable. His team is so strong but the best thing about Cavendish is that his position on the bike is incredibly good. He gets very low and that makes it difficult for the riders behind him. Normally the other sprinters would fight to be on Cavendish's wheel but it's no use because you don't get any shelter. It's better to be another place back - but then you have to come from further behind, so that's not easy either. It's very difficult to beat him. Even when he's not in the best form, he's still very fast.
"I think the biggest challenge will be from Thor Hushovd and Tyler Farrar. Hushovd has had some problems too, with his crash. Farrar has had the smoothest season and he won a couple of stages in the Giro and he's very consistent.
"It's going to be a very interesting Tour because there is a chance the sprinters will have to be patient. If it is windy on Sunday some riders might miss the split. In Spa it won't be a sprint, then there is the cobbles. The pressure to win a stage will be on the sprinters in the middle of the first week. Everyone wants to get their first win so it's going to be interesting to see who copes with that the best."
Tour de France 2010: Latest news
Tour teams presented in Rotterdam: What the riders said
Andy Schleck faces rough ride over Tour cobbles
Riis: Tour is the goal for Schlecks despite sponsor problems
Armstrong on Arenberg: There will be carnage
Cavendish set for green jersey battle at the Tour
Hunt and Lloyd look forward to making their Tour debuts
Tour de France 2010: Race guide
Tour de France 2010: Cycling Weekly's coverage index
Official start list, with race numbers
Brits at the Tour 2010
Tout team guide
Tour jerseys: What they are and what they mean
Brits in the Tours: From Robinson to Wiggins
Tour de France 2010: Pictures
Tour team presentation, Rotterdam
Tour teams take to the cobbles: Photo special
Thank you for reading 20 articles this month* Join now for unlimited access
Enjoy your first month for just £1 / $1 / €1
*Read 5 free articles per month without a subscription
Join now for unlimited access
Try first month for just £1 / $1 / €1