Touch the Skoda competition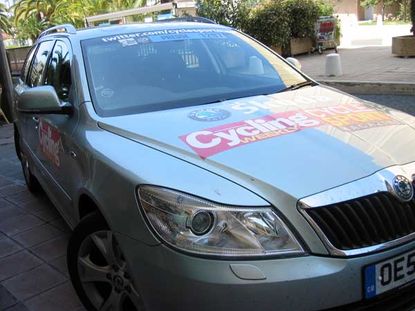 Follow our driving adventures / mishaps on Twiiter
The Good people at Skoda have loaned us here at Cycling Weekly a Skoda Octavia (five door, 2.2 litre estate) for the duration of the 2009 Tour de France.
So we'll be getting lost, bickering about dinner, and sitting in traffic jams in air-conditioned, back-supported luxury this year – alright!
To celebrate Skoda's kindness we've devised a hilarious competition for our readers to take part in. You've no doubt heard of Touch the Truck, well, we're doing Touch the Skoda.
All you have to do is send in a picture of you, or a friend, touching our Skoda We'll upload all the pictures and pick a winner at random. We'll be giving you more exact details of our location throughout the race on our Twitter feed, so forget about watching the likes of Contador, Armstrong, Cavendish and Boonen (or not) ride by, come and take a look at our car.
We'll be sourcing a fantastic prize for the winner, just don't ask us what it is right now. It will be Tour related, and it wont just be a load of rubbish picked up out of the gutter after the publicity caravan has been through.
The rules are as follows:
1. The car MUST be stationary when you touch it (anyone trying to touch it as we're moving will be disqualified)
2. You must be touching it with a part of your body. Remember, the pictures are going online for the world to see, so make it funny, but keep it clean.
3. You can touch any part of the car (be careful, it gets hot in the sun).
N.B. While you do only have to touch the car, anyone wishing to clean it – especially the windscreen - will receive an extra special prize.
Standard IPC rules apply see http://www.ipcmedia.com/terms.php for full terms.
Please send your picture to cycling@ipcmedia.com with the title Touch the Skoda. Closing date is Monday, July 27.
Good luck!
Here it is, ain't she a beauty
Thank you for reading 20 articles this month* Join now for unlimited access
Enjoy your first month for just £1 / $1 / €1
*Read 5 free articles per month without a subscription
Join now for unlimited access
Try first month for just £1 / $1 / €1