Voigt tries to carry on as RadioShack's future seems in doubt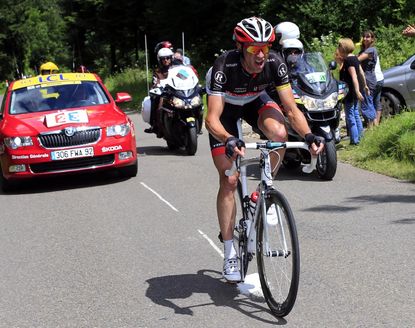 RadioShack-Nissan found itself caught in the middle of a hurricane overnight on the Tour de France's second rest day in Pau. Its star cyclist, Fränk Schleck, returned an adverse analytical finding for xipamide, a diuretic drug.
"We were like shocked and surprised by the news," Jens Voigt said when asked by Cycling Weekly at the start today. "We heard about it around 8:30pm yesterday at the dinner table. We had this moment of silence. We just tried to digest the news. Start to think about what it means, what the consequences are and how we keep going in this situation. As you can imagine, it's pretty difficult."
The Union Cycliste International (UCI) sent out a press release via e-mail yesterday at 20:33 local time: 'Schleck positive for diuretic Xipamide'. The drug appeared in his urine after Saturday's stage to Cap d'Agde.
Schleck placed third last year behind brother Andy and winner Cadel Evans. This year, he was in 12th place after struggling to stay with the race's main protaganists on the climbs. RadioShack leads the team classification.
Schleck's wife and daughter were in Pau visiting on the rest day. After voluntarily going to visit the police, Schleck travelled home to Luxembourg with his family. Reportedly, he will argue that he consumed contaminated food.
"According to the UCI rules, Fränk Schleck could've started this morning," race director, Christian Prudhomme said. "His team decided he wouldn't, that was a wise decision, but the only one acceptable."
Prudhomme held a 51-second press conference this morning in the Tour's village located in the Beaumont Park.
Voigt has raced since 1997, including 15 Tours participations, and earned a hard-man title thanks to his escapes and support. He helped Carlos Sastre win the 2008 Tour and the Schlecks place on the podium. The doping news, however, was a bit too much for him.
He said that he did not speak to Fränk Schleck after he heard the news and that he will try to concentrate on the remaining five days, including today's mountain stage to Bagnères-de-Luchon, but finds it difficult.
Around 50 journalists circled the RadioShack bus and French TV reported it live. Cycling Weekly asked about the difficulties.
"It's hard to concentrate on the job, you try to focus as good as you can on your job, but as you see with all you're colleagues here, it's a situation you cannot ignore," Voigt said. "We are only human, it's not easy to just forget about it and just go to Paris as if nothing happened."
Once the Tour has finished, RadioShack riders are likely to start looking elsewhere for contracts for next year and beyond as the team as it is looks doomed. General Manager Johan Bruyneel faces an arbitration panel for a doping investigation in the USA involving Lance Armstrong. The US anti-doping agency charged with possession, trafficking and administering drugs in the years he directed the seven-time Tour winner.
Fabian Cancellara won the opening prologue and led the race for seven days. According to French newspaper, L'Equipe, he will leave RadioShack at year-end and return to Saxo Bank. Yesterday morning, the team confirmed he and the Schleck brothers have complained to the UCI about missing salary payments.
"I know that I've been paid all the year, my salary always came and on time," Voigt said. "Yes, I do read the news as well so... Yeah, it looks like there's, I don't know, something."
Thank you for reading 20 articles this month* Join now for unlimited access
Enjoy your first month for just £1 / $1 / €1
*Read 5 free articles per month without a subscription
Join now for unlimited access
Try first month for just £1 / $1 / €1