Wiggins challenging for top 20 overall in Tour de France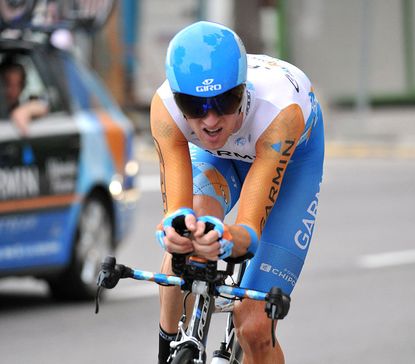 After his impressive ride in yesterday's opening time trial, Bradley Wiggins announced he was aiming for a top 20 place in this year's Tour de France.


"I've come here to do well, looking at GC and a possible top 20," he said. "Physically I'm in the shape to go top 20 on GC, maybe top 15, but obviously that takes so much more than just being able to sustain a certain level.
"It might all fall apart in the third week, I might get to Ventoux and feel exhausted, but you can't win a raffle if you don't buy a ticket, so we'll have a go."
Wiggins has lost another two kilograms in body weight since his ground-breaking ride in the Giro d'Italia that saw him stay with the race's protagonists in the mountains during the first ten days, and now has the freedom to ride for himself.
"Christian [Vande Velde] is coming back from injury. He's still our leader on the road, so if he punctures in the TTT we'll wait for him, if I puncture they won't wait for me. That's fine, Christian's proved in the past he's a team laeader and he'll get better as this race goes on, and by the third week I might be in a body bag and he might be flying."
If Wiggins can make up 20 seconds on Cancellara, and two seconds on Contador in the team time trial in Montpellier on Tuesday he'll reach another of his targets for this year's race. "Yellow is my goal in the first week. If I get yellow, or I'm still close after the team time trial, defend through the Pyrenees, then it's just in to the Alps. I should have a good time trial in Annecy."
Wiggins, who wore an iPod during the time trial to block out any distractions, said that his third place behind Cancellara and Contador had helped him get over the disappointment of being disqualified from a 10-mile time trial two weeks ago. "I used an 808 today, just in case the CTT were out there in their fleeces and woolly hats."
TOUR DE FRANCE 2009
Tour de France 2009 - the hub: Index to reports, photos, previews and more.
STAGE REPORTS
Stage one: Cancellara wins opening time trial
NEWS
Tour de France 2009 News Index
Wiggins challenging for top 20 overall
The Feed Zone: Sunday, July 5
Cancellara: Tour time trial win proves I'm backTour de France teams in Monaco presentation
Boonen free to ride in Tour de France
Dan Marint disappointed at Tour de France non-start
Dekker positive for EPO, Wegelius gets his Tour place
New anti-doping test for Tour de France
EXCLUSIVE VIDEOS
Stage two: Mark Cavendish on the Tour
Stage one: Jonathan Vaughters on Bradley Wiggins' chances
TOUR DE FRANCE 2009 PHOTOS
Stage one photo gallery by Graham Watson
Team presentation by Andy Jones
Team presentation by Graham Watson
TOUR GUIDE

Tour de France 2009 - the hub
Tour de France 2009: Who's riding
Tour de France 2009: Team guide
About the Tour de France
FEATURES

Tour de France 2009 on TV: Eurosport and ITV4 schedules

Big names missing from 2009 Tour de France

Tour de France anti-doping measures explained

Brits in the Tours: From Robinson to Cavendish
Cycling Weekly's rider profiles
TWITTER
Thank you for reading 20 articles this month* Join now for unlimited access
Enjoy your first month for just £1 / $1 / €1
*Read 5 free articles per month without a subscription
Join now for unlimited access
Try first month for just £1 / $1 / €1