Geoghegan Hart's final corner crash in Brighton
Spectacular crash at the end of stage seven from Camberley to Brighton captured on a phone and put on YouTube. Crash occurs at 2:28mins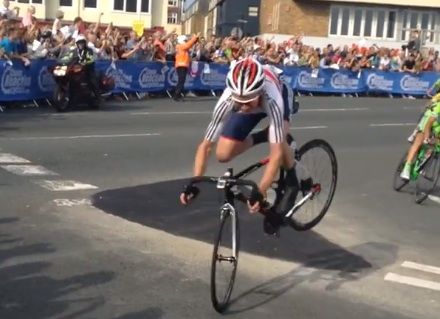 A fan at the Tour of Britain captured Tao Geoghegan Hart's dramatic crash in to the barriers in Brighton yesterday.
Geoghegan Hart had sprinted to the front of the yellow jersey group just before the bend and went in to it with too much speed. Slamming his brakes on he went over the bars as he hit, and broke, the barrier.
Thankfully both Geoghegan Hart and the spectator he knocked over were soon both up on their feet . He later apologised on Twitter.
Geoghegan Hart, one of three 19-year-olds in the race, had stayed with the lead group over the climbs of Ditchling Beacon and Bear road at the end of the longest stage, cementing his impressive top 20 position on GC.
He was given the same finishing time as Michal Kwiatkowski who sprinted for fourth place two move back in to second place, 19 seconds behind Dylan van Baarle (Garmin) who took the yellow jersey.