Ian Stannard's Tour of Britain stage-winning 'lunch ride' on Strava
British rider Ian Stannard's solo effort on stage three of the 2016 Tour of Britain netted him the victory, and he's uploaded it all to Strava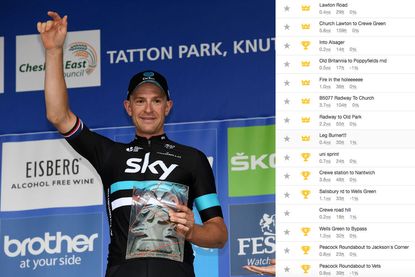 The effort that Ian Stannard (Sky) put in to win stage three of the 2016 Tour of Britain on Tuesday is clear to see on Strava, as the British rider has uploaded his ride.
Still modestly bearing the default name of 'Lunch ride', Stannard's 111-mile (179-kilometre) excursion from Congleton to Knutsford was achieved at an average speed of 26.2mph (42.2kmh) and included 5174 feet (1577 metres) of climbing.
The upload from Stannard's Garmin Edge 1000 GPS computer to Strava has calculated that he average a huge 300 watts power output for the ride and with an average heart rate of 146bpm.
>>> Ian Stannard says he used home advantage to take solo stage glory at Tour of Britain
For many riders, it's all about the Strava KOMs, and Stannard took plenty of those - many of which will stand for quite a while. Stannard lives in the area used for stage three, and it's not the first time that his name will have appeared on the leaderboard for some of the segments.
Prior to his solo attack with 41km to go, Stannard was in an escape group with Graham Briggs (JLT Condor) and Kristian House (One Pro Cycling) and it's no surprise to see the three riders sharing several KOMs along the way.
Stannard is undoubtedly feeling proud that he has added the 'Slacky knows he's done wrong' and 'Dumbers descent' KOMs to his collection.
>>> Top 12 funniest Strava segment names
The 29-year-old is a relative late-comer to Strava, having only started logging rides on the service since May 2016.
He doesn't often log his races on Strava – there are only a couple from the Tour de France – so his ToB data gives a rare insight into his racing performance.
The 2016 Tour of Britain continues on Wednesday with stage four from Denbigh to Builth Wells. The race concludes on Sunday in London.
Thank you for reading 10 articles this month* Join now for unlimited access
Enjoy your first month for just £1 / $1 / €1
*Read 5 free articles per month without a subscription
Join now for unlimited access
Try first month for just £1 / $1 / €1