Tour of Britain final stage route change due to Cycle Superhighway construction
Construction of new Cycle Superhighways in London means a route change for final stage of 2015 Tour of Britain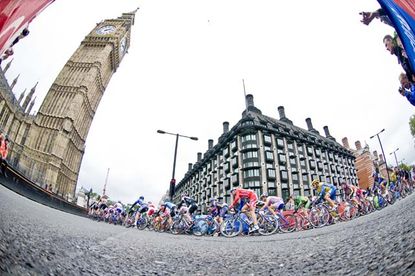 The route of this year's Friends Life Tour of Britain London stage is to be a circuit race confined to Westminster only – against the organiser's wishes.
ToB organiser Sweetspot had requested that the capital's stage – likely to be the final stage on Sunday, September 13 – was a route that passed through several areas of the city.
But the Cycle Superhighway that is being built across the city involves infrastructure changes on Victoria Embankment, one of three viable routes that connects the City with Westminster and a frequent host of the Tour of Britain.
This means that highway officers have had to reroute the Tour from its traditional City of London course.
>>> Superhighways, Crossrail and Quietways: A complete guide to London cycleways
A City of London report revealed that the September event was one of three events that required "new routes through the City" because of the Cycle Superhighway disruption.
It elaborated: "In some instances, where it has not been possible to resolve some of these practical issues, a more radical alteration of the event route has been required, eg. the Tour of Britain, where event promoters wanted a route through the City that would have shut most of the Square Mile all day.
"Officers felt this was a substantial and excessive escalation of the event footprint, and partly as a result, the current event plan now restricts the 2015 Tour to a circuit in the Westminster area.
>>> Wrexham set to host Tour of Britain stage one finish
A spokesman for City of London confirmed to Cycling Weekly that the race is not likely to go through the City, as it has done in previous years: "Whilst the event incorporated Victoria Embankment in previous years, this is unlikely to be an option this year. Discussions are still on-going but it is possible that it may not incorporate streets in the City."
It is not the first time that the Tour of Britain has been forced to find a course that does not involve the wider areas of the city with a Papal visit by Pope Benedict XVI meaning that in 2010 the final stage was a 100km circuit race in Newham won by Andre Griepel.
Thank you for reading 5 articles this month* Join now for unlimited access
Enjoy your first month for just £1 / $1 / €1
*Read 5 free articles per month without a subscription
Join now for unlimited access
Try first month for just £1 / $1 / €1