Vuelta a Espana features eight summit finishes and three time trials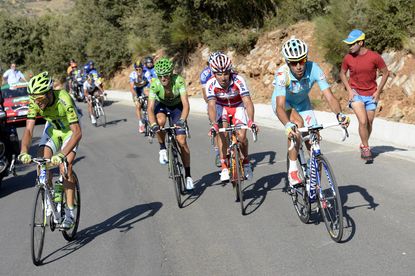 The 2014 Vuelta a España will feature eight summit finishes, three time trials and finish in Galicia, according to Spanish newspaper AS. The organiser will unveil the route, August 23 to September 14, on Saturday.
The eight summit finishes: Cumbres Verdes en La Zubia (stage 6), Valdelinares (9), San Miguel de Aralar (11), La Camperona (14), Lagos de Covadonga (15), Lagos de Somiedo/La Farrapona (16º), Monte Castrove (18) and Ancares (20). Last year's edition, won by Chris Horner, ended with a climb 12 times.
The major time trial covers 34.5 kilometres from Monasterio de Veruela to Borja. The race begins with a 12-kilometre team version in Jerez. It ends with a 10-kilometre and for the first time since 1993 outside of Madrid. In 1993, 21 years ago, it also finished in Santiago de Compostela, Galicia.
Urán confirms Giro start
Rigoberto Urán confirmed to Colombian media yesterday that he will race the Giro d'Italia, May 9 to June 1. He finished the race second overall last year with Sky. This year, he will lead Omega Pharma-Quick Step alongside Mark Cavendish for the sprints.
His tentative programme: Mallorca Challenge, February 2-5, Tour of Oman February 18-23, Tirreno-Adriatico March 12-18 and Volta a Catalunya March 24-30.
Argos-Shimano to become Giant-Shimano says Dutch media
Giant bicycles will save Dutch team Argos-Shimano, according to local newspaper De Telegraaf. In addition to supplying bikes, the Taiwanese manufacturer will fund the team under its new name GiantShimano.
The team planned to announce a new sponsor this winter but a reported deal with an American company fell through. Management will unveil its new names and sponsor at a team presentation on Monday.
Related link
Argos-Shimano to have new title sponsor in 2014
Bettini in Madrid, Cassani in Rome
Paolo Bettini travelled to Madrid yesterday to begin working with Fernando Alonso's new team.
According to La Gazzetta dello Sport newspaper, he met with Alonso's manager Luis García Abad to plan the team's 2015 debut. The two-time World Champion will manage the team reportedly backed by a United Arab Emirates-based company.
Davide Cassani met with the Italian cycling federation (FCI) yesterday in Rome. The former cyclist and TV commentator takes over Bettini's spot as Team Italy's sports director.
NetApp-Endura aims for Tour de France
Germany's top team, NetApp-Endura said yesterday that it wants to race the Tour de France this year. The second division team missed out last year, when three French wildcard teams participated.
"The Tour de France is the target we have definitively set for ourselves", said Team Manager Ralph Denk in a press release. "With our successes at the Vuelta a España, we showed just what potential this team has. Year by year we have set ourselves ever higher targets and have always backed this up with results. Consequently, we should now strive to participate in the biggest race of the year."
The team raced the Giro d'Italia in 2012 and the Vuelta a España last year, when its cyclist Leo Koenig won a stage.
Thank you for reading 5 articles this month* Join now for unlimited access
Enjoy your first month for just £1 / $1 / €1
*Read 5 free articles per month without a subscription
Join now for unlimited access
Try first month for just £1 / $1 / €1