Vuelta a España 2019 live TV guide
Where and when to watch all the live TV and highlights from the 2019 Vuelta a España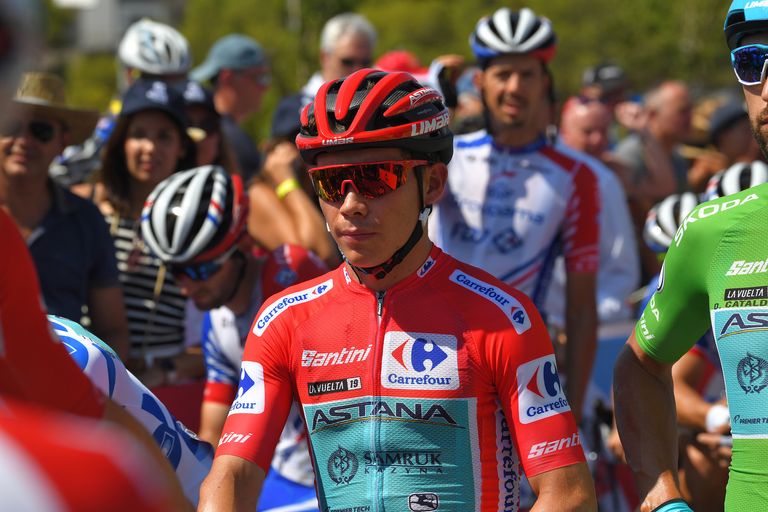 (Image credit: Getty Images)
The 2019 Vuelta a España starts on Saturday August 24 with a team time trial in Torrevieja.
The race promises exciting viewing, with a total of eight summit finishes plus a 36km time trial on stage 10 in France which could prove pivotal in the the later stages of the Grand Tour.
>>> Vuelta a España 2019 route
As is becoming a trend, the Vuelta looks set to boast a stellar line-up of WorldTour stars, including Nairo Quintana and Alejandro Valverde (Movistar), Miguel Ángel López (Astana), and Rafał Majka (Bora-Hansgrohe).
Feelings of unfinished business, disappointing rides at the Tour de France or just a great pair of racing legs this late in the season - whatever the reason, there should be an entertaining battle for the overall win.
Coverage schedules are still to be concluded, but there will be live coverage and highlights on Eurosport and stage highlights on ITV4. The schedule will be updated throughout the race.
Broadcast times, durations and channels are open to change by the broadcaster(s)
Eurosport schedule for the 2019 Vuelta a España
Saturday August 24
1630-2000 Stage 1 LIVE on Eurosport 1
2200-2330 Stage 1 Highlights on Eurosport 1
Sunday August 25
1330-1715 Stage 2 LIVE on Eurosport 1
2000-2130 Stage 2 Highlights on Eurosport 1
Monday August 26
1345-1715 Stage 3 LIVE on Eurosport 1
2000-2130 Stage 3 Highlights on Eurosport 1
Tuesday August 27
1345-1715 Stage 4 LIVE on Eurosport 1
2000-2130 Stage 4 Highlights on Eurosport 1
Wednesday August 28
1345-1715 Stage 5 LIVE on Eurosport 1
2000-2130 Stage 5 Highlights on Eurosport 1
Thursday August 29
1345-1715 Stage 6 LIVE on Eurosport 1
2000-2130 Stage 6 Highlights on Eurosport 1
Friday August 30
1345-1715 Stage 7 LIVE on Eurosport 1
2000-2130 Stage 7 Highlights on Eurosport 1
Saturday August 31
1345-1715 Stage 8 LIVE on Eurosport 1
2000-2130 Stage 8 Highlights on Eurosport 1
Sunday September 1
1330-1715 Stage 9 LIVE on Eurosport 1
2000-2130 Stage 9 Highlights on Eurosport 1
Monday September 2
Rest day
Tuesday September 3
1345-1715 Stage 10 LIVE on Eurosport 1
2000-2130 Stage 10 Highlights on Eurosport 1
Wednesday September 4
1345-1715 Stage 11 LIVE on Eurosport 1
2000-2130 Stage 11 Highlights on Eurosport 1
Thursday September 5
1345-1715 Stage 12 LIVE on Eurosport 1
2000-2130 Stage 12 Highlights on Eurosport 1
Friday September 6
1345-1715 Stage 13 LIVE on Eurosport 1
2000-2130 Stage 13 Highlights on Eurosport 1
Saturday September 7
1345-1715 Stage 14 LIVE on Eurosport 1
2000-2130 Stage 14 Highlights on Eurosport 1
Sunday September 8
1130-1715 Stage 15 LIVE on Eurosport 1
2000-2130 Stage 15 Highlights on Eurosport 1
Monday September 9
1200-1700 Stage 16 LIVE on Eurosport 1
2000-2130 Stage 16 Highlights on Eurosport 1
Tuesday September 10
Rest day
Wednesday September 11
1345-1700 Stage 17 LIVE on Eurosport 1
2000-2130 Stage 17 Highlights on Eurosport 1
Thursday September 12
1100-1700 Stage 18 LIVE on Eurosport 1
2000-2130 Stage 18 Highlights on Eurosport 1
Friday September 13
1345-1700 Stage 19 LIVE on Eurosport 1
2130-2300 Stage 19 Highlights on Eurosport 1
Saturday September 14
1030-1700 Stage 20 LIVE on Eurosport 1
2000-2130 Stage 20 Highlights on Eurosport 1
Sunday September 15
1530-2000 Stage 21 LIVE on Eurosport 1
2200-2330 Stage 21 Highlights on Eurosport 1