Watch: BMC Racing rider takes a tumble off the side of podium (video)
Silvan Dillier hurts nothing but his pride in fall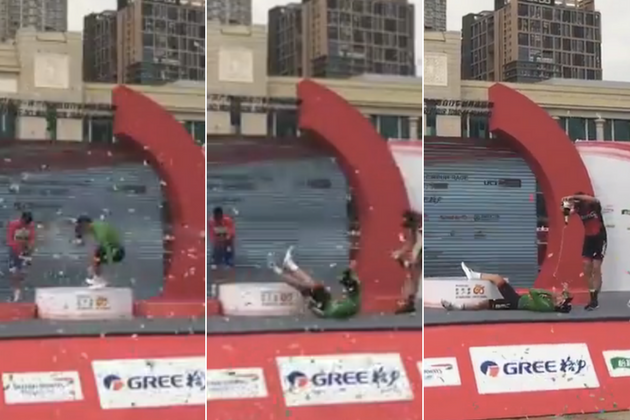 In a scene that we're surprised doesn't happen more often with riders in cleats jumping about on a stage slick with champagne, Silvan Dillier took a tumble while on the podium at the Tour of Guangxi.
Wearing the green of the mountains jersey after stage three of the end-of-season World Tour race, Dillier was spraying the champagne on the podium with race leader Fernando Gaviria and BMC Racing team-mate Daniel Oss.
>>> How do professional riders spend the off-season?
Teetering on the edge of the top step of the podium, Dillier's footing starts to go, before he falls down onto the stage, where Oss is on hand to help him out by spraying champagne in his face.
Thankfully Dillier didn't injure himself in the fall, being helped up by Gaviria having hurt nothing but his pride.
The bad news for Dillier is that this would be his last trip up to the podium, with team-mate Nicolas Roche taking the mountains jersey off him on the next stage to Mashan Nongla.