Is it worth riders making bike changes for the final climb of the Worlds time trial?
Marco Pinotti assesses whether riders should be making changes for the technical final climb of the men's individual time trial at the World Championships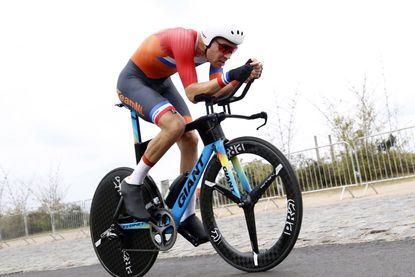 (Image credit: Yuzuru Sunada)
Even with the risk involved, it is worth changing bikes in the World Championship time trial in Bergen, Norway, because the course ends with a "true climb."
Time trial expert and coach at BMC Racing, Marco Pinotti studied the climb when in Norway last weekend. The 31-kilometre time trial on Wednesday, which will see favourites Tom Dumoulin and Chris Froome do battle, ends with a 3.4-kilometre climb.
>>> Controversy surrounds bike changes during men's time trial world championship
"Yes it's worth it, it's a true climb!" Pinotti told Cycling Weekly.
The Italian raced until 2013 and won the national title six times.
"There are two points against changing bikes. One is the change, something can go wrong. It's not a cyclocross bike with double-sided pedals. They are single-sided pedals. The other point, some riders suffer changing positions."
BMC Racing performed tests with their riders averaging five to eight seconds to complete a change from a time trial bike to a road bike.
For Wednesday's race, the organisers will put down a special rubber mat to prevent someone slipping and will allow a mechanic to push his rider off to a point.
Given the climb – 3.4 kilometres, going from five to 316 metres, averaging 9.1 per cent – a lighter road bike has advantages.
"It'll take around 11 minutes. So, the advantage is the weight of the bike, because a time trial bike weighs about one to two kilogrammes more," Pinotti added.
"Most road bikes are 6.8 to 7.0, but a time trial bike goes up to nine. It depends on the rider, but most can put out more power on a road bike. Also, the first kilometre of the climb is technical, so you need the road bike to accelerate and keep your speed out of each bend and kick.
>>> Cycling time trials: how to get into time trialling
"Then, you are able to use different muscles, so in a way, they are fresher. I tried it, I remember in the Tour of California one year. You stop for 10 to 11 seconds, but you when you restart, it's as if you are starting a new time trial and you are fresh. Others, though, don't respond that way sometimes."
In Italy, they call Pinotti 'Il Professore'. One can understand why, he began spitting out numbers quickly while speaking to CW while back at home in Bergamo and seeing his children off to school.
Most riders save around two kilogrammes weight from a time trial to a road bike. "So that's 20 seconds." He considered the losses. "10 seconds maximum. You're getting a net gain of 12 to 18 seconds."
Some time trial bikes, depending on the make and the rider's size, however, weigh much less, maybe 7.5 kilogrammes. Those riders, said Pinotti, may not bother with it.
"Or, if one gets there with a good advantage," he added, "maybe he won't risk it."
Dutchman Tom Dumoulin (Sunweb), silver medallist at the 2016 Olympics, already indicated he will change bikes.
Thank you for reading 20 articles this month* Join now for unlimited access
Enjoy your first month for just £1 / $1 / €1
*Read 5 free articles per month without a subscription
Join now for unlimited access
Try first month for just £1 / $1 / €1