Raleigh boost 2012 line-up with Hampton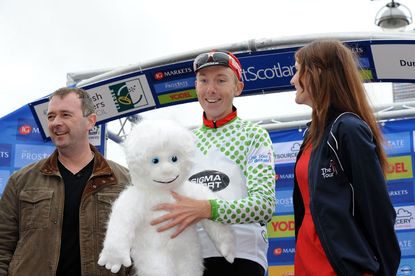 Russell Hampton today became the latest rider to join Raleigh for the 2012 season, as the former British Academy rider makes the move across from Sigma Sport-Specialized.
The 23-year-old from Essex impressed during this year's Tour of Britain, and wore the King of the Mountains jersey for three days as he finished in the top 30 overall.
Speaking to Cycling Weekly, Hampton told of his eagerness for next year to begin, and has set his sights on winning close to home.
"The team are really moving it on from where they were this year," he said. "They've made a lot of changes for next season and I'm excited to be a part of it."
Hampton continued: "The main goal is for consistency across the board next year. In terms of specific races, the Premier Calendar will be good for me. Dengie Marshes is on my training roads, and then there are the classic events like Lincoln."


Hampton wearing the polka-dot jersey at this year's Tour of Britain
Interest shown in Hampton completes a remarkable turnaround of events for the youngster. He didn't ride a bike for seven months, before Matt Stephens recruited him for this year.
Even then it wasn't plain sailing, as both Hampton and Stephens crashed heavily during the Paris-Troyes in March.
"Before the Tour of Britain, I'd only raced 15 or so times because of the injury so it shows how well I was going with such little racing in my legs.
"I went into that race with the aim of giving a good account of myself. I knew I was capable of performing at that level; I've done it before. But you just have to make sure you can repeat it."
Despite securing a contract for next season so late in the day, Hampton has already begun preparing for 2012 - including rides with Mark Cavendish.
"I've started my winter training already, and I feel stronger than where I was this year.
"Cav expects the same level of commitment that he puts in. I've known him for a long time so riding with him is pretty natural now."
Thank you for reading 20 articles this month* Join now for unlimited access
Enjoy your first month for just £1 / $1 / €1
*Read 5 free articles per month without a subscription
Join now for unlimited access
Try first month for just £1 / $1 / €1