Reporting motoring offences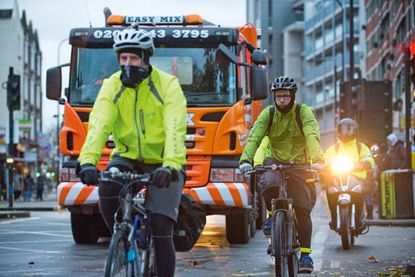 Bad driving. From the annoying to the downright dangerous, it leaves us fuming helplessly at the roadside as the perpetrator disappears into the distance.


For many cyclists, bad driving is an annoyance that is not easy to challenge. But what happens if you do report a close call? Whom should you contact? And what is the best way to go about it? We look at incidents involving commercial vehicles.
With any complaint, detail is key. Take down the number plate, exact time, location and, if possible, a driver description. In instances where the vehicle is a commercial sign-written one, the CTC's Chris Peck advises writing to the company; many, especially larger companies, have complaints and disciplinary procedures.
Remember, a polite, reasoned letter will be taken much more seriously than an incandescent rant.There has been a lot of bad press concerning lorries lately, some of which fail to comply with basic safety standards.
HGVs, buses and coaches are regulated by regional traffic commissioners, who have the power to suspend licences in cases of proven bad driving. If complaining to the company fails or the vehicle is unmarked, find your local traffic commissioner on the government's website: bit.ly/19lqcaC.
A collective voice is always stronger, and for most businesses there are few bigger incentives to take action than to avert a PR disaster. After taxi firm Addison Lee's boss suggested in his company's magazine in 2012 that cyclists were to blame for accidents, a 'die-in' was staged outside the firm's London HQ.
Addison Lee has since improved its driver training, as marketing manager Alistair Laycock explained: "Addison Lee is the only cab company to have created a comprehensive taxi-specific cycle awareness training programme. We have also set up a dedicated email account [cyclesafety@addisonlee.com] for cyclists to report dangerous driving incidents."
Meanwhile, for bus operators, FixMyTransport.com is the public transport campaign equivalent of crowd funding, where someone starts a campaign that others with the same complaint can join. FixMyTransport's Myfanwy Nixon said: "When people band together visibly because the correspondence is published online, it is going to exert more pressure on the operator.
"As a cyclist, you would be able to say, 'Look, it's not just me who thinks your drivers are irresponsible; I have 54 people saying the same thing.'
"The original reporter might not think of taking their issue to a local councillor, for example, or might not have spotted that there's a 'meet the bus company manager' event coming up, but other members of the campaign might."


This article was first published in the December 12 issue of Cycling Weekly. Read Cycling Weekly magazine on the day of release where ever you are in the world International digital edition (opens in new tab), UK digital edition (opens in new tab). And if you like us, rate us!
Thank you for reading 5 articles this month* Join now for unlimited access
Enjoy your first month for just £1 / $1 / €1
*Read 5 free articles per month without a subscription
Join now for unlimited access
Try first month for just £1 / $1 / €1