Richmond Park cyclists warned not to abuse or harass female motorists
London's Metropolitan Police says that "male cyclists" have abused and harassed "female motorists" in park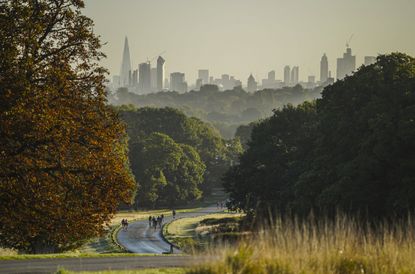 (Image credit: Getty Images)
Cyclists in Richmond Park have been warned not to harass authorised motorists, with London's Metropolitan Police saying that it had received reports from female motorists of abuse from male cyclists.
According to the Met's Royal Parks Police, women who have driven through the park, with permission, have been shouted at and harassed by men on bikes, who mistakenly believe they are not allowed to be there in a motor vehicle.
Cars are banned from certain roads in the park, including Sawyers Hill at weekends, but some permitted drivers are still allowed through.
In a statement on X, formerly known as Twitter, on Monday, the Met's Royal Parks Police said: "We have had several reports from female motorists who are authorised to drive on the closed roads in Richmond Park of abuse and harassment, including banging on the vehicle and throwing water over the car, by male cyclists, as they believe incorrectly that they are not authorised.
"This behaviour is not acceptable and has caused upset, anxiety and fear.
"Please be aware that permit holders are authorised to use the closed roads. We conduct regular checks on vehicles to ensure the drivers are authorised. Thank you."
Richmond Park's manager Paul Richards told London's Evening Standard: "We are extremely concerned that female drivers, including those driving alone or with children, have reported frightening harassment by a small number of males on cycles, such as shouting and banging on their car, and spraying the car with water.
"Harassment is a crime, and it is not tolerated. The incidents have been reported to the police."
Last year, the Royal Parks charity announced that traffic reduction measures introduced in three London parks over the pandemic were to be made permanent.
There is a restriction on all through-traffic between Broomfield Hill Car Park and Robin Hood Car Park and a permanent closure of the vehicle link between Sheen Gate and Sheen Cross. Additionally, at weekends and public holidays, all cut-through traffic will be restricted between Roehampton and Richmond Gates.
At the time, the news was praised by the London Cycling Campaign, although they also said "bolder" and more "rapid" action was needed.
Richards said this week: "A small number of vehicles are authorised to use the roads - including park staff, parents dropping children off at the Ballet School and visitors accessing the stables."
On Wednesday, the Royal Parks Police account posted on X that it had stopped a driver doing 58mph on Sawyers Hill, a 20mph zone. It wrote: "The driver, who already had 6 points on his licence, was stopped and reported."
Thank you for reading 20 articles this month* Join now for unlimited access
Enjoy your first month for just £1 / $1 / €1
*Read 5 free articles per month without a subscription
Join now for unlimited access
Try first month for just £1 / $1 / €1