Ride the 2011 Giro d'Italia route for charity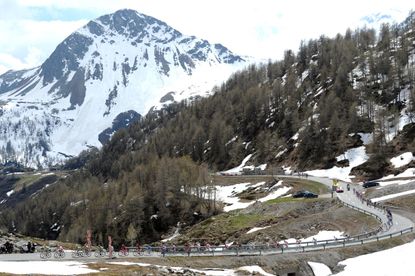 If you ever fancied riding the Giro d'Italia but didn't have the pro contract, now's your chance. The Gran Corsa d'Italia ride traces the entire 2011 Giro route to raise funds for the Prostate Cancer Charity.
Just 200 places are available for the ride, which takes places as the professional's Grand Tour finishes, starting on May 29 for three weeks.
Rapha-Condor-Sharp rider Ben Greenwood will be taking part in the ride.
"What an opportunity," Greenwood said on his ride blog. "Completing the challenge of a lifetime. And saving lives while you do it. The riders of Rapha-Condor-Sharp will be there. Will You?"
Riders can attempt to cycle the whole route, or select certain stages. Those taking part will be helped along the way by Classic Tours, who will provide transfer transport and route signage. Riders will have to cover the cost of flights and half-board accommodation themselves.
The Gran Corsa d'Italia will be officially launched on December 13 at the Look Mum No Hands cycling cafe at 49 Old Street, London, EC1V 9HX.
More information can be found on the Gran Corsa d'Italia ride's official web page or its Facebook page.
The professional's version of the 2011 Giro d'Italia starts in Turin on Saturday May 7 with a team time trial. It concludes three weeks later with an individual test against the clock in Milan on Sunday May 29.
In between the riders face some of Italy's toughest climbs, including Mount Etna, Grossglockner, Monte Zoncolan, Val di Fassa, Macugnaga and Colle delle Finestre.
The route has been widely described as 'spectacular', and was devised to celebrate the 150th anniversary of Italy's unification.
For more information on the 2011 Giro, see our separate analysis of the route.
Giro d'Italia 2011: Route
Stage 1: Sat 7 May 21,5 Km Venaria Reale - Turin (Team Time Trial)
Stage 2: Sun 8 May 242 Km Alba - Parma
Stage 3: Mon 9 May 178 Km Reggio Emilia - Rapallo
Stage 4: Tue 10 May 208 Km Quarto dei Mille - Livorno
Stage 5: Wed 11 May 201 Km Piombino - Orvieto
Stage 6: Thu 12 May 195 Km Orvieto - Fiuggi Terme
Stage 7: Fri 13 May 100 Km Maddaloni - Montevergine di Mercogliano
Stage 8: Sat 14 May 214 Km Sarpi - Tropea
Stage 9: Sun 15 May 159 Km Messina - Etna
Mon 16 May Rest Day
Stage 10: Tue 17 May 156 Km Termoli - Teramo
Stage 11: Wed 18 May 160 Km Tortoreto Lido - Castefidardo
Stage 12: Thu 19 May 171 Km Castefidardo - Ravenna
Stage 13: Fri 20 May 159 Km Spilimbergo - Grossglockner
Stage 14: Sat 21 May 210 Km Lienz - Monte Zoncolan
Stage 15: Sun 22 May 230 Km Conegliano - Gardeccia/Val di Fassa
Mon 23 May Rest Day
Stage 16: Tue 24 May 12.7 Km Belluno - Nevegal (Individual Time Trial)
Stage 17: Wed 25 May 246 Km Feltre - Sondrio
Stage 18: Thu 26 May 147 Km Morbegno - San Pellegrino Terme
Stage 19: Fri 27 May 211 Km Bergamo - Macugnaga
Stage 20: Sat 28 May 242 Km Verbania - Sestriere
Stage 21: Sun 29 May 32.8 Km Milan - Milan (Individual Time Trial)
Related links
Giro goes one up on Tour with spectacular 2011 route
Thank you for reading 20 articles this month* Join now for unlimited access
Enjoy your first month for just £1 / $1 / €1
*Read 5 free articles per month without a subscription
Join now for unlimited access
Try first month for just £1 / $1 / €1