Scott Contessa Epic announce 2013 line-up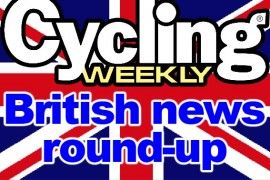 After a first year which saw three of their riders move on to the ranks of British Cycling's Olympic Academy Programme, the Scott Contessa Epic team will return in 2013 with six new riders.
London 2012 Paralympian Crystal Lane joins the ten strong team along with TT specialist Laura Wasley: the only two senior riders in a very young line-up.
Elinor Barker, Amy Roberts and Beth Crumpton all took the step up to the OAP after spending 2012 with the team. Junior world time trial champion Barker recently won gold in the women's team pursuit at the Glasgow Track World Cup.
The team will be directed by former Commonwealth gold medalist Alan Gornall and have set their sights on next season's nine-round Women's National Road Series.
Scott Contessa Epic 2013 line-up:
Emily Kay, Alice Barnes, Laura Wasley, Crystal Lane, Anna Christian, Rebecca Hunt, Zoe Armstrong, Beth Hayward, Amy Gornall, Kim English.
David Walsh book signing and Q&A
The Sunday Times' chief sports writer David Walsh will be signing copies of his new book, 'Lance Armstrong: Seven Deadly Sins,' at News International HQ on December 13.
Walsh, who is recognised as one of the journalists most critical of Armstrong while the Texan dominated the Tour de France, co-authored the 2006 book 'L.A. Confidentiel.' He will also be answering questions from the audience at the evening event.
Tickets cost £10 for Times+ members or £15 for non-members, and include a drink. You can order them online at www.sundaytimestickets.co.uk or by calling 0871 620 4027.
______________________________________________
>>>Rutland-Melton CiCLE Classic under threat>>>
>>>2013 Premier Calendar down to six events>>>
>>>Closed road Etape Mercia to launch in 2013>>>
>>>Work starts on new velodrome in Derby>>>
>>>IG Sigma Sport unveil 2013 management team>>>
______________________________________________
New sponsor for Imperial Winter Series
Training holiday company Neon Velo are sponsoring the 2012/13 Imperial Winter Series which gets underway this weekend at the Hillingdon Circuit in West London.
The firm offers luxury cycling holidays in Southern Spain and will offer a number of prizes for the ten round winter racing series, chief among which is a free holiday worth £2,800 for the overall E123 series winner.
The series concludes on February 9. www.imperialracingteam.com to enter.
Prostate Cancer UK teams up with UK Cycling Events
Prostate Cancer UK this week launched its partnership with UK Cycling Events, one of the country's biggest sportive organisers.
UK Cycling Events run, amongst others, the Wiggle Super Series of sportives which attracted over 30,000 participants in 2012.
The charity hopes to gain an additional 4,000 cyclists through the link to raise funds for its cause of raising awareness of prostate cancer and funding research into the disease.
"We are incredibly excited to be teaming up with the biggest cycling event organiser in the UK," said Mark Bishop, director of Fundraising at the charity. "It is a fantastic opportunity to engage with new supporters and raise awareness of the most common cancer in men."
The 2013 Wiggle Super Series gets underway on March 3 at the Wiggle Southern Rough Ride. Head to www.ukcyclingevents.co.uk to find out more.
Junior talent camp
Eleven young cyclists will pack their bags in the new year to
head off to the Youth Sport Trust's annual National Talent Camp at Loughborough University.
Charlie Tanfield, Cameron Jeffers, Joshua Tucker, Michael Njuguna, Braden Bradford, Taylor Andrews, Ben Chapman,
Fabio Close, Sean McGovern, Bailey Davies and James Shaw will take part in the four-day camp with 90 other budding youngsters from six other sports.
The camp aims to teach them about the challenges facing
full-time athletes through tough training sessions and workshops.
Olympic gold medal winning track and field sprinter Darren Campbell will be joining the athletes over the camp.
"Many of these athletes
will face some hard challenges and some will doubt their ability to achieve their dream," Campbell said."
"However, if they are committed, work hard and realise the sacrifices they will have to make
in order to perform at the highest level, they will be on the right road to sporting success."
Related links
Steve James wins Wessex League cyclocross round in Hampshire
Bradley Wiggins heads BBC SPOTY nominations
Thank you for reading 20 articles this month* Join now for unlimited access
Enjoy your first month for just £1 / $1 / €1
*Read 5 free articles per month without a subscription
Join now for unlimited access
Try first month for just £1 / $1 / €1