Sell-out Dave Rayner Dinner on Saturday evening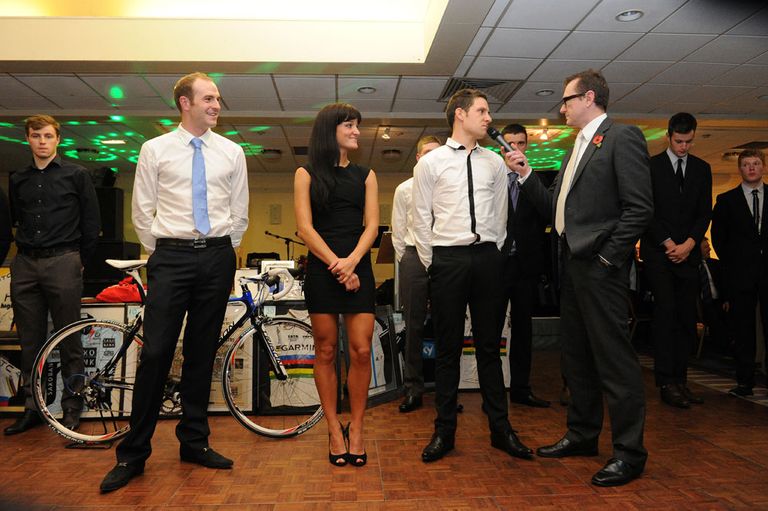 Dave Rayner Dinner 2011 photo gallery by Andy Jones>>
Bradford's Hilton Hotel played host to a successful 17th Dave Rayner Fund dinner on Saturday evening, which over the years has raised over half a million pounds to enable young talent to get experience and race on the continent.
A number of the funded riders have since gone on to pro careers and were represented on Saturday evening by Matt Brammeier and Ian Stannard.
The evening got underway with a tribute being made to long-time fund supporter Sir Jimmy Savile, who sadly died at the age of 84 at the end of last month. It was fitting that the fund's president Brian Robinson passed through the gathered diners with a portrait of Sir Jimmy and placed it on the seat he would have occupied to warm but respectful applause.
Long-time friend to Sir Jimmy, Howard Silverman was present to give a few words in his memory which included an amusing recent tale of Sir Jimmy speeding about on a cleverly disguised electric bike around the Otley area. He had been spotted there and had a surprised passer by shout on seeing him whiz by, 'So you have still got it then?'.
With the dinner over the main evening's events got underway with the presentation of the current crop of funded riders brought up to the front of the dining hall by David Harmon and Keith Lambert. Three current stars in Lizzie Armitstead, Matt Brammeier and Ian Stannard who have benefited directly or indirectly in the case of Armistead by the Rayner funding were also brought forward and interviewed by Harmon.
Brammeier spoke about his friendship with Mark Cavendish and riding with him at HTC before looking ahead to next season with Omega Pharma-QuickStep. Stannard was quizzed about his near misses in last season's Kuurne-Brussels-Kuurne (third) and this year's Paris-Tours (fourth) and what we can look forward to in 2012. The Tour of Flanders and Paris-Roubaix were on the wish list, if not this year, then in the coming seasons.
With all the formalities out of the way the fund's auction got underway. Among the main lots on the night it was a, yet to be signed, HTC World Championship jersey from Mark Cavendish which made £1700 and will be sent away to have a personalised message put to it.
There was also a Cavendish signed Tour de France green points jersey that went for £800 and a Thor Hushovd world champion's jersey worn at Milan-San Remo which made a similar amount.
More details in Thursday's issue of Cycling Weekly magazine
Sir Jimmy Savile's picture in brought into the room
Rayner riders
David Harmon and Lizzie Armitstead
Mark Cavendish's world champion's jersey up for auction
Related links
Dave Rayner Dinner 2011 photo gallery
Sir Jimmy Savile 1926-2011