'She's a special girl': The making of Cecilie Uttrup Ludwig
Cycling Weekly delves deep into the backstory of one of the sport's most magnetic characters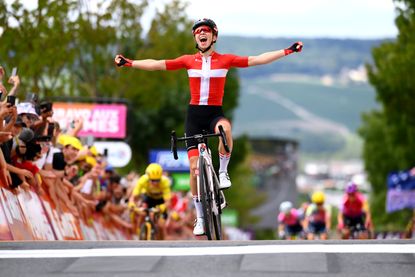 (Image credit: Getty Images)
Get The Leadout Newsletter
The latest race content, interviews, features, reviews and expert buying guides, direct to your inbox!
Thank you for signing up to The Pick. You will receive a verification email shortly.
There was a problem. Please refresh the page and try again.
This feature originally appeared in Cycling Weekly magazine on 27 April. Subscribe now and never miss an issue.
It's a grey afternoon in provincial Denmark, and Tommy Uttrup Jensen is picking his teenage daughter's teeth up from the road. He gathers two – the two front ones – and holds them in his palm. Beside him, in floods of tears, his daughter Cecilie is carried into an ambulance. Her bike race is over.
A decade on, the image still feels fresh in Tommy's mind. "She was in huge pain," he says. "I brought the teeth with me to the hospital, where they had a dentist put them back in. Not that I've done it, but it's apparently rather painful."
Painful, perhaps, is an understatement. It would take four doctors to restrain the teenager at the hospital. So bad was the crash – in which another rider hurtled over her head – that she'd be on a liquid-only diet for two weeks. Shortly after, though, she was back on her bike, ready to race again.
"You're always concerned about your child," Tommy says, "and I think it [the crash] made a difference for my wife." As for his daughter, a plucky, gummy 17-year-old, she remained undeterred. "It didn't change anything for her," he says. "That's what she had chosen to do."
Brought up in Herlev, on the outskirts of Copenhagen, Cecilie Uttrup Ludwig stands today as one of global cycling's star ambassadors. She's a three-time Danish time trial champion, a former national road champion, and a Tour de France stage winner, adored for her exuberance and wit.
In another life, though, Uttrup Ludwig might have been a swimmer. As a child, she'd train at her local pool up to five times a week, all the while knowing that something wasn't quite right. "After maybe an hour or so, she felt ill, she felt sick," her father explains. "We went to a few doctors for examinations and all that, but we couldn't find out what to do."
Nobody could place it. It wasn't a chlorine allergy, they said, but during some sessions, the nausea would get the better of her and she'd throw up, unable to continue. The dream of becoming a swimmer quickly sank away, and she turned to other sports.
"She tried athletics, badminton and some other things, too," Tommy says. "She would go to them for a while, and she's very competitive. If she's doing anything at all, she does it in a competitive mode – she always goes all in. But they didn't really catch her interest.
"Then, one day, I read in the newspaper that the local cycling club had a 90-year anniversary. I thought, 'Well, cycling involves a lot of training. You train by yourself, for a lot of hours. So maybe if she's good at swimming, then maybe she would be good at cycling, as well.'"
Uttrup Ludwig was 13 years old when she turned up to the shabby, off-white KCK Herlev clubhouse. The first person she met was her future coach, René Lynge, who to this day she remembers greeting her with foul, cheese-stinking breath.
Lynge's first impression was a bit more flattering. "She was a special girl," he says, a phrase he keeps coming back to. "When she started, at her age, she was better than some of the boys, and the boys didn't like it."
It's important to note that the boys weren't just kids with a hobby, either. Lynge names two from the cohort as Casper Pedersen, now of Soudal-Quick Step, and Uno-X's Jonas Gregaard. Still, in a group of 12 or so teenagers, Uttrup Ludwig was the only girl.
"She had talent, but she was also training very hard, very hard, every day," the KCK Herlev coach says. "The boys were not happy. They went together and tried to beat her, but they couldn't because she liked the challenge."
For her father Tommy, the early days proved a steep learning curve. "I didn't know anything about cycling," he says. His daughter was the first in the family to take an interest in the sport, and he'd spend hours driving her across Denmark for races on the weekend.
"I needed to quickly become a cycling mechanic and I didn't know at all what I was doing," Tommy continues. "I remember the first race we went to, someone at the club was there, and he went up to the bike and said, 'Well, I think we better put some air in those tyres.'"
Sifting through the archives of KCK Herlev leaflets, it's clear Uttrup Ludwig quickly took to racing. Her name crops up a lot in the results pages. Third place here, second place there, a flurry of wins. In 2010, just two years after joining, she was named rider of the year.
One of those who raced against her was Marie Vilmann, now one of her closest friends. "I spoke a little to her and I could feel that she had a strong passion for cycling," Vilmann says. "But it was actually when we became part of the same team, a Danish team, that we started to talk more and train together.
A dead fish
Some have claimed that Uttrup Ludwig's media persona is an act, a theatrical performance turned on for the cameras. However, everyone Cycling Weekly spoke to for this piece assured that such an idea was nonsense. "Ludicrous," said her father Tommy. "She's always been that way." Here are a few of her greatest interview lines.
After finishing fourth at the 2018 La Course: "A month ago, I was really riding like shit. I had an infection in my wisdom tooth and we pulled it out. Ever since my wisdom tooth was pulled out, it got better day by day. If you ever have problems with bad legs, pull your wisdom tooth out!"
Post-race at the 2019 Tour of Flanders: "I was a dead fish at the end."
On how her team would celebrate after the 2019 Women's Tour of Scotland: "Oh big time! I mean, holy moly, we got the sprint jersey, the GC jersey, the mountains jersey, the young rider jersey. We're going to celebrate big time! Champagne… Maybe we'll even have some pizza. Gelato afterwards. And maybe we'll hit the dance floor!"
"Of course, I liked training, but not in the same way Cille did," Vilmann adds. "I always had this feeling that she wanted to be the best. She didn't tell me directly, but you could just feel it. And I can still feel it."
In the winter of 2015, Uttrup Ludwig worked in a supermarket in central Copenhagen. She'd stock shelves until four or five in the afternoon, and then head out into the darkness to train on her bike.
She kept the job into early 2016, topping up her savings as she raced with Vilmann at Team BMS BIRN. The following year, the duo moved on together to the more elite Cervélo-Bigla Pro Cycling, where Uttrup Ludwig really blossomed.
One of her first duties there was media training. "I always told her to be herself," says Xylon van Eyck, the team's communications manager. "In South Africa, when we did the training camp, I did my first interview with her. We were introducing her on camera because she was new, it was her and Marie. I remember learning about how thoughtful she was because immediately after the interview, she said, 'What did I do wrong? What did I do right? What should I have done more of?' She was always looking to learn, always hungry for knowledge."
The same, Van Eyck stresses, went for racing. In her first year with Cervélo-Bigla, Uttrup Ludwig won the four-day Setmana Ciclista Valenciana and finished as the best young rider at the Giro d'Italia Femminile. She also went on to top the women's WorldTour youth classification, with over three times as many points as the two riders in second.
The Dane's results helped the team to their most successful season ever. Still, it was her magnetism off the bike that proved to be one her greatest assets. "I vividly remember how fun the evening dinners were when she was at the table," says Van Eyck. "Oh my goodness, man. There was just so much belly laughter."
Vilmann, too, remembers the mischief she and her best friend got up to on training camps. "Once, when I was injured, we were staying for two months in Banyoles, close to Girona," she recounts. "I don't know why, but we decided we wanted to learn how to twerk, so we watched some YouTube videos and it was so fun. I had these knee injuries and we were laughing about how we were going to tell the doctors that my knee got worse, because of twerking."
The memory alone makes Vilmann chuckle. "Cille makes other people around her laugh and smile," she says. "It's very inspiring."
Uttrup Ludwig and Vilmann came through the ranks as part of a golden generation in Danish cycling, alongside the likes of Emma Norsgaard, Julie Leth and Amalie Dideriksen. Surprisingly, though, there was no pathway for women within the national squad until 2015, when the federation brought in 1990 road world champion Catherine Marsal to head one up.
When the Frenchwoman joined, she had already taken note of Uttrup Ludwig's development as a junior. "You could see that she wanted to perform," Marsal says. "But it was not already obvious that she would succeed, except that she had potential."
Given the calibre of her Danish teammates, Uttrup Ludwig would have to wait for her chance. "I told her, 'If you give 100% [for them], you receive 100%.' She understood it's your turn, my turn and she played it very professionally."
A seminal moment for Marsal came at the 2017 European Championships, held in the industrial city of Herning, Denmark. Prior to the event, the former Danish coach decided to join her 21-year-old protégée for a spin. "I went for three hours with her and ended up suffering in her wheel," she laughs. "Then I thought maybe it's a bad idea to train with Cecilie from now on. I think that was the last time I went for a bike ride with her."
When the under-23 race came, Marsal adds, Uttrup Ludwig "drove like a master".
"She didn't give up the attack the whole time," she says. "There's a video I could send you where Cecilie is attacking on the streets of Herning, and right after, she expects Pernille [Mathiesen] to counter. She turns around and shouts, 'Come on! Now it's your turn!' and then you see Pernille fly down the right side.
"That was the right move. Pernille, from that, goes away and wins the European Championships, but there was this maturity in knowing the right move. I was just clapping my hands."
It was a show of tactical instinct, one filled with selflessness and team spirit, that delivered a stunning one-two for Denmark. Uttrup Ludwig was delighted with second place.
The Dane's impressive results kept coming with her trade team, too. In 2019, she stole cycling fans' hearts at the Tour of Flanders, finishing third before delivering a now famously charismatic press interview. A wide grin on her face, she gestured as she recounted the race's action. "It was just going full gas into the Kwaremont," she said excitedly, "and then, pam! Let's put the hammer down!"
At the end of that season, Uttrup Ludwig's ability earned her a spot on French team FDJ Nouvelle Aquitaine Futuroscope, now her current FDJ-Suez, and she began another chapter in her career.
Her new teammates were excited to meet her, among them a 19-year-old Marie Le Net. "She's a big figure in the world of cycling," the Frenchwoman says. "When she joined the team, it was a huge chance for us to have such a big figure in our ranks. Then I got to know her, and I realised she really is an extraordinary person, on and off the bike."
Le Net and Uttrup Ludwig quickly became friends. They shared the same sense of humour, and roomed together at races. Last year, at the new Tour de France Femmes avec Zwift, Le Net was at the Dane's side for the crowning victory of the of her career so far.
Stage two had been a disaster. Marta Cavalli, the team's joint leader, withdrew from the race following a horror crash, with Uttrup Ludwig also hitting the deck late in the day. "I remember Stephen [Delcourt, the team manager] asked me to check how Cecilie was that evening in our room," Le Net says. "She feels emotions more strongly than others do. I tried to speak to her, but she was very upset.
"I told her, 'I believe in you, I really appreciate the leader that you are, and I'm ready to give 200% for you to help you get the best result possible.' The next day, I saw this killer look in her eyes, and she went and smoked everyone."
On stage three's lumpy run-in to Épernay, Uttrup Ludwig came from deep, lashing down on the pedals to win by three bike lengths. "I saw her on the big screen," Le Net remembers, "in her Danish national jersey, with her arms out-stretched. The whole team went to see her straight away and we all started crying. It was really moving."
Back home in Herlev, the victory also brought her childhood coach Lynge to tears. Memories came flooding back. The young girl, who would turn up to training with teeth missing and rile up the boys, was now a Tour de France stage winner.
"It was incredible," Lynge says. "Some years ago, I could see she wasn't believing in herself. When she raced in Denmark, she didn't think she was strong enough, and didn't try to do anything in the race. She was waiting, waiting, waiting, so I told her, 'When you think something, do it.' That's what she does now."
Lynge, now in his sixties, retired from coaching a few years ago. In all his years at KCK Herlev, he never came across another rider like Uttrup Ludwig. "Not one," he says. "She was a special girl. She is a special girl. I think someday she will be the best in the world."
Thank you for reading 20 articles this month* Join now for unlimited access
Enjoy your first month for just £1 / $1 / €1
*Read 5 free articles per month without a subscription
Join now for unlimited access
Try first month for just £1 / $1 / €1
Get The Leadout Newsletter
The latest race content, interviews, features, reviews and expert buying guides, direct to your inbox!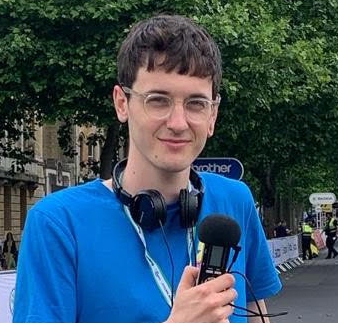 Tom joined Cycling Weekly as a news and features writer in the summer of 2022, having previously contributed as a freelancer. He is the host of The TT Podcast, which covers both the men's and women's pelotons and has featured a number of prominent British riders.
An enthusiastic cyclist himself, Tom likes it most when the road goes uphill and actively seeks out double-figure gradients on his rides.
He's also fluent in French and Spanish and holds a master's degree in International Journalism.