Sir Chris in Foy-Hoy football mix-up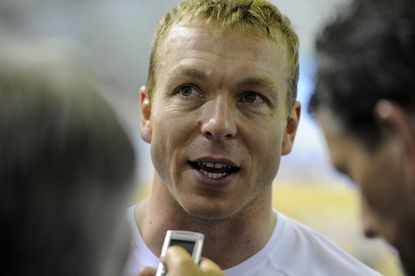 British track sprint star Sir Chris Hoy has been on the receiving end of some surprisingly vicious criticism of his refereeing of the Tottenham Hotspur versus Stoke Premier League match this weekend.
Except, of course, he wasn't refereeing the match. That would be the similarly named Chris Foy.
Sir Chris has been sent messages of abuse from Tottenham fans via microblogging site Twitter. Fans are aggrieved at their club's perceived lack of support from the ref during Sunday's 2-1 defeat at the hands of Stoke.
Sir Chris attempted to rectify the fumbled-fingered fans' error with a Tweet of his own on Sunday night: "Just for the record 1) I don't need glasses and 2) I do not lead a double life as an English premiere league ref. That's Chris Foy".
Half a day later, Sir Chris was still receiving messages of abuse. "Still getting some rather amusing grief from Spurs fans! On the plus side I've learned some new 4 letter words today," said the Scottish triple 2008 Olympic Games gold medallist.
Twitter hashtag '#FoyNotHoy' became a trending Twitter topic on Monday afternoon after the case of mistaken identity was picked up by fans of the cyclist.
Related links
Sir Chris Hoy: Rider Profile
External link
Thank you for reading 20 articles this month* Join now for unlimited access
Enjoy your first month for just £1 / $1 / €1
*Read 5 free articles per month without a subscription
Join now for unlimited access
Try first month for just £1 / $1 / €1