Spain's sports minister urges patience in Contador case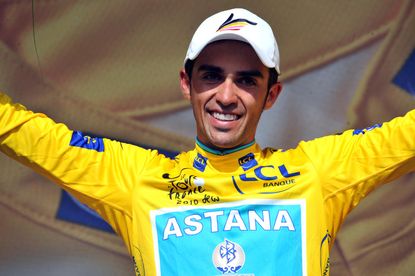 Spain's top sports minister, Jaime Lissavetzky, urged that the public wait before jumping to conclusions about Alberto Contador's positive test for clenbuterol at the 2010 Tour de France.
"According to the UCI's official statement, Contador's is under a scientific investigation. It's not a doping case," Lissavetzky told Basque newspaper DEIA. "If suggest there is wrongdoing after their investigation then we'll have a doping case, right now it's in limbo. It's bad for the cyclist, for cycling and for Spanish sport."
Contador has not raced since the Tour de France, where he tested positive in an anti-doping control on July 21, the race's second rest day. He announced his failed doping control on September, one month after he was informed by the International Cycling Union (UCI).
The UCI is investigating Contador's urine sample from that day and other days to determine if there was foul play. Plasticizers were also found in Contador's blood control, which could indicate he had a blood transfusion. However, the analysis to test the link is not yet approved.
Contador maintains his innocence and says that the Clenbuterol came from contaminated meat he ate, but the European Union has banned its use in animals since 1996. It is also on the World Anti-Doping Agency (WADA) list of banned drugs and its presence, in any amount, is considered a doping positive. Contador's urine sample revealed 50 picograms of clenbuterol.
"The study," said Lissavetzky, "will determine whether the clenbuterol in his system can be justified by food poisoning."
Last month, the UCI criticised Spain. Its president, Pat McQuaid, said that Spain could do more to fight doping.
"I don't want to stigmatise Spain, I think they have some of the strongest anti-doping laws," said McQuaid, "but they aren't being implemented."
Lissavetzky, who has been Spain's sports minister since 2006, disagreed.
"Different sports require more suffering, and often give more doping cases. This includes cycling. In the last two years, there have been ten Italian cyclists sanctioned compared to 11 Spaniards. We have come a long way. We have an anti-doping law, have zero tolerance, we increased our laboratories' power, we made penalties more sever, there have been over 130 arrests...
"But not everything is in our hands. Look cyclist Maribel Moreno, positive in Beijing: a micro-dose of EPO injected in the toilets. Who can avoid this? You will continue to have cases, it is inevitable. This month in Australia, France, Jamaica ... Doping is a problem because it moves 20,000 million dollars a year."
Lissavetzky is also a member of the Executive Committee of WADA, who is helping the UCI investigate Contador's case. A decision could come soon and Contador may face a doping investigation in Spain.
"We're waiting for WADA to come back to us with a report," McQuaid told the Associated Press news agency yesterday. "As soon as we get that, we'll take decisions within hours."
Related links
Saxo Bank to continue team sponsorship with or without Contador
Riis has a plan B is Contador is banned
How does clenbuterol testing work
Contador considers quitting cycling due to doping scandal
Tension rises over Contador's clenbuterol case
Contador case splits experts' opinions
Alberto Contador: The clenbuterol, the beef excuse and traces of plastic
Spanish authorities investigate source of Contador's mystery meat
McQuaid quiet on Contador case but says Spain can do more
Did Contador have a transfusion during the Tour?
Contador points finger at imported meat for clenbuterol positive
Contador tests positive for clenbuterol says governing body
Subscribe to Cycling Weekly: The perfect Christmas gift>>
Thank you for reading 20 articles this month* Join now for unlimited access
Enjoy your first month for just £1 / $1 / €1
*Read 5 free articles per month without a subscription
Join now for unlimited access
Try first month for just £1 / $1 / €1