Steve Arnold hoping to boost Paralympic chances in RideLondon Grand Prix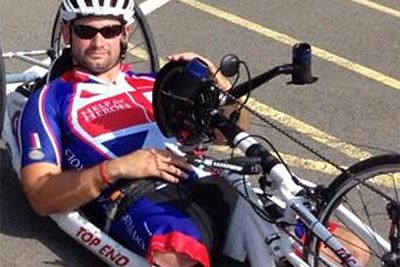 A King's Lynn soldier who lost both his legs above the knee when he stepped on an IED in Afghanistan is hoping to boost his Paralympic chances by winning the inaugural Prudential RideLondon Grand Prix.
Staff Sgt Steve Arnold is one of 15 hand cyclists from across the globe contesting the event on August 3, just one of a host of cycling festivities across the capital in the largest fiesta of biking to hit the UK for more than a generation.
The 34-year-old is already on British Cycling's radar, and a top three finish could help establish him as a Paralympic star of the future at Rio 2016 and beyond.
And Steve, who took up hand cycling at the Headley Court rehabilitation centre in May 2011, can't wait to take to the streets in front of a live and televised crowd of millions.
"I've been training at the Help for Heroes centre at Tedworth House in Wiltshire with the British Cycling squad and some of the handcyclists like Brian Aldiss," said Steve, a member of 23 Engineer Regiment.
"Hopefully we'll soon find out if I make the team or get onto one of the programmes and even if I don't make Rio there's still 2020 to aim for.
"Competing at the Paralympics would be an amazing feeling - you just want to be the best that you can be.
"I loved representing my country as a member of the armed forces and I'd love to represent my country in cycling.
"The Prudential RideLondon Grand Prix is going to be a tough field, the hardest I've ever raced against with guys coming from all over the world.
"But it will be good to see how far away I am from winning the toughest races, as I hope to be competing in Europe next year."
It was in April 2011 that Steve suffered his injury, leading a search team in Afghanistan. Still a regular at Headley Court, he hopes to be discharged in January 2014 by which time he should have been fitted with new prosthetic legs and sockets.
But the double above-the-knee amputee hasn't let his injuries slow him down, training six times a week with a mix of long rides, interval training, and strength and conditioning sessions keeping him in world-class form.
A flat, 1.3-mile loop around St James Park, the Prudential RideLondon Grand Prix route will see riders start on The Mall before racing towards Buckingham Palace and into Horse Guards before a spectacular finish.
"Brian Aldiss is the only one beating me in my category at the moment in the UK, but it's good for him as well to have me around to push him and I enjoy trying to catch him," said Steve.
"Racing in front of a couple of hundred people is amazing so I can't imagine what it will be like to race on the streets of London with all those thousands of people cheering you on.
"The atmosphere is going to be incredible - how often do you get to race on the streets of London? It will be the best feeling ever."
Prudential RideLondon takes place on August 3-4. If you're inspired to ride, visit www.prudentialridelondon.co.uk
Thank you for reading 20 articles this month* Join now for unlimited access
Enjoy your first month for just £1 / $1 / €1
*Read 5 free articles per month without a subscription
Join now for unlimited access
Try first month for just £1 / $1 / €1