The best 32 places to ride in Britain: Part one
Cycling Weekly takes you on a whistle-stop tour of the UK's top cycling destinations: Part one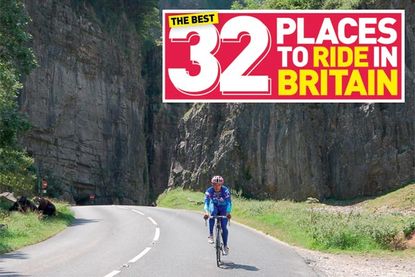 Photos by Andy Jones, Phil O'Connor, Tom Hutton, Nick Brock, Paul Harris, Rupert Fowler, Andrew McCandlish
32 Essex Creeks
Whereabouts?
The estuaries of the rivers Colne, Blackwater, Crouch and Roach.
Why ride here?
Who doesn't like nosing about among boats and backwaters? The estuaries are fed by a series of creeks that spread inland like the branches of a watery tree. They are visited by tiny lanes, some only bridleways, and the lanes are an absolute delight to ride. If you want quiet olde-worlde villages, with characteristic Essex clapboard houses, and wide open views, the Essex Creeks are the place for you. The Creek's lanes are seldom straight for long; one section near Burnham-on-Crouch known as the 'Burnham Bends' has a right-angled turn every 300 metres for nearly five miles. And just when it's really feeling like Belgium, you go through a place called Ostend.
Cycling heritage
The Dengie Marshes Tour is a brilliant race that was resurrected a few years ago and was part of the Premier Calendar until 2012. It mixes roads with tracks and the riders hurtle around the marshes east of Burnham-on-Crouch and Southminster. www.dengiemarshestour.com.
Ride it
Tour of the Dengie sportive uses the race route.
Website: www.dengieevents.co.uk
31 Fen Villages
Whereabouts?
The Fens are the flatlands around the Wash reaching inland to the edges of Northamptonshire and Bedfordshire. But I'm not saying all the Fens are a brilliant cycling destination - just one part: the area east of a crescent formed by the towns of Boston, Spalding and Wisbech.
Why ride here?
There's nowhere in Britain with such a concentration of tiny lanes. Just look at them on a map - they're like the lines around an old man's eyes and they're begging to be explored. When you do, you'll find some amazing little villages at the end of them, and I defy anyone not to be impressed by the huge Fenland sky.
Cycling heritage
Nearly every village in the Fens once held an annual grass track bike meeting. Some are still going, and they are well worth a visit. Even more, they are worth competing in, although not as much as they used to be. In the good old days there were some very fast riders who did nothing but grass track races, and they made a nice extra living by selling the generous prizes they won.
Ride it
The Flat Out in the Fens sportive gives a feel for Fenland, although not really the particular area I'm talking about. You'll have to discover it yourself, and the lanes really do invite you to do it.
30 West Midlands
Whereabouts?
The Severn valley west and south of Telford.
Why ride here?
It's fascinating. This is the cradle of the industrial revolution. It's the place where Britain turned from a feudal nation into a modern one and began a way of life we would still recognise today. It's also very beautiful countryside, and you must climb the Wrekin for the views.
Cycling heritage?
This and the wider West Midlands were once the heart of the British bicycle industry, both in terms of complete bikes and bike parts. One West Midlands manufacturer, Viking, even made a model called the Severn Valley. Four-times world pursuit champion and now the BBC's cycling commentator Hugh Porter was born in Wolverhampton and he still lives in the area.
Ride it
Check out the Wiggle Motion in Mercia Sportive, www.kilotogo.com.
29 Seaside South Downs
Whereabouts?
The South Downs are a range of hills that run from the Brighton area west to Winchester. There are some great cycling locations all along their length, but I've chosen their eastern tip, where the hills meet the sea with a great white bow of rock called Beachy Head.
Why ride here?
Riding above Beachy Head, the highest chalk cliff on the south coast, is spectacular for its wide-open land and sea views - heck, you can even see France from here. It's a place to really blow the cobwebs out of your brain. Then there's the Downs behind the cliffs, where roads in flat-bottomed river valleys wind around the smooth green hills, or clamber over them, to give lots of riding choice.
Cycling heritage
The Wincanton Classic, once part of the UCI road World Cup used the South Downs in 1990 and 1991, when Gianni Bugno and Eric Van Lancker won. The roads were also used when stage six of the 1994 Tour de France finished in Brighton. Ditchling Beacon featured on all those occasions, and you'll find that hill just south of Ditchling on the road over to the Hollingbury area of Brighton.
Ride it
A number of cyclo-sportives use this area and include Ditchling Beacon in their routes. The Brighton to Brighton is a good one, and of course it always catches out novices on the London to Brighton charity ride.
28 North Norfolk
Whereabouts?
The Broads roads just north of Norwich are lovely, but I recommend riding along the north coast and in Breckland, which is just north of Thetford.
Why ride here?
North Norfolk is a little world of its own, and the coast seems to have a climate of its own as well. The rest of the country can be under a blanket of cloud, but it can be sunny along the coastal strip from Hunstanton to Cromer. The Queen has a house here, and she's got the pick of the country.
Cycling heritage
Norfolk has a long association with cycle touring, grass track racing and more recently with mountain biking in Thetford Forest. It's also home to the Mousehold Press, a publishing company which published cycling books long before they were fashionable. It continues to publish them, too - where the story wants telling and not just to cash in on a trend. See more at www.mousehold-press.co.uk.
Ride it
The Boudicca Sportive explores north Norfolk and makes its debut in 2013. Go to www.boudiccasportive.co.uk.
27 Trent Valley
Whereabouts?
From Gunthorpe Bridge near Nottingham, to where it joins the Ouse at Trent Falls and they both become the Humber, the Trent makes some fascinating changes and runs through some nice, gentle and really pretty countryside.
Why ride here?
The little lanes and quiet villages east and north of Newark are lovely, and the old-fashioned charm of the northern Trent villages like West Stockwith and Owston Ferry makes riding the northern Trent feel like cycling in the 1950s must have felt.
Trent Falls is worth seeing at times of spring tide. Water flows out in the Humber quicker than the Trent can empty water into it, which creates a quite dramatic tidal race. Then when the tide comes back in a wave will ride inland up the Trent as far as Gainsborough, like the Severn Bore does. It's called the Trent or Gainsborough Aegir, and the town's cycling club is named after it.
Cycling heritage
This is the playground of two great chaingangs. The Trent between Nottingham and Newark is Sherwood's Saturday run territory, and the northern Trent is where the 'Tuesday Run' goes. The front group in the latter often has a better field than a Premier Calendar race.
Ride it
The Great Notts Bike Ride, an annual festival over three days, uses the Trent Valley roads - www.cyclelivenottingham.co.uk.
26 Cheshire lanes
Whereabouts?
A square south of Manchester, north of Congleton with the Pennines at its eastern border and the M6 motorway forming the other border in the west.
Why ride here?
It's very pleasant and it's a bit quirky but not in an obvious sort of way. Pleasant because the lanes are quiet, leafy and they amble between villages without seeming in a hurry to get anywhere. Quirky because the nearer you get to Manchester, Cheshire turns into WAGworld. You notice it because the Bentley, Ferrari and McLaren count increases and there's Gucci in the charity shops. A crescendo is reached in WAGworld central, or Wilmslow as some know it. The town centre has 10 sunglasses shops and not one butcher's, and the suntans don't come from a bottle.
Cycling heritage
Want to ride with an Olympic or world champion, or both? This is where the British Cycling performance guys and girls do their recovery rides. And Reg Harris is buried in Chelford's church graveyard, right in the centre of the Cheshire lanes.
Ride it
The Cheshire Cat sportive's 100-mile route uses some roads in the southern half of this area. Go to www.kilotogo.com.
25 Central Chilterns
Whereabouts?
The Chilterns are a chalk escarpment running north-east from Goring in Oxfordshire to Hitchin in Hertfordshire, but the best bits for cycling are between Henley and Tring.
Why ride here?
A lot of people live in or around the Chilterns but
the hills are loaded with lanes, little known valleys and leafy woods. And to add to the enchantment
the skies are full of red kites. It's a real spectacle to ride up a hillside and see these beautiful creatures that were once so rare wheeling around in the sky above you.
Cycling heritage
The Chilterns hosted another great but gone British bike race - the Archer Grand Prix. Its key hills were Whiteleaf Hill near Princes Risborough and in the Hughenden valley just north of High Wycombe. Winners include Les West, Hugh Porter, Paul Sherwen (twice) and Steve Farrell (four times). The last Archer was held in 2007 when Simon Gaywood won it.
Ride it
A number of sportives use the Chilterns, including the Chiltern 100 - www.chiltern-hundred.org.uk.
24 Southern half of Snowdonia
Whereabouts?
A circuit of Snowdon using the Llanberis Pass provides plenty of visual impact from Wales's highest mountain. Tremadog Bay should be ridden for amazing sea views and the crazy experience of Portmerion. But the roads around Cader Idris give some of the best cycling in
the whole of Snowdonia.
Why ride here?
Mountains and water are so impressive together; high, muscular peaks look stunning by the sea or reflected in Snowdonia's dark glassy lakes. Some of the passes can be busy because this is a popular destination, although the traffic count tends to fall further south. According to local mythology Cader Idris is the chair the giant Idris used to relax in, to sit back and gaze up at the stars.
Cycling heritage
Popular in days gone by for cycling club hostelling weekends, and popular with the Milk Race too, Snowdonia had a race pass through it in the Fifties that had the makings of a classic: the London to Holyhead.
Ride it
The Etape Eryri explores Snowdonia. Check out www.etapeeryri.com.
23 Forest of Dean
Whereabouts?
Find Chepstow then draw a line north to Monmouth then north-east to Ross-on-Wye and south-east to Westbury-on-Severn then back along the Severn's west bank to Chepstow. The result is roughly diamond shaped with the Forest of Dean inside it.
Why ride here?
It's got everything you'd expect from a great British forest, but with very quiet roads and spectacular mountain views thrown in. The Forest of Dean is hilly, which makes cycling hard, but some of the hilltops are bare, and where they are you get incredible views over the trees and onwards to the Welsh mountains. It's a cyclist-friendly forest too because the authorities have gone out after the pedalling pound. You'll be made very welcome.
Cycling heritage
The forest and Wye Valley have been a plum destination for cycle tourists since cycling began. There are still some great cafes and B&Bs there.
Ride it
The Forest of Dean Spring Classic is one of a number of sportives and similar types of event that take place here. See www.wheelsinwheels.com.
22 Central Pennines
Whereabouts?
The moors and valleys between the West and South Yorkshire conurbations and those of Lancashire and Greater Manchester.
Why ride here?
This is more about cycling than scenery. This area is wild, and it's beautiful if you have an eye for dark hills and sombre moors. It's also well used, because a lot of people live around it. That means a lot of cyclists ride here; some of the very best in fact, because British Cycling's Manchester medal factory is close by.
The rite-of-passage ride here is the Strines, an 11-mile big-dipper slog and whoosh of 25 per cent hills and valleys between Langsett in the north and the A57 in the south. Try it both ways then combine it with an attack on Holme Moss's north side, which is the nearest thing Britain has to an iconic climb. At least it was before Box Hill achieved Olympic fame.
Cycling heritage
Beryl Burton, Reg Harris, Mandy Jones, Brian Robinson, Tom Simpson, Barry Hoban, Malcolm Elliott, Chris Walker, Graham Jones, Paul Sherwen, Wayne Randle, Dean and Russell Downing, Graham Briggs... I could go on. They all rode or still ride here. The area gave us a super race too - the Leeds International Classic. It was a World Cup race and it brought the world's best to climb Holme Moss as part of a rugged route. It just didn't last long enough to gain real momentum.
Ride it
The Autumn Strines Challenge is organised by the Downing brothers; www.lasquadra.co.uk.
21 Jurassic Coast
Whereabouts?
The coast from Exmouth in east Devon to Swanage in east Dorset then 10 to 15 miles inland. It's almost all hilly and it's all worth exploring.
Why ride here?
Scenic views, history, the seaside, and tiny lanes that scare off car drivers traffic; the Jurassic Coast has them all. Jurassic is the name of a geological period. It was the when the surface rocks of this area were laid down, and it was when the dinosaurs lived, so a lot of major fossil finds have been made in the sea-scoured cliffs.
For a really good cycling experience, and to get the real feel of the Jurassic Coast, thread your way along the sea roads between towns; say from Exmouth to Lyme Regis. It's easy to do, just take every turn that keeps the sea right next to you.
Cycling heritage
National hill-climb titles have been decided on Peak Hill to the west of Sidmouth. The Tour of Britain raced up it recently too. But overall the Jurassic Coast is and has always been a touring destination rather than a racing one.
Ride it
The Wiggle Jurassic Classic sportive is run by one of the nicest men in cycling, Alistair Cope, so you can depend on the experience being as good as it can be. Go to prostatecanceruk.org/fundraising/event/jurassic-classic.
Thank you for reading 20 articles this month* Join now for unlimited access
Enjoy your first month for just £1 / $1 / €1
*Read 5 free articles per month without a subscription
Join now for unlimited access
Try first month for just £1 / $1 / €1