The best 32 places to ride in Britain: Part three
Cycling Weekly takes you on a whistle-stop tour of the UK's top cycling destinations.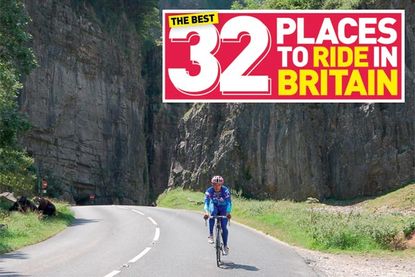 Photos by Andy Jones, Phil O'Connor, Tom Hutton, Nick Brock, Paul Harris, Rupert Fowler, Andrew McCandlish
10 Exmoor
Whereabouts?
A steep-sided undulating plateau that rears up out of the Bristol Channel between the Vale of Taunton and Barnstaple and stretches south to the A361 North Devon Link Road. That's Exmoor but it's the coast road that makes this one of the best places to ride in Britain.
Why ride here?
Porlock Hill, another 'notch on the seatpost' British climb, kicks off the coastal run. Head west for great views over the Channel to Wales, before a thrilling descent into Lynton. Now, don't follow the main road out of Lynton; turn right instead on the B3234 and go right again and climb.
Technically from here the road that follows the coast is outside of Exmoor, but it's such an incredible experience that I feel it is Exmoor's UBP (Unique Biking Proposition - yes, I made that up). You climb diagonally up what amounts to a cliff face in Woody Bay then you thread through Martinhoe and Trentishoe, always taking the road nearest the sea, to what claims to be Britain's longest village, Combe Martin. The feeling of exposure in places borders on scary. It's like rock climbing on a bike.
Cycling heritage
The Tour of Britain has used Exmoor a lot.
Ride it
The coast road has to be a DIY job - even I wouldn't encourage big groups on it - but the Exmoor Beast sportive will give you a taste for this part of the world. They've got the coolest official jersey too. Go to www.exmoorbeast.org.
9 North York Moors
Whereabouts?
They are a plateau to the east of the A1. Their north side is the Cleveland Hills, their south side dips into the Vale of Pickering, and they are dissected by north-south running valleys.
Why ride here?
The valleys are beautiful, Farndale in spring is full of daffodils, the views from the tops on clear days are incredible and they don't get visited as much as other northern beauty spots. There's also the seaside at Scarborough and Whitby. Be warned - they can both be a bit scary but for different reasons. Robin Hood's Bay is another must-see North Yorkshire seaside place.
Cycling heritage
The Tour of Britain made Rosedale Chimney famous. It's definitely a cyclist's bucket-list climb: 1,500 metres of 12.5 per cent average gradient with some head and wheel-spinning bits of 33 per cent thrown in. Do you want an extra challenge? Try riding up the Chimney in the big chainring, like endurance sport legend Hywel Davies did. Just saying, like.
Ride it
The Rydale Rumble explores the North Yorks Moors. Go to www.ryedalerumble.co.uk.
8 Northumberland
Whereabouts?
The best bits are the Cheviots, a large upland area that straddles the Scottish border and includes Northumberland's two huge forests, and the coast from Amble to Berwick-upon-Tweed.
Why ride here?
The Cheviots are wild and remote, while Kielder Forest and Wark Forest are dark and mysterious, and the coastline is one of Britain's best kept secrets. In fact, all of Northumberland is. Away from the Newcastle conurbation there is nothing but miles of quiet roads, and the beaches are stunning.
Cycling heritage
Northumberland was a regular for Tour of Britain stages, and the National Championships were held on the Ryals circuit south of the Cheviots recently.
Ride it
The Virgin Money Cyclone, which is one of Britain's biggest and best sportives, explores Northumberland's roads, with the longest route reaching the Cheviots before returning to Newcastle. For more info go to www.virginmoneycyclone.co.uk.
7 Cotswolds
Whereabouts?
The Cotswolds start in western Oxfordshire then run west to the Gloucestershire stretch of the M5. Their northern boundary is the Vale of Evesham and they stop at the hills of Wiltshire in the south.
Why ride here
If it had to CGI the English countryside, Hollywood would come up with the Cotswolds. Honey-stoned houses, verdant village greens, thatch, babbling brooks, ancient churches and the crack of willow on leather heard over tea from the terrace; that's the Cotswolds. It's the idyll of England, and a cycling delight.
Cycling heritage
The Tour of the Cotswolds was a tough old race and one of the most prestigious in Britain. The Milk Race liked the Cotswolds too. Sadly, major bike races are confined to hill-climbs on its edges now, like Dover's Hill, north of Chipping Camden.
Ride it
The Cotswold Spring Classic sportive explores this area (www.cotswoldspringclassic.co.uk). For something a bit different try the Hell of the North Cotswolds, an off-road sportive that's the British, albeit muddier, equivalent of the Strade Bianche events in Tuscany. Click www.honc.org.uk.
6 Cambrian Mountains
Whereabouts?
The mountain spine of Wales runs from the Brecon Beacons north past Snowdonia, and is called the Cambrian mountains. But my Cambrian mountains are everything south of a line between Machynlleth and Llangollen and north of one drawn between Landovery and Builth Wells.
Why ride here?
It gets overlooked, so it's quieter than the rest of Wales. It also holds some unique challenges. The little lanes west of Llanidloes that wander up the sides of Plynlimmon, where the Severn and Wye rivers rise within metres of each other, are perfect for cycling. You must visit Llanidloes too, known to locals as Planet Idloes. It's far-out man, like somebody fast-forwarded the people from Woodstock to Wales in 2012.
The challenge is called Bwlch y Groes, a monster climb that has had grown men on their knees. It rises to 554 metres, making it the highest road in Wales, but the crux is what happens after the first right switchback; you gain 342 metres in 2.5 kilometres, so an average of 13.7 per cent with stretches of 25 per cent. I recommend a bottom gear of 34x28 and try to spread your effort up the climb - don't go too hard early on or you'll pay for it. Turn right at the top and there's an incredible descent to Lake Vyrnwy. Cool off by riding round it to restore your legs, and your sanity.
Cycling heritage
Bwlch y Groes was a Milk Race favourite and back in the days when nothing smaller than a 42 chainring was available some racers had to walk up it. With only five or six sprockets on their bikes, gear choice for the rest of stage was compromised if they fitted anything bigger than a 23 or a 24, so the story goes that some Russians stuck with the 21 because they reckoned walking up was quicker than riding anyway.
Ride it
Make sure you do the Bwlch from the hard side (not that the other one is easy), from Dinas Mawddwy, which Simon Warren in his 100 Greatest Climbs book describes as the most unrelentingly steep piece of tarmac in Britain. There isn't a regular sportive covering these two areas, but taking part in something organised sort of goes against the wild grain of the Cambrian mountains. Get a map and explore it yourself.
5 Surrey Hills
Whereabouts?
The Surrey Hills run from Farnham in the west to Oxted in the east and south down to the Low Weald. They are probably at their best in the Hurtwood and Coldharbour areas, but every cyclist has to ride Box Hill too, which is east of Dorking and climbs up the side of a gap in the hills called the Dorking Gap.
Why ride here?
They've always been a great place for cycling. With relatively quiet (this is the South-East) lanes, many of them running through beautiful woodlands, and with a succession of tough climbs, they have always been a favourite destination for South London and South-Eastern cyclists.
But now the Surrey Hills have the cachet of the Olympics. Box Hill has to be on your cycling to-do list, but the riding is even better on the other side of the Dorking Gap, where Leith Hill, the Surrey Hills' highest point. Holmbury Hill is another great place to ride.
One of the best ways to experience this area is to ride west weaving a line north and south through the hills.
It's quite simple. Start at the A29 in Ockley and work your way west along the B2126 and B2127, taking every right turn to go north to the A25 then every left turn off it to head south. Keep repeating that north-south tack all the way to Cranleigh then turn around and ride east, but turning left from the B roads and right from the A25.
Cycling heritage
The Olympic Games.
Ride it
Cycling Weekly's own sportive explores the Surrey Hills. See Book My Ride for more details.
4 Giant's Causeway and Antrim Coast
Whereabouts?
We're talking the north-east corner of Northern Ireland.
Why ride here?
The sea views are wonderful, when you can see them. I can't kid you, it rains here a lot. But if the weather's good there's no finer place to ride. It's challenging, the Torr Head road on the eastern side of the coast is series of dizzying climbs and descents, but running inland the Glens of Antrim are tranquil places, each with its own story to tell. Then there's the Giant's Causeway, where the pillars of basalt march out of the sea like a rock army massing under the towering cliffs. It is one of Britain and Ireland's greatest natural wonders.
Cycling heritage
A lot of tough racers come from here. The terrain makes them tough. Ireland's first track Olympian, Martin Irvine, has trained here. So has Irish pro Philip Deignan, who's from neighbouring Donegal.
Ride it
The Giant's Causeway Coast Sportive is an award-winning event put on by a tourism department determined to make Northern Ireland a super cycling destination. Go to www.giantscausewaycoastsportive.com.
3 Lake District
Whereabouts?
The scenery is all glorious, but some of the most visited parts can be problematic for cyclists because they get clogged with traffic. Therefore the best cycling is in the northern and western lakes, which is where some of the big Lakeland cycling challenges also lie.
Why ride here?
Hard climbs and high passes are the answer. Your Lakes bucket list should include the Hardknott and Wrynose passes. They lie between Eskdale and Langdale and they are brutal. Try to go both ways, west-east and east-west, for the full effect. Honister Pass from Borrowdale is tough too; couple it with riding in Buttermere, which is glorious. But you must also experience riding in the remote and regal splendour of Wasdale.
Cycling heritage
The Lake District's gift to cycling is the Fred Whitton Challenge, a 112-mile route that takes in most of the big Lakeland passes
Ride it
There's the annual Fred Whitton, and you can also do it yourself any time with Sportident timing. Details are on www.fredwhittonchallenge.org.uk.
2 Yorkshire Dales
Whereabouts?
The Dales lie west of the A1, south of the Durham fells and end north of the Leeds-Bradford conurbation and a diagonal line drawn north-west to Kirkby Lonsdale. Their western edge is the M6, except some of the western bits are actually in Cumbria.
Why ride here?
Away from the tourist traps, in other words higher up the likes of Wharfedale or in the northern Dales, this is some of the best cycling country in Britain. The Dales are also very comfortable with cyclists - they are part of our heritage, so you'll find good accommodation and welcoming cafes.
The higher Dales are wild and windy, then lower down, where water sculpts awesome cliffs and delicate shapes out of rock, they become gentler, greener and quieter. Which Dale should you ride? Just pick one and pedal.
Cycling heritage
Another Tour of Britain and Milk Race favourite. Fleet Moss, the highest road pass in the Dales at 1,932 feet (589 metres) saw local hero Sid Barras in 1987 in a breakaway with Tour de France King of the Mountains Steven Rooks. Everyone by the road shouted themselves hoarse.
Ride it
The Etape du Dales is a British sportive classic. www.etapedudales.co.uk.
1 Moidart and Glencoe
Whereabouts?
Moidart is an upland coastal block of land 20 miles west of Fort William, and Glencoe is a mountain pass that begins in Ballachulish, 13 miles south of Fort William.
Why ride here?
Moidart is gaunt and grave and accompanied on three sides by sea and loch. There's a ride here that locals call the Glenuig loop. It's about 80 miles long, starts in Fort William and it includes a ride on the Coran ferry to Ardgour. The next land block is Sunart then you reach Moidart, where the Western Isles are revealed like jewels in the sea.
The return journey is on the historic 'Road to the Isles' road, where you pedal towards the dark shape of Ben Nevis, Britain's highest mountain, rearing up 1,343 metres (4,409 feet) behind Loch Linnhe.
Glencoe is majestic - the nearest thing we have in Great Britain to an Alpine pass. There's nowhere else that begins at sea level, only climbs to just over 300 metres but is surrounded by 900 and 1,000-metre peaks. It's this height difference that's outstanding. Glencoe is on another scale and it leaves an impression on everyone, but particularly on a cyclist. It really puts you in context against time and space.
Cycling heritage
Jason McIntyre was world class and he lived in Fort William. He was the first Scot to be British time trial champion and he won the British 25-mile title twice. He beat some of Britain's best bike racers but he did it outside of the British Cycling system. McIntyre stayed in Scotland to help his wife look after their daughter who has severe health problems.
Still, though, he had a lot to offer cycling and was making a big place for himself in it when he was tragically killed, the victim of a road accident while training in January 2008. The Glenuig loop was his favourite ride.
Ride it
The Lord of the Loch sportive uses some of the Glenuig loop www.nofussevents.co.uk/event/Lord-of-the-Lochs-Sportive/2775/
Thank you for reading 20 articles this month* Join now for unlimited access
Enjoy your first month for just £1 / $1 / €1
*Read 5 free articles per month without a subscription
Join now for unlimited access
Try first month for just £1 / $1 / €1