Three out of three for Rapha-Condor-Sharp in the Tour Series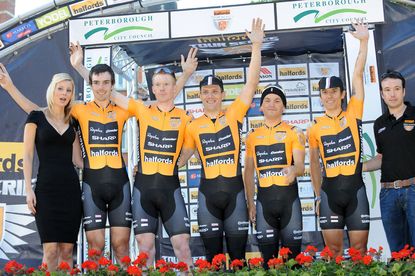 Tour Series 2011 round three photo gallery by Andy Jones>>
Graham Briggs led-home a Rapha-Condor-Sharp one-two as John Herety's team continued their unbeaten start to this year's Tour Series in Peterborough.
Briggs was the third different Rapha rider to cross the line first in as many races, emulating Zak Dempster's achievement in Durham a week ago and Ed Clancy's personal victory last time in Aberystwyth.
But, crucially in this team-based event, Downing took second and Clancy finished sixth to ensure the team won the round once again and further extend their lead in the series.
Endura Racing finished second for the third race running too, so remain hot-on-the-heels of their big rivals.
Rapha-Condor-Sharp celebrate in Peterborough after winning another round of the Tour Series
Active throughout
Olympian Clancy was involved in the early action, trying to break clear but the peloton quickly reeled him in, and did the same to similar audacious attempts from Matt Cronshaw (Team Raleigh) and Rob Partridge (Endura Racing).
Cronshaw found himself at the head of the race later on, forming an ultimately unsuccessful two-man group with Rapha's James McCullum.
Briggs also tried his hand at a breakaway attempt, collaborating with Endura Racing's Ian Wilkinson and Motorpoint's Tobyn Horton with seven laps remaining, but the non-represented teams promptly closed that move down.
With the race all together heading in the final two laps, Rapha and Endura kept the pace high to ensure nobody was able to steal a march on the peloton.
Having been so active throughout once again, all eyes were on the boys in black to see if they could maintain their unbeaten start in the series in both the individual and the all-important team classification.
And as Briggs edged out Downing in the tightest finish of the series thus far, it was another perfect night for Herety's team, who look unbeatable right now.
Barnes wins again

Earlier in the evening, recently-crowned junior women's National 10 champion Hannah Barnes gave Motorpoint a one-three in the first round of the Women's Grand Prix Series, beating Helen Wyman (Kona/FSA) and team-mate Lucy Garner.
Barnes, the British Circuit Race Champion, was part of a five-strong group which broke clear in the closing stages of the race.
Tour Series: How it works
The Tour Series is a team competition, rather than for individual riders - so although one rider 'wins' each round it is actually the top three riders in each team that give the team their points for the round.
The team that has accrued the most points at the end of the eight-round series wins the series overall.
Results

Tour Series 2011, round three: Peterborough

1. Rapha-Condor-Sharp
2. Endura Racing
3. Twenty3c-Orbea
4. Sigma Sport-Specialized
5. CyclePremier.com-Metaltek
6. Team UK Youth
7. Team Raleigh
8. Pendragon-Le Col-Colnago
9. Motorpoint Pro Cycling
10. Wilier-GoSelfDrive.com
Individual result

1. Graham Briggs (Rapha-Condor-Sharp)
2. Dean Downing (Rapha-Condor-Sharp)
3. Scott Thwaites (Endura Racing)
4. Marcel Six (Twenty3c-Orbea)
5. Jason White (CyclePremier.com-Metaltek)
6. Ed Clancy (Rapha-Condor-Sharp
7. Ian Wilkinson (Endura Racing)
8. Magnus Backstedt (Team UK Youth)
9. Rafa Rodriguez (Twenty3c-Orbea)
10. James McCallum (Rapha-Condor-Sharp)
Boardman Bikes Sprints Winner

Marcel Six (Twenty3c-Orbea)
Overall series standings after round three
1. Rapha-Condor-Sharp 30pts

2. Endura Racing 27pts
3. Sigma Sport-Specialized 19pts
4. Twenty3c-Orbea 17pts
5. Motorpoint Pro Cycling 15pts
6. Team Raleigh 14pts
7. Team UK Youth 14pts
8. Pendragon-Le Col-Colnago 12pts
9. CyclePremier.com-Metaltek 11pts
10 Wilier-GoSelfDrive.com 5pts
Boardman Bikes Sprints competition after round three

1. Kristian House (Rapha-Condor-Sharp)
Giro hero Russell Downing with brother Dean (right)
Magnus Backstedt for Team UK Youth
Peterborough round guests team Corley Cycles
Rob Partridge on the front during the last lap
Peterborough hosted the third round of the 2011 Tour Series


Hannah Barnes wins women's race
Graham Briggs wins the men's event


Related Links
Tour Series round three photo gallery by Andy Jones
Cycling Weekly's 2011 Tour Series Coverage Index
Tour Series round one: Durham
Tour Series round two: Aberystwyth
Thank you for reading 5 articles this month* Join now for unlimited access
Enjoy your first month for just £1 / $1 / €1
*Read 5 free articles per month without a subscription
Join now for unlimited access
Try first month for just £1 / $1 / €1