Tom Moses: Famous Last Words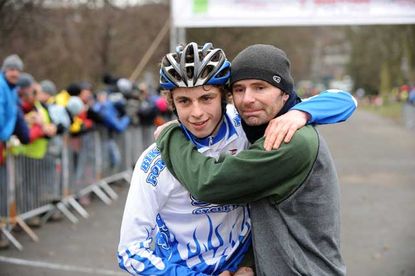 Academy hopeful and Hausslerphile Tom Moses tells us about training with the Yorkshire chaingang, having one leg stronger than the other and his worst day on the bike
My favourite rider at the moment is Heinrich Haussler. He's doing well in the races I want to win, Flanders and Roubaix. Watching the Cervélo team videos, I like his style on and off the bike too.
I got my first road bike from [former national cross champion] Chris Young five years ago. It had down tube shifters. My dad's always ridden his bike, so I'd been out with him and got into it through the club at school.
I broke my leg the day before the first cross race of the season, stepping off a fold-up scooter. I was in hospital for two days and had to have an operation and a pin put in. I can still feel that my right leg is not as strong as it should be.
I go out riding with the likes of Josh Edmondson and Paul Young, but during the week I tend to ride with Tom Barras, Malcolm Elliott and the rest. Training with them makes me stronger.
The longest time I've ever been away was this summer. We had a pre-Worlds camp in Wales for 10 days, back for a day, then the junior Worlds in Italy for four days. Then I went out to the Alps for a week with Glendene CC.
The first day out there was the worst I've ever felt on a bike. We didn't have a warm down and all that travelling blew me apart; I was really stiff and could hardly keep up even when they were doing the little ring on the flat.
Phil West has been the biggest influence on my cycling. He's been my coach since I was a second year under-14, and he knows exactly what I'm like. He can tell if I'm having a good day or bad day by the tone of my voice on the phone.
Pre-race, I like to keep quiet for a bit, have a think about everything and take it in. I don't get nervous before racing.
I finished school in early May, so I've been full time since then. My business teacher was a cyclist, which helped: I could get away with doing as little as possible. But it hindered me as well as I ended up doing about two months' worth of work in two weeks, as I was always leaving to go cycling.
I'm not much good at cooking; at the moment, Mum seems to do everything for me. I need to start getting used to doing my own stuff if I'm going to be on the Academy.
Thank you for reading 20 articles this month* Join now for unlimited access
Enjoy your first month for just £1 / $1 / €1
*Read 5 free articles per month without a subscription
Join now for unlimited access
Try first month for just £1 / $1 / €1