16 years of Tour de France tales told on one fascinating map
The race's hotspots and cool corners laid bare as every stage is superimposed onto a single map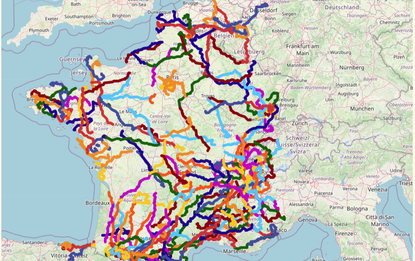 (Image credit: Velowire)
The folk in the French regions of Centre Val de Loire and Charente must be starting to feel pretty neglected, because as this amazing map shows, the Tour de France hasn't paid them a visit in the last 16 years.
Put together by Velowire, the map superimposes all the Tour de France stages from 2008 to 2023 inclusive. It makes for a chaotic yet fascinating painting of the route designers' most and least favoured regions.
Each edition of the race can be isolated by clicking through the tiles, while the individual stages are clickable too, so you can drill down and see exactly what you're looking at.
A huge slab of multicoloured spaghetti stretching across the south of the country from the Pyrenees to the Alps indicates the popularity of those regions – no surprise there. And there is of course a solid little block of colour over Paris where the final stage finishes, with a spider's web of strands leading away to show the various stages that lead into the city.
The clear popularity of the north-western region of Brittany is perhaps more surprising, although it is one of cycling's French heartlands and the birthplace of heroes such as Bernard Hinault, and the Tour has paid it a visit six times in the past 16 editions.
Also popular is French's north-eastern Classics territory, with a mass of strands centring on the area around Lille and Roubaix and leading off northwards and eastwards into Belgium, across Flanders and into the Ardennes.
The various Grand Départs abroad are also included, with squiggles visible in the UK (2014), Netherlands (2010, 2015), Belgium (2012, 2019), Germany (2017), Denmark (2022) and Spain (this year).
One more notable thing is that by combining various stages from the past 16 years you could design a route that, with just a few small gaps, follows l'Hexagone all the way around its edges – a true 'Grand Boucle'.
Those citizens of Centre Val de Loire who have been waiting so patiently for the past 16 years for the race to drop by might look at this map and afford themselves a wry smile, for in 2024 the race spends its first rest day in the region's capital of Orléans, before beginning stage 10 there the following day. Those in Charente will have to be patient a little longer – 2025, perhaps?
This year Black Friday is running from November 24th - 27th. We've rounded up all the best Black Friday bike deals we've found in our main hub page. With deals spanning components, tech and riding kit, you're guaranteed to find a bargain.
Thank you for reading 20 articles this month* Join now for unlimited access
Enjoy your first month for just £1 / $1 / €1
*Read 5 free articles per month without a subscription
Join now for unlimited access
Try first month for just £1 / $1 / €1