Tubeless tyres a mystery to one in four cyclists, with road riders the most confused
Muc-Off launch tubeless help guides to coincide with puncture survey results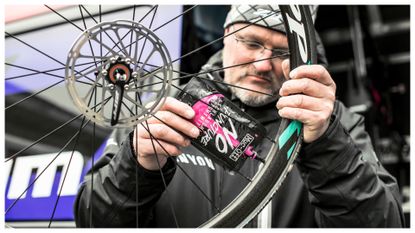 (Image credit: Muc-Off)
Tubeless bike tyres remain a mystery to one in four cyclists, according to data from cleaning and maintenance brand Muc-Off.
Popular among pros and off-road cyclists, tubeless tyres do not require an inner tube, and are instead secured with sealant, making them more puncture resistant.
According to Muc-Off's new puncture survey, which interviewed over 5,000 people from 50 countries, 25% of cyclists either don't understand what's involved with setting up tubeless tyres, or fear the process would be too difficult.
The survey found that those who ride gravel or mountain bikes were more than twice as likely as road cyclists to understand how to set tubeless tyres up. Cycling Weekly's own digital editor documented her tubeless riding mis-haps in an online piece two years ago.
Alongside the company's survey, Muc-Off CEO Alex Trimnell said: "Once a cyclist goes tubeless for the first time, they rarely ever look back."
The brand, which features in our best tubeless tyre sealant guide, has also launched its own Tubeless & Puncture Protection Hub (opens in new tab), offering how-to guides, videos and a virtual mechanic for free on its website.
"Our aim with this survey and the launch of our new Tubeless & Puncture Protection Hub is to educate riders, to break down those initial barriers and provide them with the right tools and information, so they can join the tubeless revolution and enjoy more puncture-free riding," Trimnell added.
Muc-Off's survey, which was published on Tuesday, revealed that cyclists experience more punctures when running inner tubes, compared to tubeless.
On average, respondents said they experience a puncture every eight months, with one in three saying they've had a "ride-ending" flat at some point in the last three years. Gravel riders experience the most punctures, closely followed by road cyclists.
Of those surveyed, 38% said that they currently ride with inner tubes fitted on their most frequently used bike, although 91% of them said they would be interested in converting to tubeless.
Below is a short guide on how to fit tubeless tyres to your bike. For more detailed information, visit our full guide here.
How to set up tubeless tyres
As long as your wheel rims are tubeless compatible, fitting tubeless tyres is relatively straightforward.
Simply mount the tyre (this should fit tightly on the rim), using diluted soapy water if necessary, then inflate as normal.
Next, let the air out, remove the valve core and inject 40ml of sealant for a 25mm tyre. Now inflate again to your preferred PSI.
Thank you for reading 10 articles this month* Join now for unlimited access
Enjoy your first month for just £1 / $1 / €1
*Read 5 free articles per month without a subscription
Join now for unlimited access
Try first month for just £1 / $1 / €1
Tom is one of Cycling Weekly's news and features writers. In 2020, he started The TT Podcast, covering both the men's and women's pelotons and featuring a number of British riders.
An enthusiastic cyclist himself, Tom likes it most when the road goes uphill and actively seeks out double-figure gradients on his rides.
He's also fluent in French and Spanish and holds a master's degree in International Journalism.