Tweets of the week: Chris Froome has GoPro problems, and Geraint Thomas grits roads
It might be cold outside, but these hot posts should keep you warm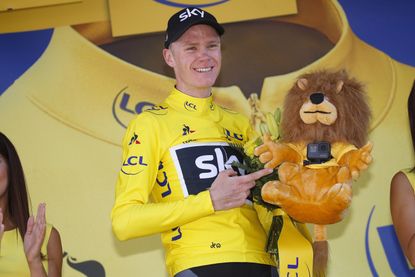 (Image credit: Getty Images)
It must be a hard life being one of the most successful professional cyclists of the 21st century. Once you have counted up your seven Grand Tour titles and 46 career wins, you must have the same problems as the rest of us.
This is Chris Froome's situation, as the 37-year-old Israel-Premier Tech rider took to social media on Thursday afternoon to take action against his problems with GoPro. Now, far be it for me to suggest how Froome should tackle his problems with technology, but it does seem a little unfair for someone with 1.5 million followers on Twitter to complain so publicly. Maybe it was his last course of action, and we can only hope that the camera company were quick to get in touch with him.
It was just one of the many exciting things to happen on social media in the world of cycling this week. That might be overselling it, but it is slim pickings as we edge through December.
There was also Tadej Pogačar on an e-bike, which does seem like cheating to me, Anna Henderson graduating, and the continuing adventures of Annemiek van Vleuten. Read on for some light entertainment.
1. Chris Froome might have won the Tour de France four times, but he can't get good customer service from GoPro
2. Despite being rich beyond my wildest dreams, it's nice that Froome still takes advantage of the sales
3. It has been a long time since I've looked as happy on a bike as Letizia Paternoster does here, maybe I need to go somewhere warmer
4. Alex Dowsett, now retired from professional cycling, might end up going to Thailand to find himself
4. It's good to see Geraint Thomas do his bit for the community, despite his training load this December
5. The greatest endurance athlete of the 21st century, and Eliud Kipchoge
6. Football is back today! Here is Pele on a bike
7. Tadej Pogačar really does not need any more advantages on a bike
8. Cycling and fashion really shouldn't mix... Let's wait to see these on the peloton at the Giro next year before judging though
9. If you like fancy graphics, then here's one showing just how much racing Tom Pidcock, Wout van Aert and Mathieu van der Poel do. They never stop!
10. Congratulations to Anna Henderson, who as well as being one of the brightest prospects in British cycling has managed to graduate from the University of Birmingham at the same time. Easy.
11. Apparently the man in the second photo is Steve Cummings. I'm not so sure. It could be any bald man really
12. Michał Kwiatkowski: Milan-San Remo winner, former world champion and super domestique, now... future Wimbledon winner?
13. How many rice cakes is too many? 200 sounds like a lot
14. Forget bikes, skiing is the new off-season training method
15. Although, maybe you could combine bikes and skis?
16. And finally, Manchester City Council want you to cycle, but not safely on this bit of road
Thank you for reading 20 articles this month* Join now for unlimited access
Enjoy your first month for just £1 / $1 / €1
*Read 5 free articles per month without a subscription
Join now for unlimited access
Try first month for just £1 / $1 / €1