Tweets of the week: The Death Race, goats an ALL the cake
We go trawling the social media feeds for signs of life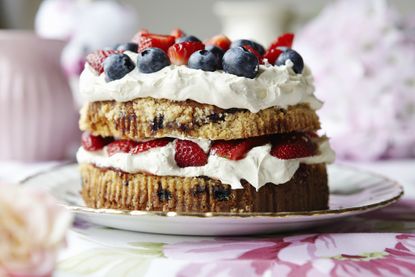 (Image credit: Debby Lewis-Harrison / Getty)
Be honest, you clicked on this for the cake didn't you? Cyclists have an almost pathological connection to cake.
It's the fuel of choice for weekend warriors across the world and many are the hours that can be spent debating the best choice for either fuel economy, wallet saving or taste.
Even the more serious riders amongst us will have a view because even if you're trying to keep to a healthy balanced nutritious diet then that means when you do indulge it has got to be worth it.
Unless you're track sprinting dynamo Harrie Lavreysen, it seems, as then you can have all the cake (one day of the year at least) with no need to choose.
Now if you'll excuse me, I'm off to the local bakers.
1. One set of handlebars breaking is unfortunate, two starts to look careless
What handlebars do Arkéa-Samsic use?? They should not break like that at all!! Hofstetter will be furious #GPDenain pic.twitter.com/5IEr7vtbYQMarch 16, 2023
See more
2. Who let the sprinter out of the bag?
For some time, I thought Tim Merlier had inexplicably zipped himself into a bag. It took me a while to figure out what was going on. https://t.co/PtCsfM2WbOMarch 15, 2023
See more
3. Be more like Primož Roglič and drink responsibly, folks
Stage winner again Primoz Roglic won't be sinking another 🍾 of Prosecco at #TirrenoAdriatico 😂"Otherwise I'm drunk, eh? With three bottles…" pic.twitter.com/FXqbymYsS8March 11, 2023
See more
4. Bike race plus F1 race is the duathlon we want to see
Tadej Pogacar bumping into F1 drivers Lando Norris and Alex Albon after his Paris-Nice victory 🤝🤩(via tadejpogacar/IG) pic.twitter.com/lezu9gXq1wMarch 13, 2023
See more
5. Wout Van Aert: purveyor of farmyard animals
Ik heb er thuis ook nog 2 staan 🐐 DM voor meer info https://t.co/WYqkn51fFDMarch 16, 2023
See more
If you want to know more about how goats are keeping the pave of Paris-Roubaix ship shape, my colleague Tom Davidson has all the details.
Hopefully the manure offers a soft landing #GPDenain pic.twitter.com/AXYI6n8eCpMarch 16, 2023
See more
7. Any higher bids than the one from the gentleman in the front row?
The number of sprinters that will finish the 2024 TDF https://t.co/QeNtxHnOAf pic.twitter.com/MQYQzkfN8LMarch 13, 2023
See more
8. Applied maths question 1: How many slices of cake does it take to fuel seven 1,200watt sprints of 15 seconds?
When it's your birthday in Egypt! 🎈 https://t.co/cWuiyZj48C pic.twitter.com/rmX9WjfYw9March 14, 2023
See more
9. A heart warming story in two parts.
Loïc Vliegen was out of the race but he kept helping his teammates 😍#TirrenoAdriatico pic.twitter.com/PlfNdnMzQbMarch 13, 2023
See more
10. Car down! Wait, what?!
Another day in the death race 😡 pic.twitter.com/gJWNN1EHHAMarch 12, 2023
See more
Thank you for reading 20 articles this month* Join now for unlimited access
Enjoy your first month for just £1 / $1 / €1
*Read 5 free articles per month without a subscription
Join now for unlimited access
Try first month for just £1 / $1 / €1