UCI Gravel World Championships: Can Team USA's collective gravel experience beat WorldTour horsepower?
Strong US contingent set to take on European heavy hitters including Van Aert and Mohorič, Wiebes and Vollering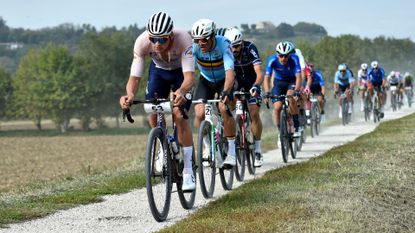 (Image credit: Getty Images - MASSIMO FULGENZI)
Teamwork and gravel experience — that is what Team USA hopes will give them the edge over some of the world's strongest road riders at the UCI Gravel World Championships this weekend in Veneto, Italy.
The course is said to be challenging and 'proper technical', and the competition is world-class. Headlining the provisional start list are star riders like former cyclocross world champion Wout van Aert, San Remo winner Matej Mohorič, European gravel champ and top sprinter Lorena Wiebes and Tour de France Femmes winner Demi Vollering.
While the competition will be stiff, Team USA's strength will be in the collective gravel race experience the team boasts.
"I would love to see an American team work together and hopefully be a force against the bigger forces that we all watch every weekend on T.V.," says Alexey Vermeulen, who's coming off a win at last weekend's Rad Dirt Fest and a second place at the U.S. National Gravel Championships before that.
"I want to have that camaraderie team feeling that I haven't had since leaving the road. I'm obviously going well, but I'm all in to ride for Luke [Lamperti] or Keegan [Swenson]," he says.
The second-ever UCI Gravel World Championships promise a unique challenge, with a technical gravel course vastly different from the previous year's race, which was won on a road bike.
"No, you would not survive [on a road bike]. It's a lot of riverbed stuff. The course is proper," Vermeulen promises. "It'll be fun to watch."
Describing the course as "Amstel-esque," Vermeulen says the race's intensity begins right from the gun, with a highly technical opening section that will likely see a fast, cyclocross-like start. Vermeulen anticipates a battle to secure a good position within the first 25 kilometers, followed by strategic maneuvering throughout the race.
According to Vermeulen, problem-solving skills will be as crucial as raw power in this demanding race.
"That's where you're going to see the biggest disparity. I think there's going to be moments of this race where you'll see 15 guys drop like flies with flats, and they never come back because they never have to patch tires quickly," Vermeulen predicts.
"I feel like half of U.S. gravel racing is problem-solving and this will be a true gravel race. I still think we're going to be up against some incredible horsepower here, and that's always tough. It's just exciting to be here and to show what we're doing over in the U.S."
Vermeulen anticipates the main challenge to come from the race dynamics instead of the terrain.
"Our big fight is going to be getting into the race," he says. "But if the cards fall the right way, we have a really cool team that I think has a lot of abilities. Winning is a crazy thing, and you need some luck, but if you put myself and Keegan or Keegan and Luke in that final group, it's fun odds."
And while the U.S. may be gravel's frontier, Team USA enters the race with little pressure to perform.
"It's all opportunity. There's no expectation per se, which I think it just makes it fun. I'm very apprehensive, but I'm very excited," says Vermeulen.
The Courses
Unlike most gravel races, the UCI races are split by gender and age group with each category given its own race time and course.
The women's elite race will therefore not only take place on a different day, the course is shortened as well.
The women's elite race takes place on Saturday, October 7, on a 140-kilometer (87-mile) course that starts with a lap around Le Bandie lake, which served as the venue for the 2008 UCI Cyclo-cross World Championships. This lap is followed by a 30km flat section predominantly composed of gravel before the first hills emerge. The peloton will cross the finish line in Pieve di Soligo for the first time at the 46km mark before starting a second loop that heads northeast and contains more pavement but also a substantial increase in elevation. The loop finishes with another passing across the finish line to start loop number three. The third and final loop heads west and contains a flat, 30km mix of short gravel and road segments before entering a demanding finale. The final 25 kilometers of the race feature two significant climbs. The final climb is particularly steep and simmits just 5 kilometers before the finish line. The total elevation of the race is 1660 meters (5446 feet).
The men's elite race takes place on Sunday, October 8, on a very similar course that's been extended in places for a total of 169 kilometers (105 miles) with an elevation gain of 1890 meters (6200 feet).
The first loop is identical to Saturday's race but the second, northeastern loop includes a broader circuit around Lago di Lago and the addition of the demanding Ca' del Poggio climb around the 85k mark. The third loop also includes some extra distance, primarily on the flat sections, but maintains the same two challenging climbs as on Saturday.
The Competition
The UCI Gravel World Championship race categories are broken up into age categories and an 'open' Elite category for each gender.
Only riders belonging to any UCI registered team and/or those who have been selected by their National federations can take part in the open category.
National cycling federations were allowed to send their best men and women elite racers, while amateur racers had the chance to qualify on their own all season long at the UCI Gravel World Series events.
As mentioned above, the competition in the elite races is truly world-class. Formidable European road stars like Wout van Aert, Matej Mohorič, Demi Vollering, Annemiek van Vleuten, Kasia Niewiadoma and Lorena Wiebes will be going head-to-head against some of gravel's biggest names including Keegan Swenson, Laurens ten Dam, Ivar Slik, Sofia Gomez Villafañe, Tiffany Cromwell and Caroline Schiff.
Both defending champions from the inaugural Gravel Worlds in 2022, Gianni Vermeersch and Pauline Ferrand-Prévot, are in the starting lineup, although Ferrand-Prévot's participation remains uncertain after her recent bout of Covid-19.
Start Lists
Men's Start List
Elite men Gravel World Championships start list
1 Gianni Vermeersch BEL
2 Wout Van Aert BEL
3 Matej Mohoric SLO
4 Cameron Mason GBR
5 Daniel Oss ITA
6 Florian Vermeersch BEL
7 Paul Voss GER
8 Jasper Ockeloen NED
9 Jose Ivan Garcia Cortina ESP
10 Kevin Panhuyzen BEL
11 Alejandro Valverde Belmonte ESP
12 Petr Vakoc CZE
13 Sebastian Schönberger AUT
14 Jan Bakelants BEL
15 Alessandro De Marchi ITA
16 Simone Velasco ITA
17 Tobias Perry GBR
18 Piotr Havik NED
19 Nathan Haas AUS
20 Quinten Hermans BEL
21 Anthony Franquet BEL
22 Sam Culverwell GBR
23 Seppe Rombouts BEL
24 Andreas Stokbro Nielsen DEN
25 Tobias Mørch Kongstad DEN
26 Thomas Bundgaard DEN
27 Connor Swift GBR
28 Pawel Bernas POL
29 Sascha Weber GER
30 Jonas Lindberg DEN
31 Freddy Ovett AUS
32 Nicholas Roche IRL
33 Georg Egger GER
34 Adam Blazevic AUS
35 Ide Schelling NED
36 Coen Vermeltfoort NED
37 Ben Thomas GBR
38 Andreas Schrottenbaum GER
39 Jose Maria Sanchez Ruiz ESP
40 Nils Correvon SUI
41 Ryan Christensen NZL
42 Lawrence Naesen BEL
43 Lauri Tamm EST
44 Alberto Losada Alguacil ESP
45 Gustav Frederik Dahl DEN
46 Brent Clé BEL
47 Gert Kivistik EST
48 Pierpaolo Ficara ITA
49 Rasmus Wulff Nørholm Gøtke DEN
50 Matthew Bird AUS
51 Alban Lakata AUT
52 Ivar Slik NED
53 Julian Lino FRA
54 Thomas Joseph BEL
55 Jacob Langham AUS
56 Johan Norén SWE
57 Laurens Ten Dam NED
58 Mads Baadsgaard Rahbek DEN
59 Johannes Rom Dahl DEN
59 Johannes Rom Dahl DEN
60 Connor Sens AUS
61 Frederik Rassmann GER
62 Max Warmerdam FRA
63 Sergio Mantecon Gutierrez ESP
64 Erick Heyns RSA
65 Luca Bockelmann GER
66 Andrew Lydic USA
67 Xavier Jovè Riart AND
68 Travis Bramley GBR
69 Maxime Teuliere FRA
70 Markus Pajur EST
71 Cristian Cominelli ITA
72 Thijs De Lange NED
73 Nick Burki SUI
74 Aurélien Philibert FRA
75 Luke Lamperti USA
76 Matthew Shepherd AUS
77 Mattia De Marchi ITA
78 Antti-Jussi Juntunen FIN
79 Bram Rombouts BEL
80 Dario Gadeo Fernandez ESP
81 Philipp Bachl AUT
82 Zak Coleman GBR
83 Rob Vanden Haesevelde BEL
84 Matevž Govekar SLO
85 Jan Sommer SUI
86 Jules De Cock NED
87 Rogan Smart RSA
88 Robbe Claeys BEL
89 Luca Cibrario ITA
90 Mihael Stajnar SLO
91 Sam William Andrews GBR
92 Michael Tjulander SWE
94 Eduardo Talavera Fernandez ESP
95 Tim Wollenberg GER
96 Joseph Lupien CAN
97 Siim Kiskonen EST
98 Thijs Zonneveld NED
99 Cristian Bernardi ITA
100 Alexis Roche IRL
101 Tobin Ortenblad USA
102 Daniel Babor CZE
103 Jonas Orset NOR
104 Reinardt Janse Van Rensburg RSA
105 Moran Vermeulen AUT
106 Martin Schätzl GER
107 Michal Glanz POL
108 Sampo Malinen FIN
109 Gustas Raugala LTU
110 Simone Pederiva ITA
111 Matthew Stamatis RSA
112 Francesco Bettini ITA
113 Lukas Baum GER
114 Tomas Barta CZE
115 Travis Barrett RSA
116 Patrick Haller GER
117 Ferran Robert Torrens ESP
118 Gregor Matija Cerne SLO
119 Felix James Meo NZL
120 Felix Barker GBR
121 Sean Bero BEL
122 Peter Schermann GER
123 Gleb Karpenko EST
124 Ward Vanhoof BEL
125 Giovanni Carboni ITA
126 Marko Pavlic SLO
127 Eric Pedersen SWE
128 Simen Nordahl Svendsen NOR
129 Frederik Scheske GER
130 Matteo Zurlo ITA
131 Alex Colman BEL
132 Fran Miholjevic CRO
133 Nicola Parenti ITA
134 Alex Lack AUS
135 Vladyslav Makogon FIN
136 Artūras Kazakevičius LTU
137 Andrey Amador Bikkazakova CRC
138 Nicholas Pettina' ITA
139 David Van Orsdel USA
140 Michael Mottram GBR
141 Felix Ritzinger AUT
142 Sebastian Putz AUT
143 Ethan Pauly CAN
144 Kristers Kovgers LAT
145 Tomas Kalojiros CZE
146 Declan Irvine AUS
147 Alexey Vermeulen USA
148 Markus Auvinen FIN
149 Sacha Modolo ITA
150 Julien Bard SUI
151 Tristan Nortje RSA
152 Richard Larsén SWE
153 Simon Daniels BEL
154 Lubomir Petrus CZE
155 Enrique Morcillo Vergara ESP
156 Rossouw Bekker RSA
157 Julen Zubero Aldekoa ESP
158 Jan-Marc Temmen GER
159 Edouard Bonnefoix FRA
160 Wolfgang Brandl GER
161 Nicolaj Amping DEN
162 Paul Wisner HAI
163 Pierre Rosemond HAI
164 Randy Licorish BAR
165 Maurizio Giuseppe Sartori ITA
166 Mattia Penna ITA
167 Alexandru-Ionut Antoniu ROU
168 Filippo Cecchi ITA
169 Luke Mcmullan IRL
170 Metheven Bond GBR
171 Venantas Lašinis LTU
172 Robert Jenko SLO
173 Apolinario Ca GBS
174 Isidro Mengo Da Costa GBS
175 Jadio Gomes GBS
176 Carlos Gaspar Danquem GBS
177 Nelson Mendes GBS
178 Julho Mendes GBS
179 Silvino Da Silva GBS
180 Seco Domingos Mendes GBS
181 Diamantino Dos Santos Co GBS
182 Graciano Diamantino Patrao GBS
183 Dy Co GBS
184 Nickson Joao Mendes GBS
185 Sam Julio Mendes GBS
186 Dabana Cul Iala GBS
187 Paul-Antoine Hagan IRL
188 Bennan Wertz USA
189 Payson Mcelveen USA
190 Artem Schmidt USA
191 Zach Calton USA
192 Paul Buschek AUT
193 Mattia Viel ITA
194 Julius Nowak Dalner DEN
195 Morten Nedergaard Bolby DEN
196 Mathias Busk Sælgen DEN
197 Victor Grue Enggaard DEN
198 Théo Cante FRA
199 Tao Quemere FRA
200 Julien Jamot FRA
201 Kristian Javier Yustre Rodriguez COL
202 Sabatier Thibault FRA
203 Tomas De Neve BEL
204 Laurynas Ropė LTU
205 Franco Nicolas Adaos Alvarez CHI
206 Jasper Huitema NED
207 Christian Rush NZL
209 Lubos Pelanek CZE
210 Michal Dvorak CZE
211 Richard Habermann CZE
212 Adam Zuber POL
213 Jesper Lindahl FIN
214 Joffrey Degueurce FRA
215 Björn Bakker NED
216 Vebjørn Rønning NOR
217 Jan-Frederik Finoulst BEL
218 Adam Jordan SLO
219 Conor Mcgoldrick GBR
220 Oscar Cabanas Quintela AND
221 Sebastiaan Oranje NED
222 Lars Loohuis NED
223 Tom Martin GBR
224 Daniel Gianello ITA
Women's Start List
1 Pauline Ferrand-Prevot FRA
2 Demi Vollering NED
3 Lorena Wiebes NED
4 Silvia Persico ITA
5 Jade Treffeisen GER
6 Tessa Neefjes NED
7 Katarzyna Niewiadoma POL
8 Tiffany Cromwell AUS
9 Riejanne Markus NED
10 Gaia Realini ITA
11 Carolin Schiff GER
12 Rosa Klöser GER
13 Soraya Paladin ITA
14 Sofia Bertizzolo ITA
15 Svenja Betz GER
16 Irina Lützelschwab SUI
17 Pauliena Rooijakkers NED
18 Marthe Truyen BEL
19 Barbara Guarischi ITA
20 Heidi Franz USA
21 Letizia Borghesi ITA
22 Noä Jansen NED
23 Sofia Gomez Villafane ARG
24 Cédrine Kerbaol FRA
25 Janine Schneider GER
26 Sanne Cant BEL
27 Yara Kastelijn NED
28 Rasa Leleivyte LTU
29 Emma Cecilie Norsgaard Bjerg DEN
30 Xan Crees GBR
31 Niamh Fisher-Black NZL
32 Hanna Johansson SWE
33 Simone Boilard CAN
34 Amelia Mitchell GBR
35 Darcie Richards AUS
36 Danielle Shrosbree GBR
37 Cassia Boglio AUS
38 Clara Lundmark SWE
39 Karol-Ann Canuel CAN
40 Debora Piana ITA
41 Crystal Anthony USA
42 Annabel Fisher GBR
43 Jane Barr GBR
44 Giada Borghesi ITA
45 Merili Sirvel EST
46 Marta Romeu Solaz ESP
47 Sabrina Stultiens NED
48 Caroline Livesey GBR
49 Karolina Migon POL
50 Ella Bloor AUS
51 Hayley Simmonds GBR
52 Åshild Tovsrud NOR
53 Maaike Coljé NED
54 Valentina Picca ITA
55 Chloé Schoenenberger FRA
56 Lija Laizane LAT
57 Femke De Vries NED
58 Femke Gort NED
59 Nele Laing GER
60 Elisabeth Ebras EST
61 Finja Smekal GER
62 Jana Gigele AUT
63 Viktoriia Bondarenko UKR
64 Eva Buurman NED
65 Danielle Hinds BAR
66 Klara Sofie Skovgård Hansen DEN
67 Josie Knight GBR
68 Liisa Ehrberg EST
69 Hanna Nilsson SWE
70 Anna Sadowska POL
71 Viltè Kriaučiūnaitė LTU
72 Sarah Sturm USA
73 Lieke Van Zeelst NED
74 Helena Bieber GER
75 Caroline Baur SUI
76 Nele De Vos BEL
77 Laura Lizette Sander EST
78 Amanda Bohlin SWE
79 Madeleine Nutt GBR
80 Sabine Sommer AUT
81 Sam Sandten GER
82 Loes Sels BEL
83 Elena Cecchini ITA
84 Emily Newsom USA
85 Femke Markus NED
86 Natasha Reddy GBR
87 Noëlle Rüetschi SUI
88 Almudena Montalvo Pérez ESP
89 Zahra Rezayee AFG
90 Mie Nordlund Pedersen DEN
91 Romana Slavinec AUT
92 Laura Vainionpää FIN
93 Irene Mendez Melgarejo ESP
94 Paulien Koster NED
95 Arezo Sarwari AFG
96 Maisa Tuliniemi FIN
97 Paige Onweller USA
98 Guayente Minchot Ballarin ESP
99 Ellen Mcdermott IRL
100 Lexius Imonise HAI
101 Noel Wonseca HAI
102 Alexis Skarda USA
103 Kyleigh Spearing USA
104 Morgan Aguirre USA
105 Katherine Sheridan USA
106 Mara Fumagalli ITA
107 Kirstine Frida Rysbjerg DEN
108 Marie Louise Biard FRA
109 Flavia Maria De Oliveira Paparella BRA
110 Ursula Lindén FIN
112 Noelle Ingold SUI
TV Coverage
Neither GCN nor FloBikes have been able to acquire streaming rights this year. We've been told Italy's RAI will air (some of) the men's race on Sunday but no information yet on any English-language feeds or any coverage of the women's race.
Thank you for reading 20 articles this month* Join now for unlimited access
Enjoy your first month for just £1 / $1 / €1
*Read 5 free articles per month without a subscription
Join now for unlimited access
Try first month for just £1 / $1 / €1