UCI joins calls for governments to invest in cycling to battle carbon emissions
Cycling's governing body joined the ECF and others to write to governments attending COP26 in Glasgow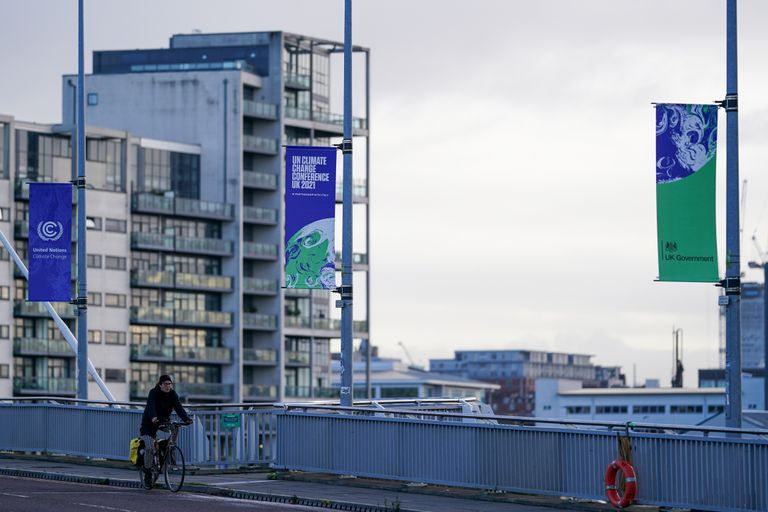 (Image credit: Getty Images)
The UCI as well as the European Cyclists' Federation (ECF) and other international cycling organisations have written an open letter to the governments attending the COP26 climate talks asking to boost cycling to lower carbon emissions.
Cycling's governing body, the UCI has joined a coalition of cycling groups to try and convince world leaders that cycling is one of the ways forward to lower carbon emissions that are created by vehicles such as cars and lorries.
The UCI says that by quickly acting and getting more people riding bikes levels of carbon can be reduced significantly in a relatively swift time scale.
>>> UCI reveals final overall rankings for the 2021 season
In a statement, the UCI said: "The world needs much more cycling if it is to combat climate change. Without quicker and more determined action by governments worldwide to cut transport carbon emissions, future generations will be faced with a world that is more hostile and much less inhabitable.
"CO₂ emissions from the transport sector continue to increase. Meanwhile, the transition to zero-emission cars and lorries will take decades to complete and will not solve other problems like traffic congestion and sedentary lifestyles.
"Despite this, COP26 Transport Day on 10 November is set to focus exclusively on the electrification of road vehicles as a solution to the climate crisis we are facing today."
The COP26 is the 26th annual summit of the Conference of the Parties climate talks which are put on by the UN, bringing almost every country in the world together for talks on how to save the world from climate change.
This year the UK is the 'President' of the talks with Prime Minister Boris Johnson as well as Sir David Attenborough and others holding talks in what is being seen as the world's last chance to slow runaway climate change.
The UCI continued: "The UCI, ECF and all in the coalition believe cycling represents one of humanity's greatest hopes for a shift towards a zero-carbon future. Bicycle use produces zero emissions, delivers far-reaching positive societal impacts and – most importantly – is a technology that is already widely available today.
"The world cannot afford to wait decades for fossil-fuel cars to be fully phased out and replaced by electric vehicles. It is necessary to urgently leverage the solutions that the bicycle offers by radically scaling up its use."
Adding to these comments was the president of the UCI, David Lappartient, who, along with Jill Warren, CEO of ECF and Henk Swarttouw, President of ECF added their views all stressed the importance of cycling in the fight to save our world.
Lappartient said: "Cycling provides key solutions to global challenges such as climate change, public health, traffic congestion and air pollution. The global risk of events like extreme droughts, wildfires, and flooding will increase exponentially if the planet's temperature rises by 1.5°C or more by 2030. One way to save our world will be for more of us to cycle more frequently."
Jill Warren added: "There is no conceivable way for governments to reduce CO₂ emissions quickly enough to avoid the worst of the climate crisis without significantly more cycling.
"The devastating effects of accelerating global warming should be clear to everyone, and boosting cycling levels is the best way to quickly cut carbon emissions from transport on a massive scale."
Some nations have already embraced cycling with Denmark and the Netherlands focusing on cycling in their respective capitals of Copenhagen and Amsterdam. France has also announced that it plans to ban through traffic in Paris as soon as next year.
"Cycling should be a cornerstone of global, national and local strategies to meet net-zero carbon targets," added Henk Swarttouw.
"At COP26, governments must commit to providing the financing and legislation for safe and equitable space for cycling everywhere. Citizens are ready for the change; now our leaders need to enable it."
Thank you for reading 5 articles this month* Join now for unlimited access
Enjoy your first month for just £1 / $1 / €1
*Read 5 free articles per month without a subscription
Join now for unlimited access
Try first month for just £1 / $1 / €1
Hi, I'm one of Cycling Weekly's content writers for the web team responsible for writing stories on racing, tech, updating evergreen pages as well as the weekly email newsletter. Proud Yorkshireman from the UK's answer to Flanders, Calderdale, go check out the cobbled climbs!
I started watching cycling back in 2010, before all the hype around London 2012 and Bradley Wiggins at the Tour de France. In fact, it was Alberto Contador and Andy Schleck's battle in the fog up the Tourmalet on stage 17 of the Tour de France.
It took me a few more years to get into the journalism side of things, but I had a good idea I wanted to get into cycling journalism by the end of year nine at school and started doing voluntary work soon after. This got me a chance to go to the London Six Days, Tour de Yorkshire and the Tour of Britain to name a few before eventually joining Eurosport's online team while I was at uni, where I studied journalism. Eurosport gave me the opportunity to work at the world championships in Harrogate back in the awful weather.
After various bar jobs, I managed to get my way into Cycling Weekly in late February of 2020 where I mostly write about racing and everything around that as it's what I specialise in but don't be surprised to see my name on other news stories.
When not writing stories for the site, I don't really switch off my cycling side as I watch every race that is televised as well as being a rider myself and a regular user of the game Pro Cycling Manager. Maybe too regular.
My bike is a well used Specialized Tarmac SL4 when out on my local roads back in West Yorkshire as well as in northern Hampshire with the hills and mountains being my preferred terrain.